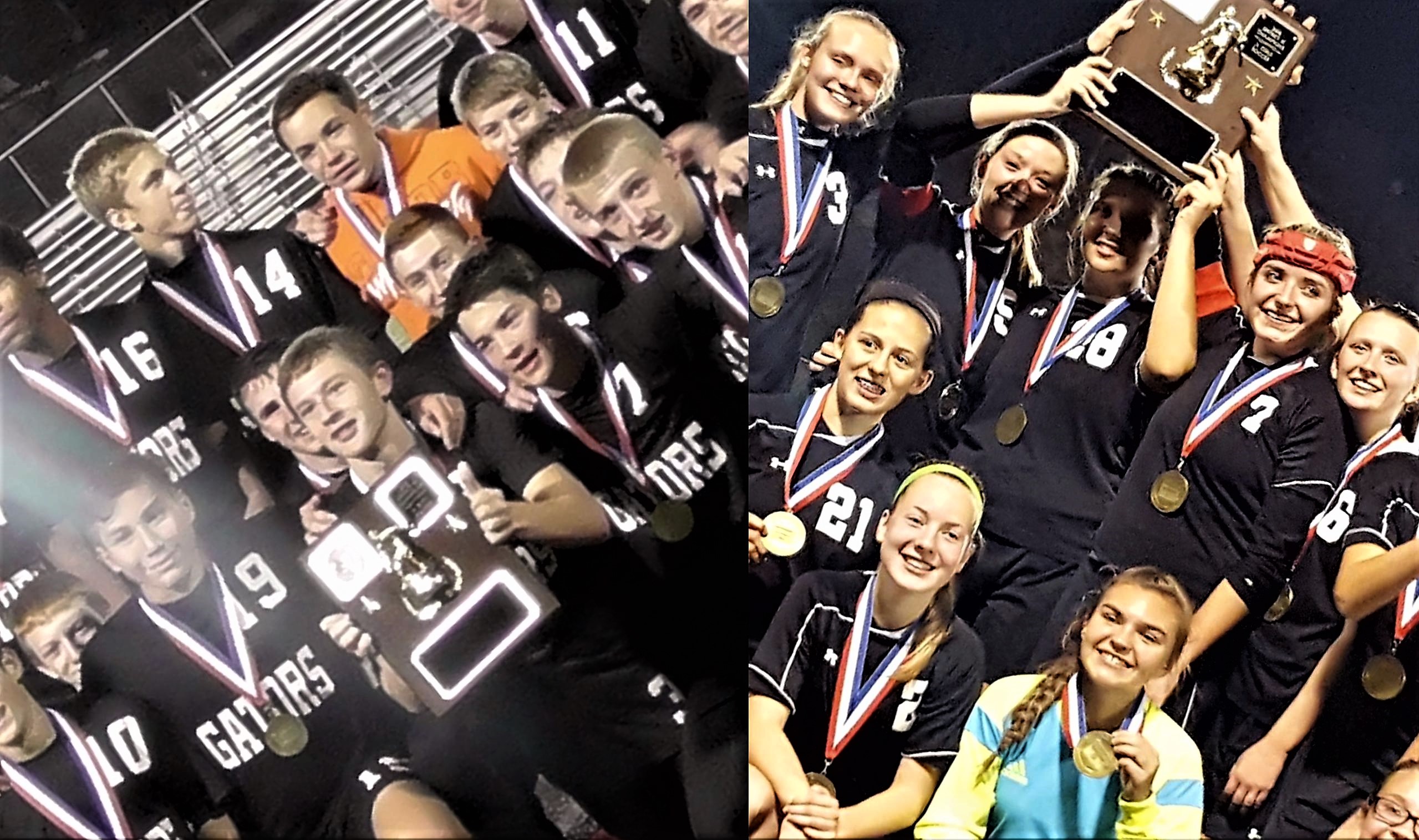 Between June 27 and July 24 D9Sports.com will be counting down the Top 20 stories in District 9 from the 2016-17 school year starting with No. 20 June 27 and finishing with No. 1 July 24.
No. 19: Brockway Girls and Port Allegany Boys Claim First-Ever D9 Soccer Titles
One of the goals of the PIAA expanding classifications in certain sports going into this past year was to give more teams and more student-athletes a chance to compete for titles.
And a pair of District 9 soccer squads took full advantage winning the first-ever titles in the sport in their schools' history.
On Nov. 2 at the turf field at DuBois High School, Brockway, making its first-ever appearance in the District 9 Class 1A girls' title game, claimed a 2-0 victory over DuBois Central Catholic, a team it lost to twice in the regular season.
Leah Lindemuth and Chanell Britten scored the goals for the Lady Rovers, while freshman Mackenzie Overbeck made it stand up with a couple of quality stops including denying a DCC corner kick from Riley Meyers in the 57th minute.
Brockway was leading 1-0 at the time of the save thanks to a goal in the 36th minute by Lindemuth, who took a cross from Morrigan Decker and buried a header behind DCC keeper Riley Assalone.
Britten, another freshman, then put the game away in the 65th minute when she corralled a pass from Adriana Azzato and found the right corner where the post meets the crossbar hitting the corner and having the ball carom behind Assalone for a 2-0 lead.
A day later, Port Allegany followed up with the same trick while denying Brockway of a boys'/girls' sweep of the soccer titles knocking off the Rovers, 2-0, at Bradford High School in the 1A championship game.
Junior Payton Caden scored a pair of second-half tallies for the Gators and keeper Josh Mealy didn't allow a goal making some outstanding saves in the first half to keep the match scoreless at halftime.
Caden then made the saves important ones when he scored on a pair of headers in the second half the first coming late in the 58th minute off a direct kick from MacKenzie Elliott and the second early in the 69th minute.
Top 20 Sports Stories in District 9 for the 2016-17 School Year
No. 20 – Three District 9 girls' place in the javelin at the PIAA Championships
No. 19 – Brockway Girls and Port Allegany Boys Claim First-Ever D9 Soccer Titles
No. 18 – Released June 29
No. 17 – Released June 30
No. 16 – Released July 3
No. 15 – Released July 4
No. 14 – Released July 5
No. 13 – Released July 6
No. 12 – Released July 7
No. 11 – Released July 10
No. 10 – Released July 11
No. 9 – Released July 12
No. 8 – Released July 13
No. 7 – Released July 14
No. 6 – Released July 17
No. 5 – Released July 18
No. 4 – Released July 19
No. 3 – Released July 20
No. 2 – Released July 21
No. 1 – Released July 24