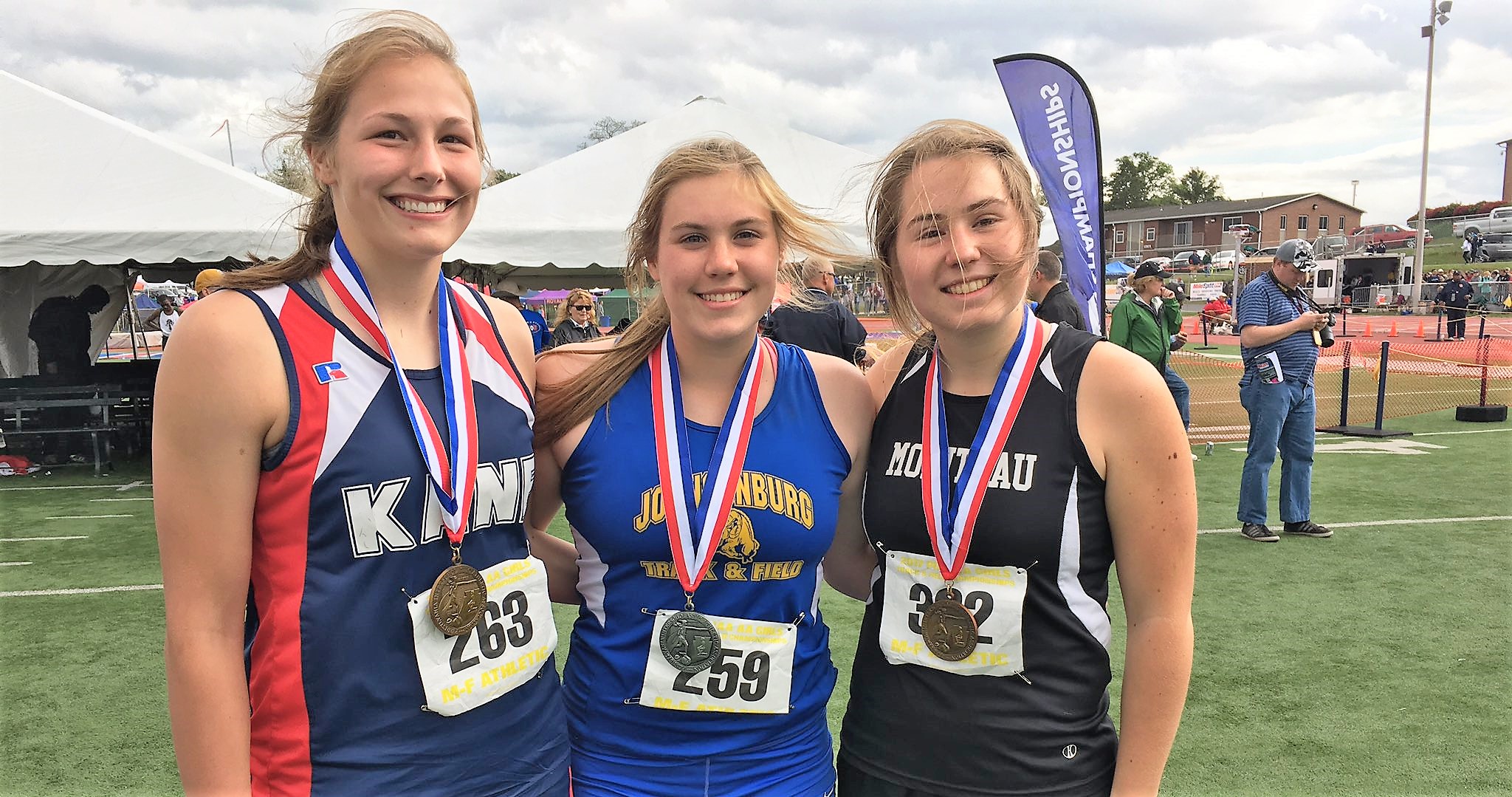 Between June 27 and July 24 D9Sports.com will be counting down the Top 20 stories in District 9 from the 2016-17 school year starting with No. 20 June 27 and finishing with No. 1 July 24.
(Cover Photo: Trinity Clark, Skylar Sherry and Cambrie Campbell after all three earned medals in the PIAA 2A Javelin)
Clark-Sherry-Campbell-Javelin.jpg
No. 20: Three District 9 girls' place in the javelin at the PIAA Championships
Having one place winner from District 9 in an event at the PIAA Track and Field championships in any given year is an accomplishment. To have three is something to celebrate.
That's what happened in the Class 2A javelin this year when Johnsonburg's Skylar Sherry, Moniteau's Cambrie Campbell and Kane's Trinity Clark all earned medals in the event at Shippensburg University.
Sherry finished second in the state with a throw of 144-feet only being beaten by Mount Carmel's Maura Fiamoncini, who threw 144-8 on the last throw of the meet.
Campbell was just behind Sherry taking third with a toss of 140-feet, 8-inches, while Clark was seventh throwing the javelin 130-feet, 6-inches.
Remarkably, District 9 nearly had four of the eight medal winners, as North Clarion's Tori Obenrader missed earning a medal by an inch. She finished 10th with a toss of 126-feet, 1-inch, while the eighth-place finisher threw 126-feet, 2-inches.
Top 20 Sports Stories in District 9 for the 2016-17 School Year
No. 20 – Three District 9 girls' place in the javelin at the PIAA Championships
No. 19 – Released June 28
No. 18 – Released June 29
No. 17 – Released June 30
No. 16 – Released July 3
No. 15 – Released July 4
No. 14 – Released July 5
No. 13 – Released July 6
No. 12 – Released July 7
No. 11 – Released July 10
No. 10 – Released July 11
No. 9 – Released July 12
No. 8 – Released July 13
No. 7 – Released July 14
No. 6 – Released July 17
No. 5 – Released July 18
No. 4 – Released July 19
No. 3 – Released July 20
No. 2 – Released July 21
No. 1 – Released July 24