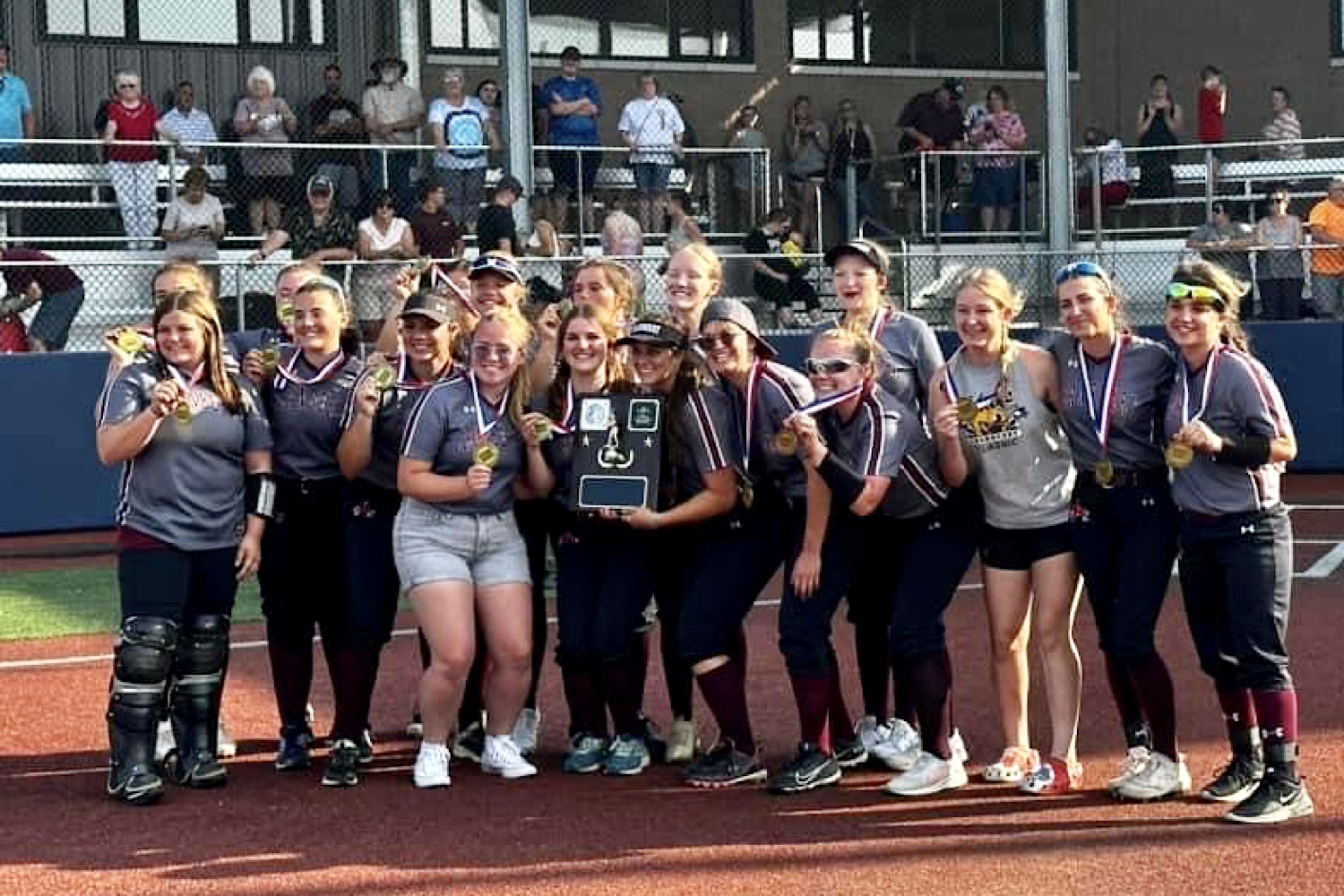 DuBOIS, Pa. (EYT/D9) — The celebration was a year in the making.
Music blared on the bus ride home from DuBois to Cranberry — a stark contrast to the somber mood just 12 months earlier.
The Berries' softball team fell in the District 9 Class 2A championship game last year to Johnsonburg.
(Pictured above, Cranberry celebrates after its D9 championship win)
Not long after that defeat, they vowed not to lose it again should they return.
They were true to their word.
Cranberry rallied with three runs in the top of the fifth inning to take a 6-5 lead, then held off a Curwensville threat in the seventh inning for a 7-6 win at Heindl Field on Monday afternoon.
"It means a lot," said Cassie Scarbrough. "We wanted to win this for the senior last year.
"A lot of screaming," Scarbrough said of the mood following the game. "Loud music, too."
Scarbrough struck the right tune with her bat, coming up with two of the biggest hits of the game.
Her two-run single in the fifth inning that gave the Berries a 6-5 lead.
She added another RBI single in the seventh.
Turned out Cranberry needed that clutch hit, too.
"It means I did what I needed to do for my team," Scarbrough said.
Reyna Watson also came up big for Cranberry.
She had three hits at the plate and also pitched well in the circle.
Curwensville pushed across a run in the seventh on a two-out RBI double by Ava Hainsey.
But Watson stranded the tying run there at second with a strikeout to end the game.
Watson gave up six runs on 10 hits in seven innings against a potent Curwensville lineup.
She struck out six and walked three.
Curwensville struck first with a run in the the first inning, but Cranberry moved ahead 3-1 in the third inning.
The Tide, though, put up four runs in the fourth to lead 5-3 before Cranberry's three-run rally put the Berries up for good.
Kendell Findlay had a RBI single as part of that fourth-inning rally.
Addison Siple got the loss for Curwensville. She gave up seven runs (five earned) on 10 hits, striking out 13 and walking just one.
Teagan Harzinski and Siple each had multi-hit games for the Tide. Harzinski drove in three.
Curwensville will play Moniteau at 3 p.m. on Tuesday at Brockway in a true-second-place game with the winner moving on to the state playoffs.
Cranberry will play the third place team out of District 7 in the state playoffs on Monday.
DuBOIS CENTRAL CATHOLIC 6, ELK COUNTY CATHOLIC 2
Melia Mitskavich and Rylee Kulbatsky have formed quite the 1-2 punch in the circle this season, often used in the same game.
The duo came up big again.
Kublatsky picked up the win, pitching 4⅔ inning of relief as the Cardinals shook off a 1-0 deficit to take a 3-1 lead, held off the Crusaders and then pulled away late to win their seventh straight District 9 Class A title.
Kublatsky gave up just one unearned run on two hits and struck out three.
Mitskavich went 2⅓ innings to start the game. She also gave up one unearned run on three hits and struck out three.
Mitskavich laced a two-run single to break a 1-1 tie in the third.
Three more runs in the sixth, keyed by a RBIs by Lexi Berta and Kali Franklin.
Berta was 2 for 3 in the game.
Emily Mourer got the loss, giving up six runs (two earned) on eight hits in six innings. She struck out three.
DuBois Central Catholic will open the PIAA Class A playoffs against the runner-up team from District 7. Elk County Catholic will take on the runner-up team from District 6.
ST. MARYS 8, CLEARFIELD 1
Olivia Eckels went 2 for 4 with two RBIs and three runs scored and Kendall Young tossed a five-hitting while striking out 11 as the Dutch downed the defending PIAA Class 4A champions to win the D9 title.
Last year, Clearfield beat St. Marys, 9-5, to win the championship.
The Dutch were never really threatened this time around.
St. Marys led 4-0 after four and then scored four more in the fifth in make it 8-0.
Young did the rest.
Alaina Fedder had a RBI single in the sixth inning for Clearfield, but it was far too little, far too late.
Molly Hanslovan went 2 for 4 with two RBIs and Kara Hanslovan went three for four and knocked in a run for St. Marys (15-2), which will take on District 6 champ Bellefonte in the subregional on Thursday.
MONITEAU 7, JOHNSONBURG 4
Emily Staab went 3 for 3 with a home run, two RBIs and three runs scored as the Warriors bounced back from an early 3-0 hole with a pair of runs in the third and three more in the fourth on the way to this District 9 Class 2A consolation win at Brockway.
The victory pits Moniteau against Curwensville in a "true-second-place" game at 3 p.m. on Tuesday at Brockway to decide who moves on to the PIAA playoffs.
Brianna Rottman went 2 for 4 and drove in a run, Lily Staab knocked in a pair and Alex Stewart also had a RBI for Moniteau (11-10).
Mariska Shunk got the win in relief, going four innings. She have up one unearned run on three hits and struck out four.
Emma Covert got the start for the Warriors.
Jayden Gardner went 2 for 3 for Johnsonburg.