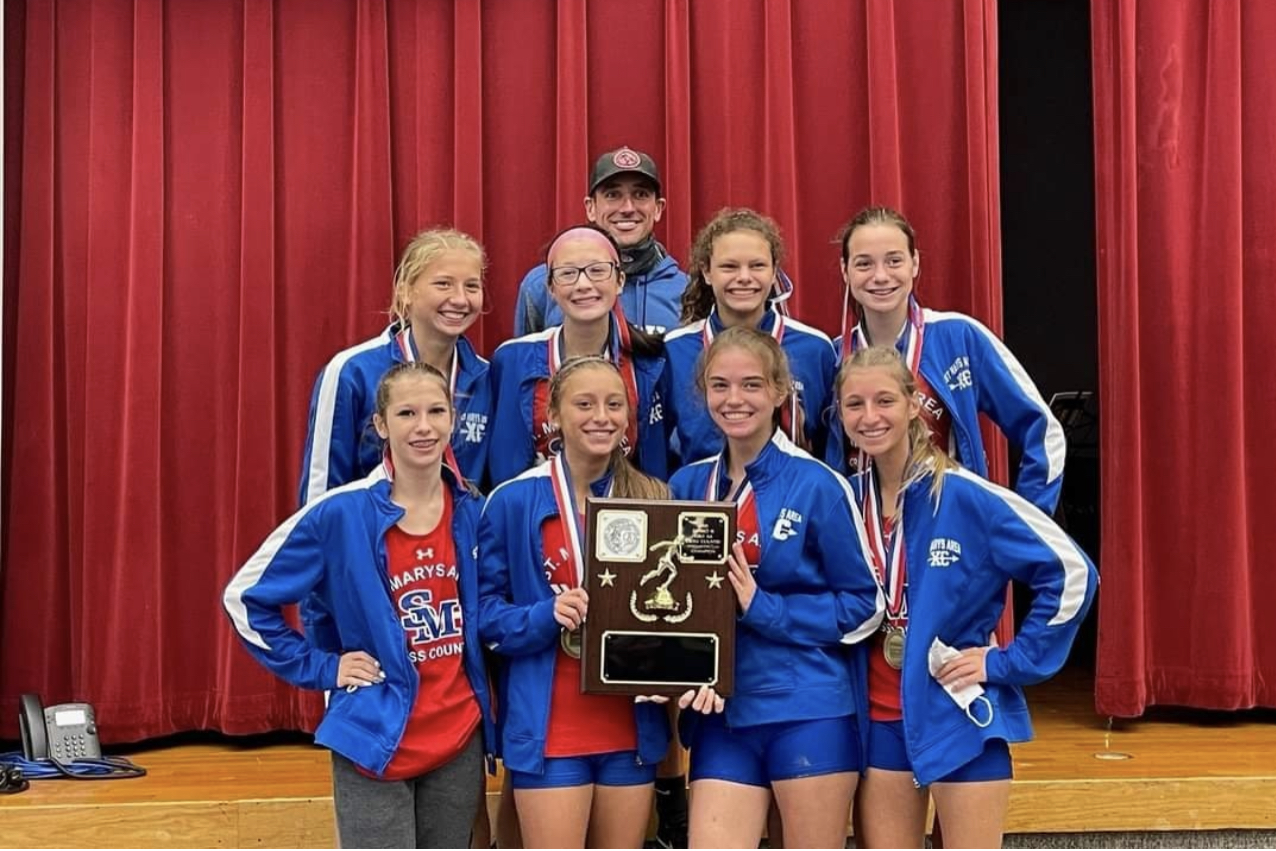 RIDGWAY, Pa. (EYT/D9) – It all came down to six.
The Cranberry and Elk County Catholic girls cross country teams were tied with 70 points when the final runners crossed the finish line at the District 9 Cross Country Championships Saturday on Ridgway's course.
To break the deadlock in Class A, it came down to the sixth runners for both teams. Cranberry senior Alexa Boley placed 33rd; Elk County's Isabella Macer was 52nd, so the tiebraker went to the Berries and so did the team title.
Both Cranberry and Elk County Catholic will advance to the PIAA Cross Country Championships Nov. 6 as a team.
Smethport senior Jenna Gregory won the individual title, coming in at 20 minutes, 25 seconds.
Cranberry also had a big day on the boys side, winning the Class A team title with 52 points. Elk County was second with 60. Both teams qualified for the state meet.
Cranberry top five runners all finished in the top 14. The Berries' sixth runner was 15th and their seventh was 20th.
Sophomore Kevin Sherry of Coudersport won the individual title, finishing in 17:36. Matt Woolcock of Cranberry was second at 17:57.
In Class 2A, the St. Marys' girls edged Punxsutawney by just two points, 41-43, to advance to the state meet.
St. Marys freshman Gabby Pistner came in first with a time of 20:30.
On the boys side in Class 2A, DuBois won the team title by a point over Punxsutawney, 30-31.
Manny Diaz of Bradford was the top individual runner. The junior finished with a time of 17:19.
Girls
Class A
Team Results
1. Cranberry 70*, 2. Elk County Catholic 70, 3. Brookville 99, 4. Brockway 103, 5. Clarion-Limestone 109, 6. North Clarion 128, 7. Moniteau 148, 8. Smethport 160, 9. Otto-Eldred 203
Individual Top 15
1. Jenna Gregory (Smethport) 20:25, 2. Grace Nuebert (Elk County Catholic) 20:47, 3. Hannah Burgoon (Moniteau) 20:57, 4. Morgan McNaughton (Clarion-Limestone) 20:58, 5. Courtney Martin (Northern Potter) 21:00, 6. Sami Straub (Elk County Catholic) 21:01, 7. Sophia Bille (Elk County Catholic) 21:16, 8. Karleigh Shaffer (Cranberry) 21:26, 9. Kelsey Hanna (Cranberry) 21:42, 10. Brynn Siegel (North Clarion) 22:07, 11. Erika Doolittle (Brookville) 22:19, 12. Bella Scott (Clarion) 22:23, 13. Cheyenne Mehl (Oswayo Valley) 22:29, 14. Madelyn Schmader (Brockway) 22:33, 15. Jordyn Hendrickson (North Clarion) 22:34
Boys
Class A
Team Results
1. Cranberry 52, 2. Elk County Catholic 60, 3. Clarion-Limestone 113, 4. North Clarion 118, 5. Brookville 158, 6. Coudersport 172, 7. Karns City 180, 8. Brockway 223, 9. Kane 227, 10. Smethport 237, 11. Otto-Eldred 275, 12. Moniteau 300
Individual Top 19
1. Kevin Sherry (Coudersport) 17:36, 2. Matt Woolcock (Cranberry) 17:57, 3. Adam Straub (Elk County Catholic) 18:21, 4. Alex Miller (Elk County Catholic) 18:29, 5. Eli Schrieber (Rigdway) 18:34, 6. Kaine McFarland (North Clarion) 18:41, 7. Jukian Funaki (Elk County Catholic) 18:44, 8. Micah Williamson (Brockway) 18:45, 9. Aiden Thomas (North Clarion) 18:45, 10. Logan Lutz (Clarion-Limestone) 18:45, 11. Calvin Doolittle (Brookville) 18:47, 12. Ben Seybert (Cranberry) 18:47, 13. Christian Miller (Cranberry) 18:54, 14. Avery Keenan (Cranberry) 19:04, 15. Colin Zerbe (Cranberry) 19:09, 16. Sylas Fox (Cranberry) 19:12, 17. Landon Schmader (Brockway) 19:17, 18. Ty Rankin (Clarion-Limestone) 19:18, 19. Noah Gabreski (Coudersport)
Girls
Class 2A
Team Results
1. St. Marys 37, 2. Punxsutawney 45, 3. Bradford 52, 4. Clearfield 94
Individual Top 8
1. Gabby Pistner (St. Marys) 20:30, 2. Korie Dixon (Bradford) 20:46, 3. Amy Poole (Punxsutawney) 21:19, 4. Caitlyn Taylor (Bradford) 21:58, 5. Madison Blythe (St. Marys) 22:31, 6. Scarlett Singleton (Clearfield) 22:40, 7. Jordan Hicks (Punxsutawney) 22:50, 8. Lucia Hayes (St. Marys) 23:00
Boys
Class 2A
Team Results
1. DuBois 46, 2. Punxsutawney 52, 3. Bradford 67, 4. St. Marys 68, 5. Clearfield 119
Individual Top 7
1. Manny Diaz (Bradford) 17:19, 2. Eric Surkala (Punxsutawney) 18:00, 3. Astacio Deemer (DuBois) 18:10, 4. Joseph Foradora (DuBois) 18:14, 5. Andrew Barnoff (Punxsutawney) 18:22, 6. Brayden Friar (Bradford) 18:29, 7. Wyatt Foster (St. Marys) 18:29