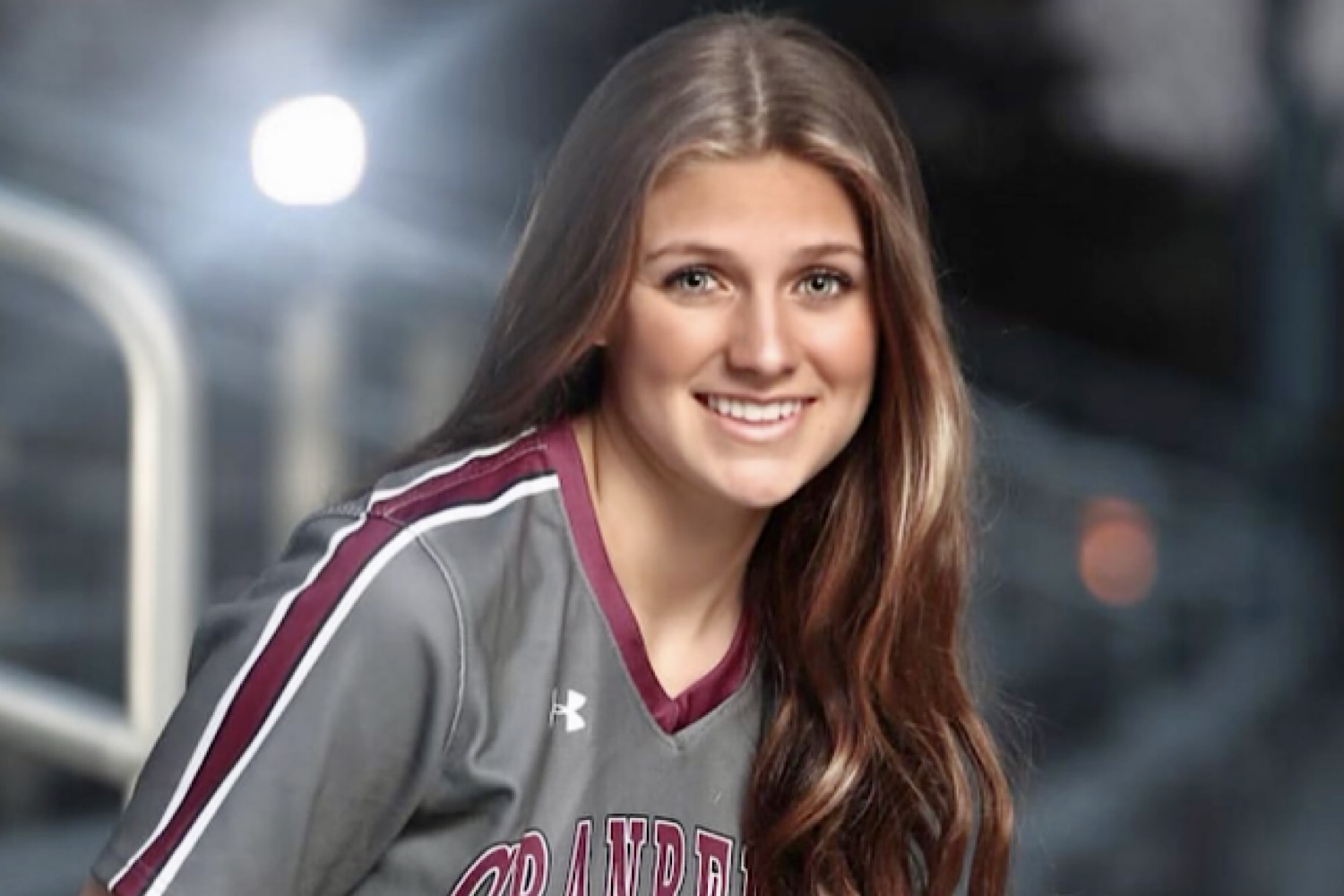 KNOX, Pa. (EYT/D9) — Kendell Findlay kept her hot streak at the plate going and Reyna Watson was sharp in the circle as the Cranberry softball team beat Moniteau, 11-0, to advance to the District 9 Class 2A title game.
(Pictured above, Cranberry's Kendell Findlay/photo by Dave Cyphert of ProPoint Media Photography)
Findlay, who hit two home runs in an opening-round win on Monday over Keystone, went 3 for 4 with a double and three RBIs to help the Berries to the victory.
Meanwhile Watson quieted a potent and usually loud Moniteau lineup, holding the Warriors to just three singles over five innings.
Watson didn't walk a batter and struck out six to earn the victory.
Cranberry scored three runs in the top of the third off Moniteau starter and Keystone Shortway Athletic Conference MVP Emma Covert on RBI singles by Jadyn Shumaker, Watson and Findlay.
The Berries broke the game wide open with seven runs in the top of the fourth and added another in the fifth.
Rylee Coe also drove in a pair of runs and Shumaker went 2 for 2 with three RBIs.
Covert, Ashley Huffman and Emily Staab had hits for Moniteau.
No. 3 Cranberry will take on top-seed Curwensville at 3 p.m. Monday at Heindl Field for the D9 Class 2A championship.
The Warriors are still alive. They will play Johnsonburg in a consolation game on Monday at a site and place to be determined.
CURWENSVILLE 7, JOHNSONBURG 6
Ava Olosky singled home Teagan Harzinski with the winning run in the bottom of the seventh inning to send the Red Tide on to the D9 Class 2A title game.
Johnsonburg battled back from a 6-2 deficit to deadlock the game at 6-6 with two runs in each of the fifth and sixth innings.
But Harzinski walked to lead off the bottom of the seventh, moved up to second on a groundout and then to third on a wild pitch.
Natalie Wischunck followed with an infield single and went to second on catcher's indifference. Olosky then delivered the game-winning hit.
Olosky was 2 for 4 in the game.
Addison Siple got the win, giving up four earned runs on seven hits while fanning 10.
Shelby Sorg went 2 for 4 with a home run and a triple to lead Johnsonburg at the plate.
Curwensville will play Cranberry for the title.
Johnsonburg draws Moniteau in a consolation game.
CLASS A
Melia Mitskavich and Rylee Kulbatsky teamed up to toss a one-hitter as DuBois Central Catholic downed Forest, 11-0.
Mitskavich went three inning, giving up just one hit and striking out six.
Kulkatsky worked the final two frames, striking out four.
Mitskavich went 2 for 3 with two doubles and two RBIs, Rose Whipple went 2 for 2 and knocked in a run, Marina Hanes was 3 for 3 with two RBIs, and Lauren Davidson drove in three with a double to help lead the Cardinals' 13-hit attack.
Akexa Carll had the only hit for Forest.
DCC will take on Elk County Catholic at 11 a.m. on Monday at Heindl Field for D9 Class A title.
Forest still has life. The Fires will play Otto-Eldred in a consolation game on Monday at a site and time to be determined.
ELK COUNTY CATHOLIC 15, OTTO-ELDRED 7
Lydia Anderson went 5 for 5 with two doubles, two triples and five RBIs as the Crusaders punched their ticket to the Class A title game.
ECC had 17 hits. Sydney Alexander and Gabby Weisner each homered for the Crusaders.
Alexander was 2 for 5 with four RBIs. Weisner was 4 for 5 with four runs scored and two knocked in.
Emily Mourer got the win, striking out 10 in seven innings of work. She was also 3 for 4 at the plate.
Katie Sheeler, Bri Heller, Carrier Drummond and Cally Raught each had two hits for Otto-Eldred, which will play Forest in a consolation game on Monday at a site and time to be determined.