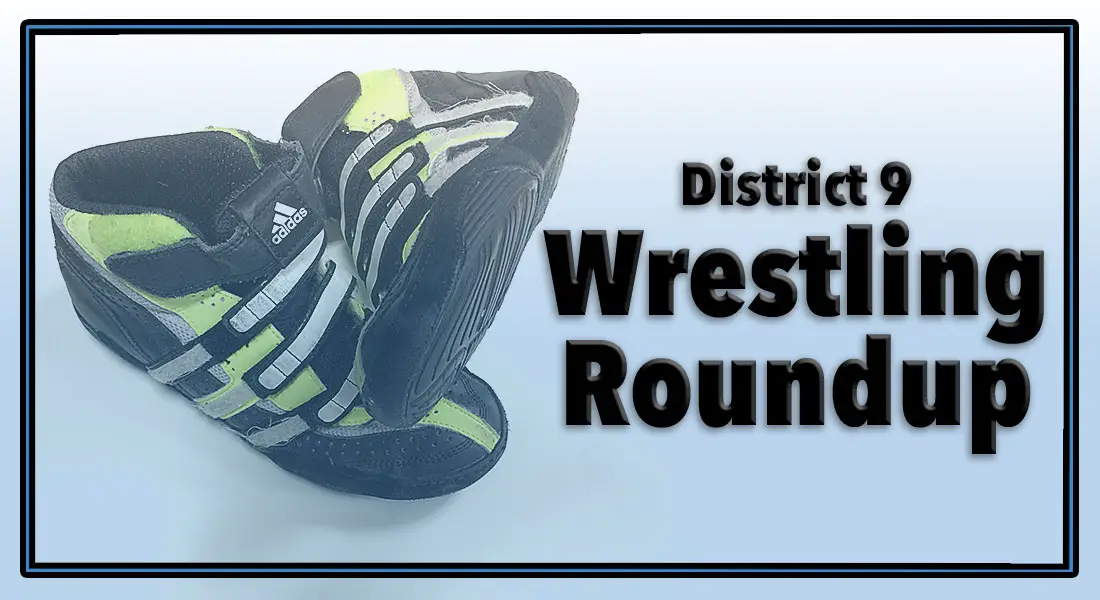 The high school wrestling season is also under way and District 9 has a solid crop of returning talent led by six returning state medalists and at least five NCAA Division I recruits.
Punxsutawney senior and Iowa recruit Kaleb Young heads into his senior with the the Chucks chasing for his third Class AAA state medal. He was fourth last year at 152 and fifth at 138 pounds as a sophomore. And nationally, Flowwrestling.org's rankings have Young ranked No. 4 at 160 pounds.
Young, 19-2 in an injury-shortened season last year, is 79-8 lifetime and will be an overwhelming favorite to win a fourth District 9 title.
In Class AA, five medalists are back. Clarion recruit and Brookville senior Taylor Ortz is looking for his third state medal after two straight third-place finishes. He was 41-3 last year and started the season with a 112-16 career record. He's also looking for his fourth district title.
Another Clarion recruit, senior Shae Bloom of Curwensville, was fifth at 138 pounds and finished 34-5. He's also already over 100 wins with a 104-18 record and he's looking for his fourth district title. He won his first two in Class AAA with DuBois before transferring to Curwensville.
Penn State recruit Mason Lindenmuth, a senior at Brockway, was seventh at 132 pounds last year, finishing 32-5. He heads into the season with 75 career wins.
Two other medalists are back, including Smethport senior James Duffy who was third at 145 pounds. Duffy was 37-2 and takes a 72-16 career record into his final year.
Lindenmuth's teammate Ryan Carlson seeks his third state medal after finishing sixth at 113 last year and eighth at 106 as a sophomore. He was 30-8 last year and is 78-24 going into the season.
Ten other state qualifiers return in Class AA, including at least one Division I recruit in Brookville senior Cole Aaron, who will attend Franklin & Marshall. In Class AAA, only two other state qualifiers are back in sophomore Kolby Ho of DuBois and sophomore Luke McGonigal of St. Marys.
Here's a rundown of all of the returners in each class.
CLASS AA
STATE MEDALISTS
Taylor Ortz, Brookville, Sr. (41-3): Third place at 120 pounds, seeking third state medal
James Duffy, Smethportm Sr. (37-2): Third place at 145 pounds
Shae Bloom, Curwensville, Sr. (34-5): Fifth place at 138 pounds
Mason Lindenmuth, Brockway, Sr. (32-5): Seventh place at 132 pounds
Ryan Carlson, Brockway, Sr. (30-8): Sixth place at 113 pounds
OTHER RETURNING STATE QUALIFIERS
106-Gavin Park, Brookville, Jr. (31-9)
126-Tanner Altobelli, Redbank Valley, Sr. (32-9)
126-Cole Aaron, Brookville, Sr. (28-12)
138-Adam Shunk, Smethport, Sr. (27-8)
152-Paul Zacherl, Cranberry, Sr. (33-6)
160-Caleb Hetrick, Brookville, Soph., (19-14)
195-Zach Sintobin, Clarion, Sr. (30-9)
220-Ethan Budd, Port A., Sr. (32-3)
HWT-BryLee Shumaker, Redbank Valley, Sr. (36-8)
HWT-Tyler Beal, Keystone, Sr. (36-7)
REGIONAL QUALIFIERS (35 of 56 returning)
106-Gavin Park, Brookville, Jr. (D9 Champ)
106-Alex Struble, Clarion, Sr. (D9 runner-up)
106-Bryce Barclay, Ridgway, Soph., (D9 third)
113-Ryan Carlson, Brockway, Sr. (D9 runner-up)
113-Kai Sorbin, Brookville, Soph., (D9 fourth)
120-Taylor Ortz, Brookville, Sr. (D9 champ)
120-Drew Baumgratz, Ridgway, Jr. (D9 runner-up)
120-Josh Hancock, Cranberry, Jr. (D9 third)
120-Mitchell Overbeck, Brockway, Sr., (D9 fourth)
126-Tanner Altobelli, Redbank Valley, Sr. (D9 champ)
126-Cole Aaron, Brookville, Sr. (D9 runner-up)
126-Logen McClain, Ridgway, Soph. (D9 fourth)
132-Mason Lindenmuth, Brockway, Sr. (D9 champ)
132-Jake Zimmerman, Johnsonburg, Soph. (D9 fourth)
138-Shae Bloom, Curwensville, Sr. (D9 champ)
138-Adam Shunk, Smethport, Sr. (D9 runner-up)
145-James Duffy, Smethport, Sr. (D9 champ)
145-Colton Rapp, Clarion, Soph. (D9 runner-up)
152-Paul Zacherl, Cranberry, Sr. (D9 runner-up)
152-Gage Arnold, Coudersport, Jr. (D9 fourth)
160-Mac Tanner, Port Allegany, Sr. (D9 runner-up)
160-Calbe Hetrick, Brookville, Soph. (D9 third)
160-Akete Kindle, Smethport, Jr. (D9 fourth)
170-Josiah Ramadhan, Port Allegany, Sr. (D9 third)
170-Evan Redding, Keystone, Sr. (D9 fourth)
182-Michael Martino, Brockway, Sr. (D9 champ)
182-Ben Junod, Curwensville, Sr. (D9 third)
182-Alex Burkhart, Clarion, Sr. (D9 fourth)
195-Zach Sintobin, Clarion, Sr. (D9 champ)
195-Austin Gregerson, Sheffield, Soph. (D9 fourth)
220-Ethan Budd, Port Allegany, Sr. (D9 champ)
220-Bryce Town, Brookville, Sr. (D9 runner-up)
HWT-Tyler Beal, Keystone, Sr., (D9 runner-up)
HWT-BryLee Shumaker, Redbank Valley, Sr. (D9 third)
HWT-Dylan Dinch, Smethport, Sr. (D9 fourth)
CLASS AAA
STATE MEDALIST
Kaleb Young, Punxsutawney, Sr. (19-2): Fourth at 152 pounds, seeking third state medal
OTHER RETURNING STATE QUALIFIERS
106-Kolby Ho, DuBois, Soph. (20-12) 0-2 at states
145-Luke McGonigal, Soph. (26-13) both 0-2 at states
REGIONAL QUALIFIERS (31 of 42 returning)
106-Kolby Ho, DuBois (D9 champ)
106-Hayden Tettis, St. Marys, Soph. (D9 runner-up)
106-Matt Ryan, Clearfield, Soph. (D9 third)
113-Chase Slima, DuBois, Jr., (D9 runner-up)
113-Zoie Smith, Punxsy, Sr. (D9 third)
120-Josiah McClarren, Clearfield, Sr. (D9 champ)
120-Tyler Thompson, Bradford, Soph. (D9 runner-up)
120-Seth Braid, DuBois, Soph. (D9 third)
126-Logan Gilbert, Clearfield, Sr. (D9 champ)
126-Cameron Resch, St. Marys, Jr. (D9 runner-up)
126-Jeremiah Fitton, Bradford, Soph. (D9 third)
132-Eli Lambiotte, Punxsutawney, Sr. (D9 runner-up)
132-Garrett Cook, St. Marys, Jr. (D9 third)
138-Stone Smith, Punxsutawney, Soph. (D9 runner-up)
138-Zane Morgan, Clearfield, Jr. (D9 third)
145-Luke McGonigal, St. Marys, Soph. (D9 champ)
145-Kyle Pecht, St. Marys, Sr. (D9 runner-up)
152-Kaleb Young, Punxsutawney, Sr. (D9 champ)
152-Carson Hannah, DuBois, Jr. (D9 runner-up)
152-Tallin Norris, Clearfield, Sr. (D9 third)
160-Christian Steffan, St. Marys, Jr. (D9 runner-up)
160-Noah Schneider, DuBois, Jr. (D9 third)
170-Nicklas Taylor, St. Marys, Sr. (D9 third)
182-Josh Wayland, DuBois, Jr. (D9 third)
195-Travis Ogden, Clearfield, Sr. (D9 champ)
195-Dave Henninger, DuBois, Jr. (D9 runner-up)
195-Blake Bizousky, Punxsutawney, Jr. (D9 third)
220-Daniel Salinas, St. Marys, Sr. (D9 third)
HWT-Nate Lash, Clearfield, Sr. (D9 champ)
HWT-Ray Kline, Clearfield, Sr. (D9 runner-up)
HWT-Garrett Bennett, Jr. (D9 third)