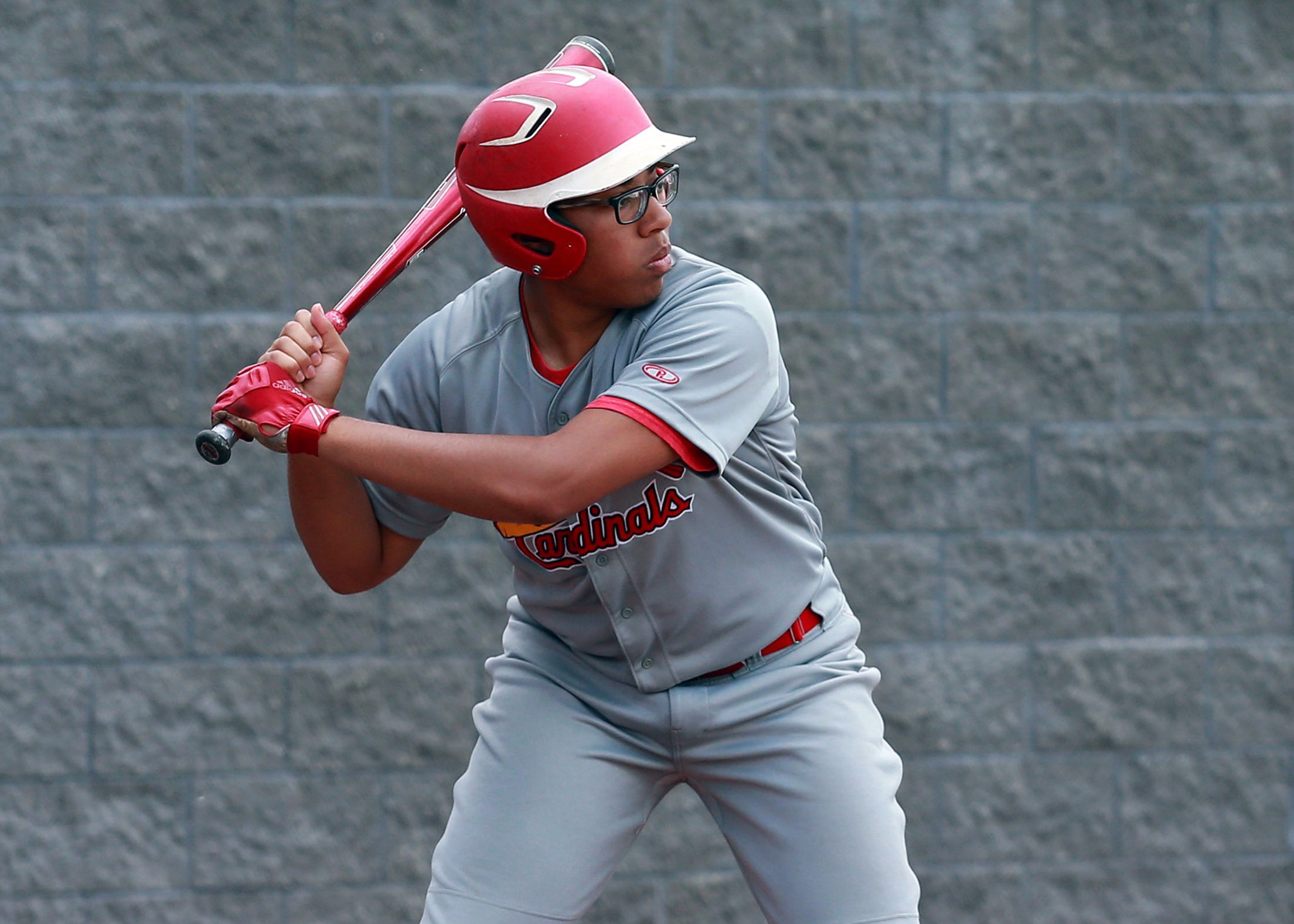 DUBOIS, Pa. – Thomas Grecco, Domenic Toretti and Justin Miknis combined on a one-hit shutout, as DuBois Central Catholic topped visiting Johnsonburg, 8-0, on the Senior League Field in DuBois Thursday afternoon.
(Photo of DCC's Thomas Grecco. Photo by Paul Burdick. Check out more of Burdick's work here)
Grecco went the first four innings to get the win allowing one hit and two walks while striking out 10. Toretti pitched two hitless innings allowing a walk while striking out three and Miknis threw one hitless inning striking out one.
Brandon Walker, meanwhile, drove in three runs for the Cardinals going 2-for-3 with a triple, a walk and two runs scored. Tyler McIntosh scored three runs out of the leadoff spot going 2-for-3 with a walk and an RBI. Damon Foster added a double, a run scored and an RBI and Anthony Kness scored twice.
Paul Gresco had the lone hit for Johnsonburg. Austin Green took the loss failing to record an out in the first inning walking the only two batters he faced on eight pitches.
SOFTBALL
DUBOIS CENTRAL CATHOLIC 5, JOHNSONBURG 2
DUBOIS, Pa. – Chelsea Busatto went 3-for-3 with two RBIs and a run scored to lead DuBois Central Catholic to a 5-2 win over visiting Johnsonburg.
Ashley Wruble pitched well in the win going seven innings allowing two runs, one earned, on five hits while striking out nine. She didn't walk a batter.
Jordan Bundy had the lone RBI for Johnsonburg.
Marian Jones took the loss allowing five runs, two earned, on eight hits while striking out two. She also didn't walk a batter.
MONITEAU LOSSES A PAIR IN SOUTH CAROLINA
MYRTLE BEACH, S.C. – Moniteau dropped a pair of games in Myrtle Beach, S.C. Thursday losing to Maumee (Ohio) and East Fairmont (W.Va.).
The day started off with a 13-1, five-inning loss to Maumee.
Cassidy Claypool had a pair of hits, including a double, and an RBI for the Lady Warriors. Dolcey Shunk added a double and a run scored.
Madalyn Poling had three RBIs for Maumee while Alissa Schneider had four hits, two RBIs and two runs scored.
Amanda Dailey suffered the loss allowing 13 runs, eight earned, on 15 hits and three walks while striking out two.
East Fairmont then topped the Lady Warriors, 8-7, despite a valiant three-run rally in the bottom of the seventh by Moniteau, which trailed 7-0 going to the bottom of the sixth and 8-4 going to the bottom of the seventh.
Claypool was again 3-for-3 with a pair of doubles, two runs scored and an RBI for Moniteau with Abby Rottmen and Megan Hepler each adding a pair of RBIs. Rottmen was 2-for-4 with a double and two runs scored, while Hepler was 2-for-3 with a run scored.
Shay Swiger had a pair of hits, including a triple, and two RBIs for East Fairmont.