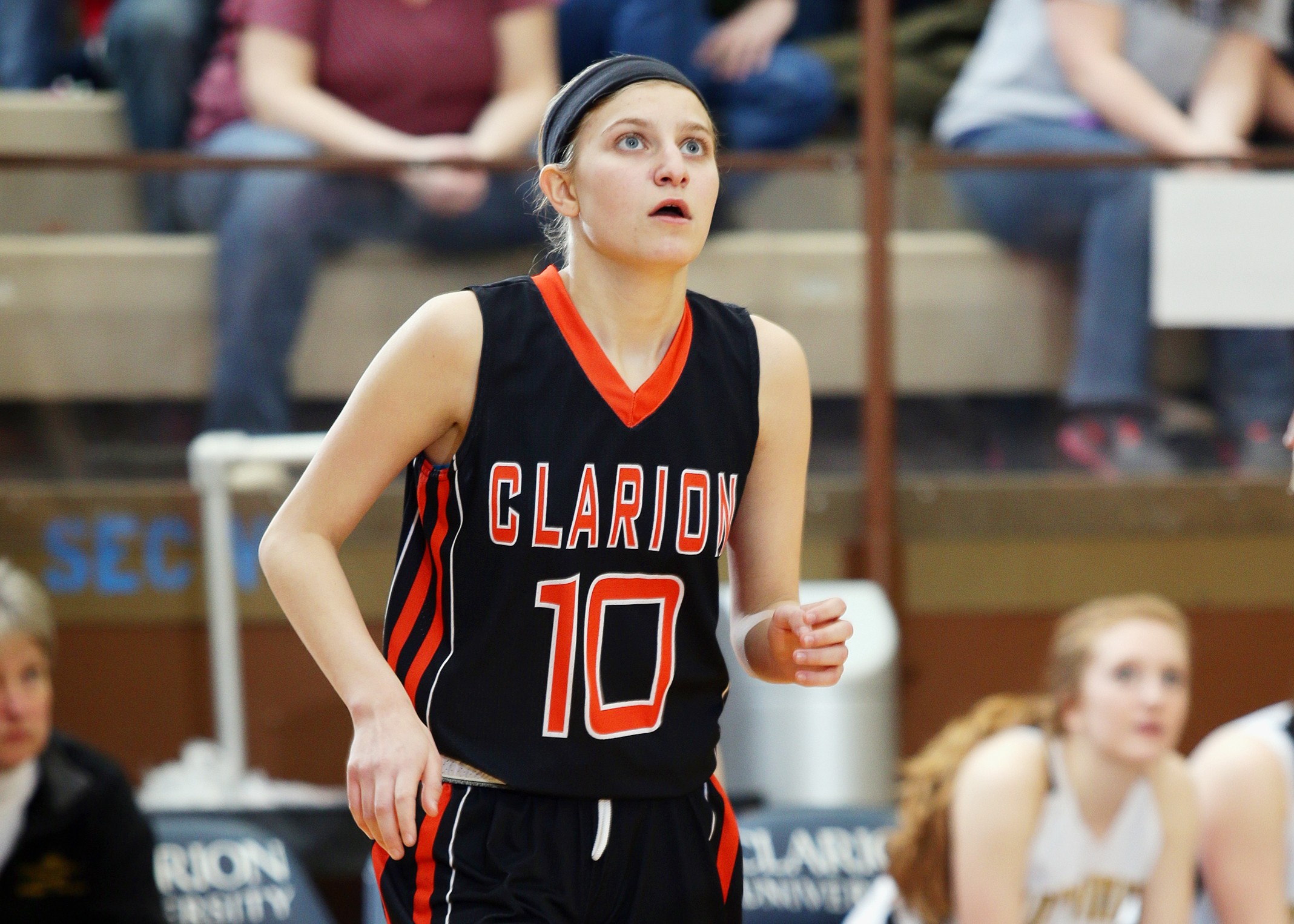 CLARION 32, CRANBERRY 27
SENECA, Pa. – Kelly Beveridge broke a tie game with three driving layups in the fourth quarter to help visiting Clarion beat Cranberry, 32-27, in KSAC North play Friday night.
Clarion trailed, 24-22, going to the fourth quarter before Beveridge scored all six of her points in the fourth quarter.
Anna Reed and Maya Thornton each scored eight points to lead Clarion with Reed and Beveridge each coming up with six steals. Gloria Kroh had seven rebounds after missing the last two games with an injury.
Bree Swartzfager had nine to lead Cranberry with Malliah Schreck adding eight.
ELK COUNTY CATHOLIC 41, KANE 30
ST. MARYS, Pa. – Behind the play of Josie Smith, MacKenzie Cashmer and Reilly Herzing, Elk County Catholic rallied past visiting Kane to grab a 41-30 win in AML action Friday night.
Smith led the Lady Crusaders with 13 points and seven steals, while Cashmer added 11 tallies and Herzing nine points and 10 rebounds.
ECC trailed 15-12 at the half and the game was tied at 26 going to the fourth quarter before the Lady Crusaders outscored the Lady Wolves 15-4 in the final stanza thanks to seven points from Smith and six from Cashmer.
Rachel Morgan had 12 points to lead Kane with Camryn Cummings.   
CLEARFIELD 41, HUNTINGDON 28
HUNTINGDON, Pa. – Clearfield outscored Huntingdon 24-6 in the fourth quarter to erase a five-point deficit and get a 41-28 Mountain League road win Friday night.
The Lady Bison trailed 22-17 going to the fourth quarter but turned it on late to pick up the victory.
Rachel Glenny led Clearfield with 12 points, Emily Ryan added nine and Margo Castagnolo chipped in with seven.   
BRADFORD 50, CAMERON COUNTY 41
EMPORIUM, Pa. – Kam Piscitelli scored 14 points and Raya Hennigan added 10 rebounds to help Bradford go on the road and beat Cameron County, 50-41, Friday night in non-conference action.
Madi Guisto paced Cameron County with 14 points.
A-C VALLEY 48, REDBANK VALLEY 43
NEW BETHLEHEM, Pa. – Morgan Cratty scored 20 points to go with six rebounds and five assists to help A-C Valley knock off Redbank Valley, 48-43, in KSAC South action Friday night.
Cratty shot 8 of 9 from the field.
Olivia Boocks and Lauren McNany each added nine points for the Lady Falcons.
Brooke Hinderliter scored 20 points to go with eight boards to lead the Lady Bulldogs despite sitting out some with foul trouble. She was a perfect 10 of 10 from the free-throw line. Becca Dougherty added 16 points and 10 rebounds. Macy King added nine rebounds.    
ST. MARYS 49, BROCKWAY 28
ST. MARYS, Pa. – Caitlin Bankovich and Rachel Bauer each scored 13 points to lead St. Marys to a 49-28 win over visiting Brockway Friday night.
Lead Lindemuth paced Brockway with 14 points.
St. Marys led 19-10 at halftime and outscored Brockway 16-9 in the third quarter behind eight points from Bankovich.  
KARNS CITY 59, UNION 34
RIMERSBURG, Pa. – Emily Hegedus and LeeAnn Gibson combined to score 35 points to pace Karns City to a 59-34 win at Union Friday night.
Hegedus netted a game-best 18 points with Gibson adding 17 for the Lady Gremlins.
Shaley Shick led Union with 14 points, all in the first half, while her sister, Lexey, added nine points and Kara Flick eight.
Alyssa Gibson chipped in 11 points for Karns City.
MONITEAU 63, KEYSTONE 53
KNOX, Pa. – Kristina DeMatteis and Alazia Greaves combined for 41 points to lead Moniteau to a 63-53 win at Keystone Friday night.
DeMatteis had a monster double-double with 20 points and 18 rebounds, and Greaves scored a team-best 21 points. Emma Bair and Sara Hull each chipped in eight points.
Moniteau trailed by 10, 18-8, at the end of the first quarter but the Lady Warriors outscored the Lady Panthers 19-4 in the second quarter behind nine points from DeMatteis.
Taylor Geer had 23 points, 15 rebounds and six blocked shots to lead Keystone. Amber Hess added eight points and six assists, Josselin Ger added 10 points and Alyssa Beichner 13 rebounds.  
NORTH CLARION 69, CLARION-LIMESTONE 27
STRATTANVILLE, Pa. – Abbie Schmader deposited 30 points and grabbed 11 rebounds to lead North Clarion to a 69-27 win at Clarion-Limestone Friday night.
Tori Obenrader added 17 points, 16 rebounds and 11 assists for her second straight triple-double.
Paige Aaron scored a season-high 15 points for C-L while hitting five 3-pointers.
MARION CENTER 44, DUBOIS 22
MARION CENTER, Pa. – Dayna DeSalve scored eight points for DuBois in a 44-22 loss at Marion Center Friday night.
Courtney Chandler added five for the Lady Beavers, who trailed 19-11 at halftime before being outscored 25-11 in the second half.