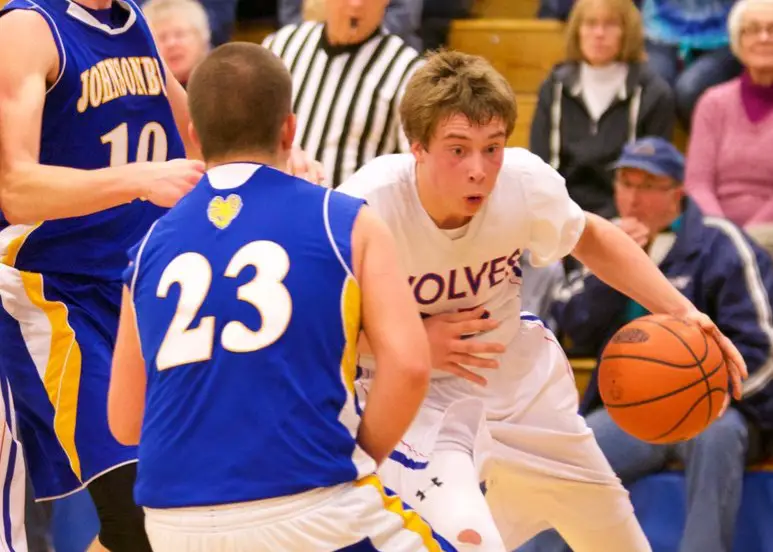 Boys' basketball recaps from Dec. 13.
KANE 80, PORT ALLEGANY 46
KANE, Pa. – Andrew Bucheit had a monster double-double with 20 points and 19 rebounds, as Kane started the season with an 80-46 win over visiting Port Allegany.
Freshman Chad Greville also exploded for 20 points while hitting six 3-pointers for the Wolves, while Davis Gardner had 19 points.
Brandon McCaslin led Port Allegany with 13 points with Jordan Bell adding nine tallies.
ELK COUNTY CATHOLIC 72, JOHNSONBURG 37
ST. MARYS, Pa. – Nate DaCanal led a trio of Elk County Catholic players in double figures with 21 points, as the Crusaders knocked off visiting Johnsonburg, 72-37, in ECC's season opener.
Gabe Kraus added 15 points for the defending District 9 1A champions, and Ryan Newton had 10.
Tyler Singer and Kasey Raubenstrauch each scored eight to pace Johnsonburg.
BRADFORD 51, DUBOIS CENTRAL CATHOLIC 27
BRADFORD, Pa. – Freshman Tyler Gigliotti had a game-high 17 points to lead Bradford to a 51-27 win over visiting DuBois Central Catholic.
Nate Higbie added 11 points and four steals for the Owls, who also got nine points and seven rebounds from Donny Pattison and 10 rebounds and three points from Danny Manion.
DCC, which shot 9 of 49 from the field, was paced by nine points from Noah Pettenati and six from Justin Miknis.
RIDGWAY 58, BROOKVILLE 37
BROOKVILLE, Pa. – Thanks to 26 points and nine rebounds from Justin Kasmierski visiting Ridgway cruised to a 58-37 win at Brookville.
Neil MacDonald added 14 points and seven boards for the Elkers, who made 18 of 22 free throws.
Freshman Aaron Park led Brookville with nine points and six rebounds. Trenton Gilhousen and Seth Ray each chipped in eight points.
CLEARFIELD 53, CENTRAL-MARTINSBURG 41
CLEARFIELD, Pa. – Only four players scored for Clearfield, but three of them combined for all but three of the Bison points in a 53-41 win over visiting Central-Martinsburg in the Mountain League opener.
Tommy Hazel led Clearfield with 19 points while adding nine rebounds. Evan Brown chipped in 16 points to go with five boards, two steals and two assists, and Will Myers added 15 points, five rebounds, three steals and two helpers.
Central-Martinsburg, which led 13-10 after one quarter but trailed 29-19 at halftime, got 10 points each from Brandon Buchart and Josh McKnight.