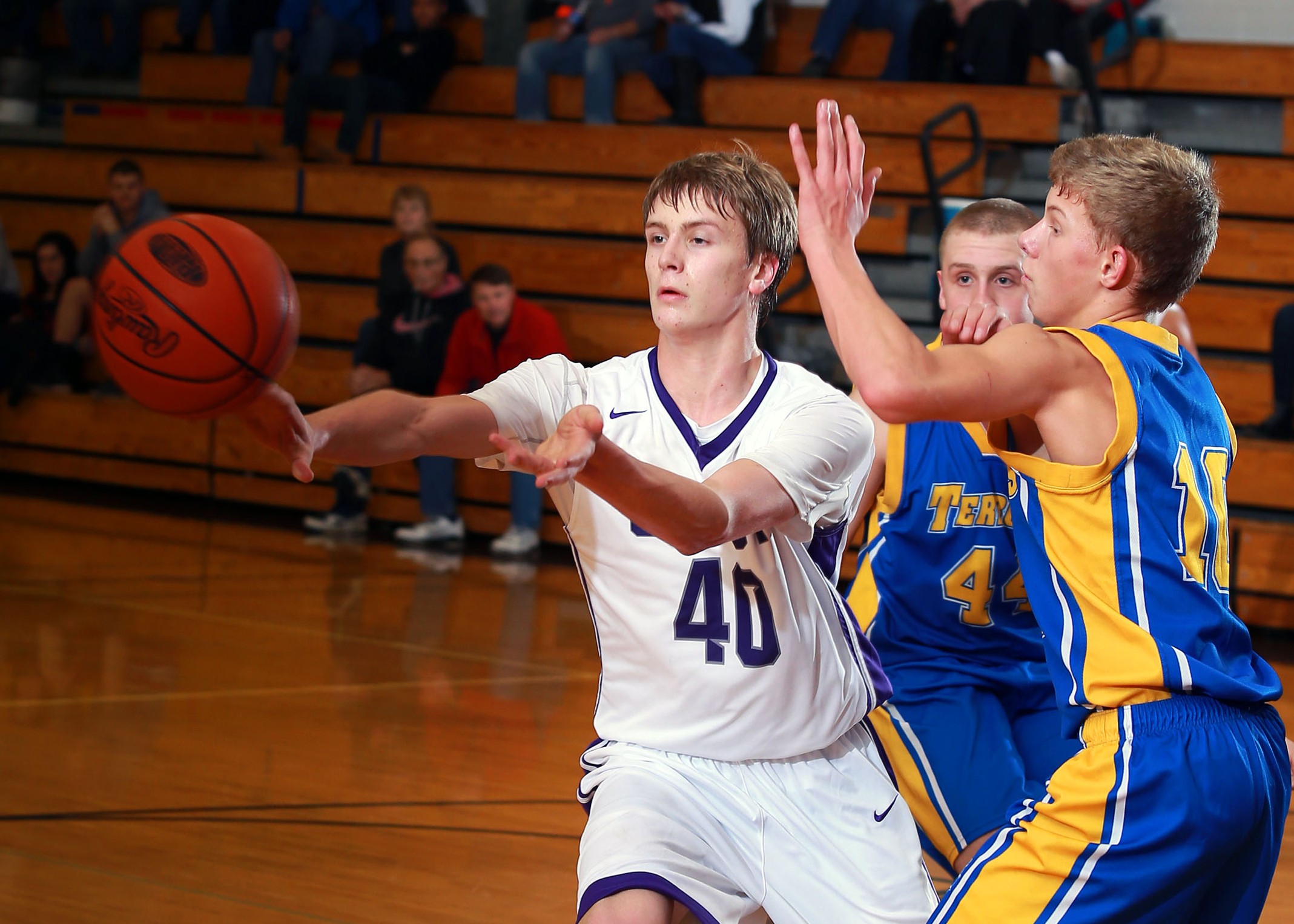 DUBOIS CENTRAL CATHOLIC 52, BRADFORD 48
DUBOIS, Pa. – Freshman Justin Miknis hit a 3-pointer with 11 seconds to go to give DuBois Central Catholic the lead for good, as the Cardinals roared back to beat visiting Bradford, 52-48, Monday night.
Trailing 48-46, Miknis took a pass from Noah Pettenati and drilled the biggest shot of his young career to put DCC up 49-48.
Joey Varischetti then drew a charge on the other end, and Pettenati hit one of two free throws to push the lead to 50-48.
Bradford had a chance to tie or win the game, but the Owls missed a 3-pointer that would have given them the lead, and Christian LaParne sealed the victory with two free throws with 0.1 of a second left.
DCC trailed 43-29 going to the fourth quarter but came charging back behind the play of senior LaParne, who scored 10 of his 23 points in the fourth quarter.
Miknis added nine for the Cardinals, including five in the crucial fourth quarter.
Deondre Terwilliger had 15 points to pace a trio of Bradford players in double digits. John Eakin added 11 and Andy Pantuso 10. Eakin also had a team-best six rebounds.  
WARREN 75, ST. MARYS 71
ST. MARYS, Pa. – Warren rallied from an eight-point halftime deficit to beat St. Marys, 75-71, in non-league action Monday night in the Dutch Oven at St. Marys.
The Dutch led 42-34 at the break, but Warren got back in the game in the third quarter outscoring the home team 21-15 to get within two going to the final eight minutes.
Jeffrey Wehler led St. Marys with 26 points while hitting five 3-pointers. He hit four triples in the first-quarter alone scoring 12 of the Dutch's 21 points in the quarter.
Parker Housler added 21 points for St. Marys, while hitting three 3-pointer of his own, and Matt Marconi had 12 points.  
COUDERSPORT 66, OTTO-ELDRED 42
COUDERSPORT, Pa. – Darren Keglovits scored 17 points while adding seven rebounds, seven steals and four blocked shots to lead Coudersport to a 66-42 North Tier League win over visiting Otto-Eldred Monday night.
Keglovits was one of three Falcons to reach double figures with Jared Green delivering a double-double with 15 points and 11 rebounds and Aaron Wolfinger scoring 11 points. Zach Layag also had a solid night with five points and nine assists.
Heath Stewart led Otto-Eldred with 14 points, while Damien Palmer had 11.
Coudersport led 20-7 at the end of the first quarter and 34-20 at halftime before outscoring the Terrors 17-10 in the third quarter.
RIDGWAY 53, MONITEAU 20
Read full game story at ExploreJeffersonPA.com 
---
RIDGWAY, Pa. – Jeremy Breier netted 17 points to go with eight rebounds to lead Ridgway to a 53-20 win over visiting Moniteau Monday night.
Justin Kasmierski added eight points and 11 boards for the Elkers, who led 20-9 at the end of the first quarter and 33-11 at halftime, while Andy Breier also scored eight.
Ridgway shot 59.5 percent from the floor (25 of 42) and outrebounded Moniteau 43-10.   
"This is basically the same way we have always been playing," Ridgway head coach Tony Allegretto said up his team's up-tempo, full-court style. (This year) we will allow more more shots and more possessions. Last year,we tried to cut the possessions down because we weren't as talented and didn't have the depth."  
Moniteau, which shot 8 of 41 from the floor, got six points each from Aaron Marterella and Nate Sosigian with Sosigian hitting a pair of fourth-quarter 3-pointers.  
"I thought we played well and competed," Moniteau head coach Jerrod Markle said. "We just didn't make enough shots and rebound well enough to keep it close."  
NORTHERN POTTER 43, PORT ALLEGANY 33
PORT ALLEGANY, Pa. – Tucker Kosa netted 26 points, including 16 in the first half, to lead visiting Northern Potter to a 43-33 win at Port Allegany in North Tier League action Monday.
Frank Gardner added 11 points for the Panthers with seven coming from the free-throw line, where he was 7 of 14.
Northern Potter built a 24-13 halftime lead behind Kosa's 16 points but then watched Port Allegany get back in the game outscoring the Panthers 13-5 behind a pair of 3-pointers from Dylan Kio in the third quarter to cut the lead down to, three, 29-26.
Kosa, however, scored eight points in the fourth quarter to help NoPo hold off the Gators.
Tre Garzel led Port Allegany with 16 points and a whopping 30 rebounds, 23 defensive and 7 offensive. 
CAMERON COUNTY 57, GALETON 42
GALETON, Pa. – Adam Shaffer and Trae Smith combined to score 29 points to lead visiting Cameron County to a 57-42 North Tier League win at Otto-Eldred Monday night.
Shaffer netted a team-best 16 points, while Smith added 13 for the Red Raiders, who led 34-11 at halftime thanks to 13 points from Smith and 12 from Shaffer.
Mitchell Smith led all scorers with 21 points for Galeton, including 10 in the fourth quarter and 17 in the second half.
PUNXSUTAWNEY 67, REDBANK VALLEY 44
NEW BETHLEHEM, Pa. – The Punxsutawney Chucks hiked their perfect record to 5-0 with a 67-44 non-league win at Redbank Valley Monday night.
Devin Kelly and Dylan Huey scored 16 and 15 points respectively for the Chucks. Kelly made it a double-double night with 11 rebounds.
The Chucks led 36-19 at halftime and 56-27 after three quarters. They led by as many as 31 points early in  the fourth quarter before the Bulldogs cut it to the final margin.
Despite foul trouble limiting him to about 14 minutes of playing time, Redbank Valley's Dalton Dougherty finished with 17 points and 13 rebounds. Nine of his points came in the fourth quarter. Sam Heeter had 13 points.
The Bulldogs (2-3), who had four starters with three or more fouls at halftime, committed 31 turnovers.
SALTSBURG 76, BROOKVILLE 55
SALTSBURG, Pa. – Nick Porter scorched the Brookville Raiders for 34 points as the Saltsburg Trojans notched a 76-55 win in a non-league matchup Monday night.
Porter poured in 25 points in the first half as the Trojans (5-0) jumped out to a 46-24 halftime lead. Brookville (1-3) won the second half, 31-30.
Jimmy Moore and Colton Singleton scored 12 and 11 points respectively for the Raiders.
UNION 79, TIDIOUTE CHARTER 33
RIMERSBURG, Pa. – Four Union players reached double digits led by 18 points from Lucas Bowser, as the Golden Knights dispatched of visiting Tidioute Charter 79-33 Monday night.
Hank Murphy added 13 points, Sutton Varner 12 and Cole Morris 11 for Union, which saw 10 different players etch their names in the scorebook. Gavin Hawk just missed double digits with nine points.
SHEFFIELD 44, FOREST AREA 32
SHEFFIELD, Pa. – Ryan LeMay and Logan Connolly each netted 12 points to lead homestanding Sheffield to a 44-32 win over Forest Area in non-conference action Monday night.
Seth Berlin and Zac Testani each had nine points to lead Forest Area, which trailed 27-16 at the half.  
KEYSTONE 44, NORTH CLARION 36
FRILLS CORNERS, Pa. – Mason Rearick had 13 points and 13 rebounds to lead Keystone to a 44-36 non-conference win at North Clarion Monday night.
Tanner Wilson led the Panthers with 15 points.
Zayn Hargenrader led all scorers with 17 for North Clarion, eight coming in the first quarter, with Zander Hargenrader adding eight.
The game was tight throughout with a 12-7 second-quarter edge giving Keystone a 23-19 halftime lead that was expanded to 33-28 at the end of the third quarter. Rearick and Wilson then combined for nine of Keystone's 11 fourth-quarter points to allow the Panthers to hang on for the victory.
WILLIAMSON 74, AUSTIN 44
TIOGA, Pa. – Anderson Nicka scored 18 points and grabbed eight rebounds, but it wasn't enough to keep Austin from dropping a 74-44 decision at Williamson Monday night.
Mason Valenti chipped in 16 points for the Panthers.
Matt Dodson led all scorers with 22 for Williamson including 11 in the first quarter when Williamson outscored Austin 24-13.  
SAEGERTOWN 60, A-C VALLEY 26
SAEGERTOWN, Pa. – Visiting A-C Valley was no match for Saegertown falling 60-26 Monday night.
Joe Manculich led the Falcons, who scored half of their points in the first quarter, with 10 points. Kody Wolfe added eight while hitting a pair of 3-pointers.
OSWAYO VALLEY AT SMETHPORT – SUSPENDED IN THE THIRD QUARTER (POWER)
SMETHPORT, Pa. – A power outage that hit the entire town of Smethport forced the suspension of the Oswayo Valley/Smethport North Tier League game Monday.
Power went out 14 seconds into the second half with Oswayo Valley leading 31-16.
The game will be resumed from that point forward at a date to be determined.