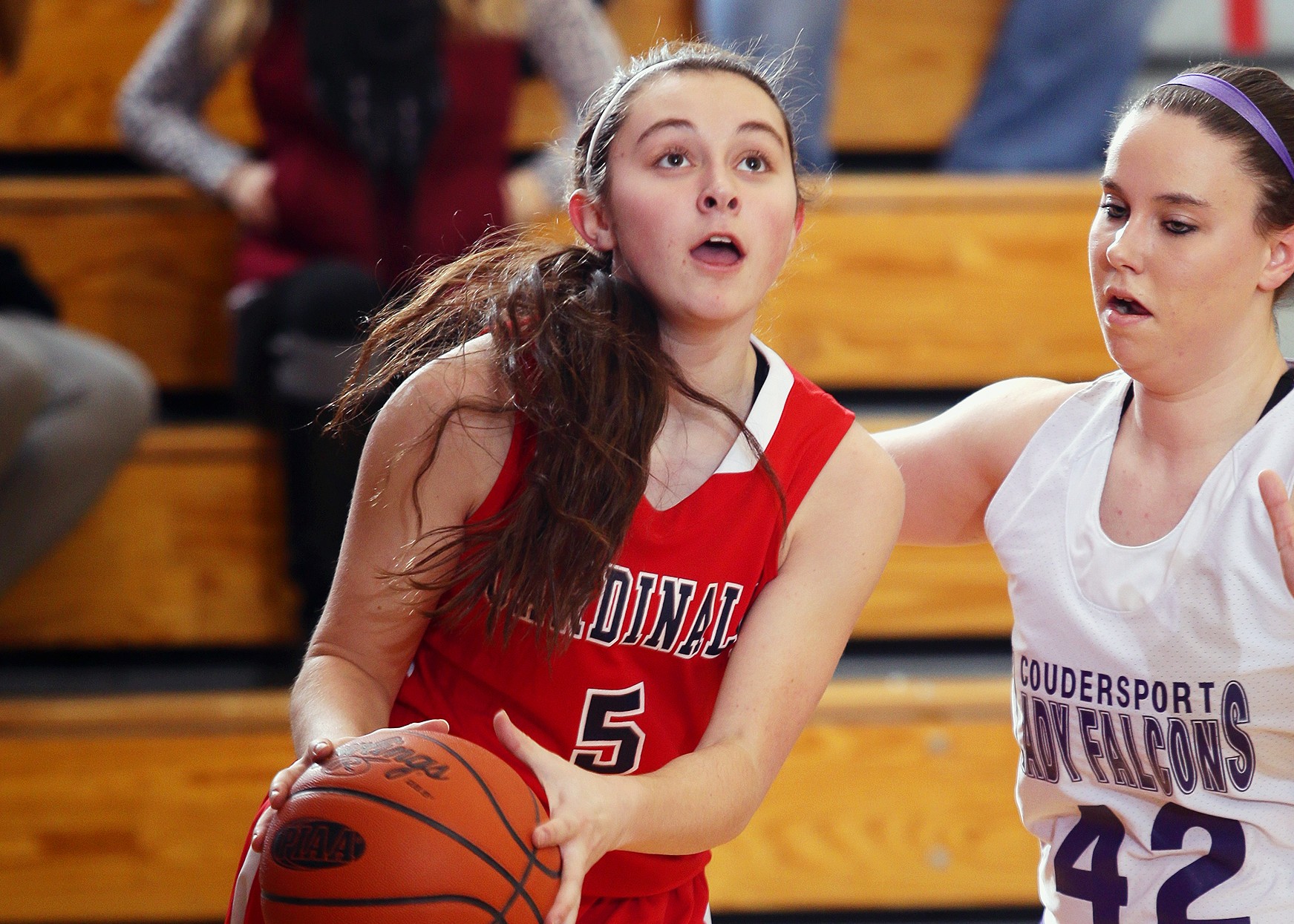 DUBOIS CENTRAL CATHOLIC 44, ELK CO. CATHOLIC 40
ST. MARYS, Pa. – Behind 20 points from Riley Assalone, DuBois Central Catholic ended Elk County Catholic's 31-game regular-season AML win streak and the Lady Crusaders 51-game regular-season home AML win streak with a 44-40 victory Monday night in St. Marys.
The Lady Crusaders last lost an AML regular-season game Dec. 12, 2012, at Johnsonburg, 47-44, and hadn't lost an AML conference game in the regular-season at home since Dec. 20, 2003, when Ridgway beat ECC  39-38.
The win also broke a 15-game losing streak by DCC to ECC. The Lady Cardinals hadn't beaten the Lady Crusaders since a 51-30 win in DuBois Jan. 29, 2005.
Assalone scored 12 of her 20 points in the fourth quarter and 17 points in the second half helping DCC overcome a 16-12 halftime deficit.
Jordy Frank added eight points for DCC.
Reilly Herzing paced ECC with a double-double of 10 points and 10 rebounds.  
BROOKVILLE 46, JOHNSONBURG 32
BROOKVILLE, Pa. – An 11-0 run in the third quarter helped key the Brookville Lady Raiders to a 46-33 win over visiting Johnsonburg in a non-league game Monday night.
Brookville led 22-20 before its run gave it enough of a cushion to send the Ramettes home with a loss.  
Elaina Powell and Hali Olson scored 14 and 10 points respectively for Brookville with MacKenzie Ganoe adding seven points and seven steals.
Nicole Myers led Johnsonburg with 13 points and Cassidy King added six.  
SMETHPORT 48, OSWAYO VALLEY 22
SHINGLEHOUSE, Pa. – Emily Treat and Abby Woodard each scored 14 points to lead Smethport to a 48-22 win at Oswayo Valley Monday night.
NORTHERN POTTER 49, PORT ALLEGANY 46
ULYSSES, Pa. – Kalie Cowburn and Gracie Hamilton combined for 28 points to lead Northern Potter to a 49-46 win over visiting Port Allegany Monday.
Cowburn netted a team-best 17 points with Hamilton adding 11.
That helped offset a great game from Port Allegany's Autumn Buchsenschutz, who scored a game-high 28 points. Hannah Lathrop chipped in seven points for the Lady Gators.
Northern Potter led 19-14 at halftime and 35-28 at the end of three quarters before Port tried to rally in the final eight minutes.   
GALETON 38, CAMERON COUNTY 20
EMPORIUM, Pa. – Makaya Shadle scored 16 points to lead visiting Galeton to a 38-20 win at Cameron County Monday.
Laura Parsell added eight for the Lady Panthers, while Maddy Guisto led Cameron County with eight points.
Galeton led 24-12 at halftime.
COUDERSPORT 44, OTTO-ELDRED 39
DUKE CENTER, Pa. – Ally Easton had 14 points and seven rebounds to lead Coudersport to a key early-season North Tier League victory at Otto-Eldred Monday night.
Haley Keck added 10 points and six steals with Emily Morey chipping in six points and four helpers.
Camryn Thomas had 12 points and 10 rebounds to lead Otto-Eldred with eight of her points coming in the first quarter helping Otto take an early 14-7 lead.
But Coudersport rallied in the second quarter and got within two, 19-17, at halftime before pulling within one, 33-32, going to the fourth quarter.
In the final quarter, the Lady Falcons outscored the Lady Terrors 12-6 behind six points from Easton.  
UNION 71, TIDIOUTE CHARTER 12
RIMERSBURG, Pa. – Lexey Shick recorded a triple-double with 15 points, 11 steals and 10 assists to lead Union to a 71-12 win over Tidioute Charter Monday night in Rimersburg.
Frankee Remmick added 14 points with Kali Flick chipping in 10 points.  
A-C VALLEY 49, BROCKWAY 29
BROCKWAY, Pa. – Olivia Boocks scored 12 points and Ellie Thompson added 11 points to pace visiting A-C Valley to a 49-29 win at Brockway Monday night.
Leah Lindenmuth and Adriana Azzato each scored eight points to pace Brockway.
DUBOIS 51, CLEARFIELD 40
DUBOIS, Pa. – Dayna DeSalve and Courtney Chandler each scored 18 points to lead DuBois to a 51-40 win over visiting Clearfield Monday night.
Margo Castagnola had 11 points to lead Clearfield with Sam Rockmore chipped in with eight and Emily Ryan seven for the Lady Bison.
DuBois led 9-3 at the end of the first quarter and 24-20 at halftime. The Lady Beavers still led by four, 39-35, going to the fourth quarter but outscored Clearfield 12-5 in the final eight minutes behind seven points from Chandler to pull away.  
SAEGERTOWN 42, CRANBERRY 34
CRANBERRY, Pa. – Hannah Duncan had eight points and Katie Whitling added seven but Cranberry fell to visiting Saegertown, 42-34, Monday night.
Erin Merryman and Bree Swartzfager each chipped in with six.
WEST BRANCH 74, CURWENSVILLE 27
ALLPORT, Pa. – Hannah Dixon scored 15 of Curwensville's 27 points in a 74-27 Lady Tide loss at West Branch Monday.
Christine Limbert added eight points for Curwensville.