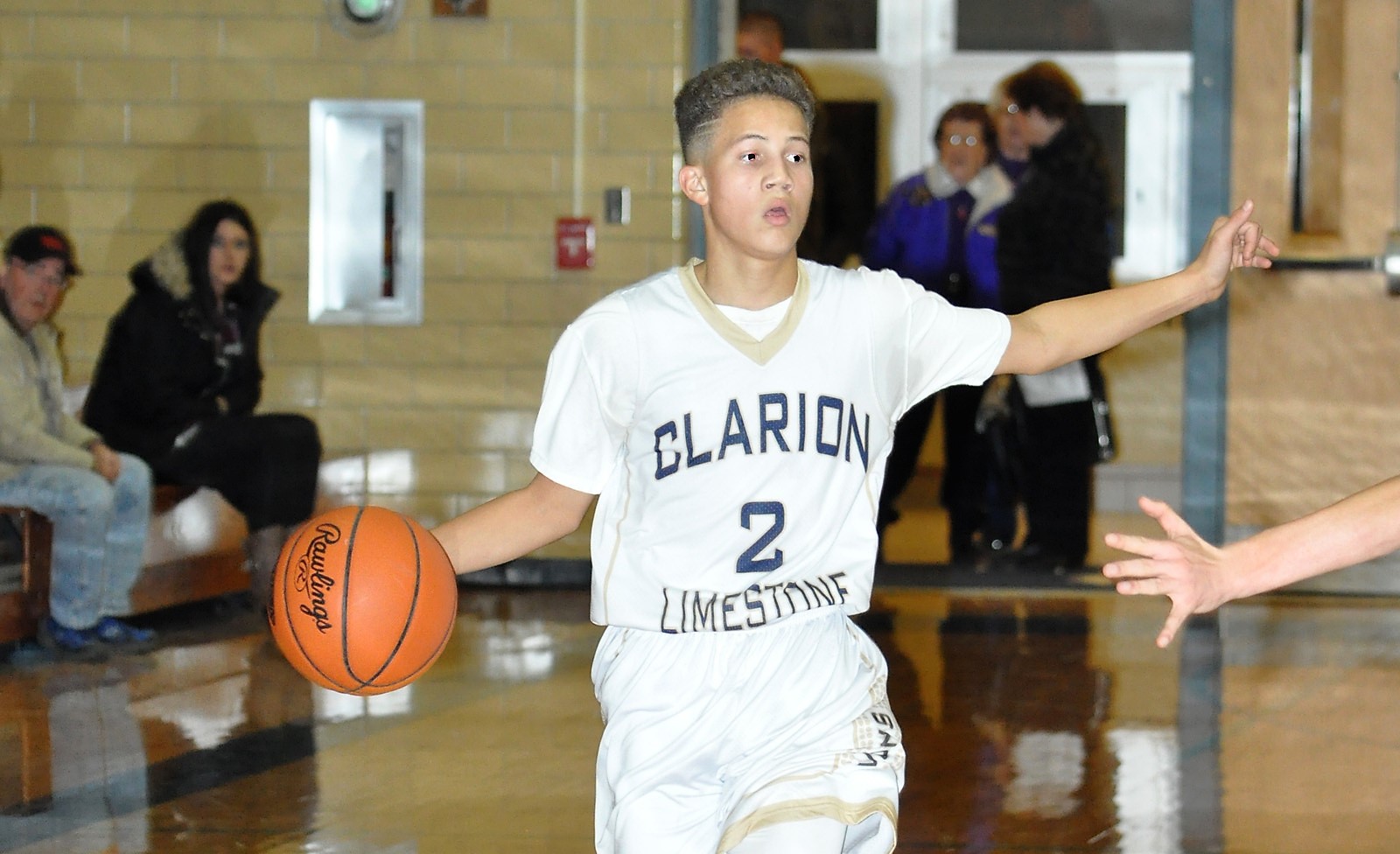 Dec. 14 boys' basketball recaps.
(Photo of Deion Deas)
CLARION-LIMESTONE 70, FOREST AREA 32
TIONESTA, Pa. – Freshman Deion Deas led a trio of Clarion-Limestone players in double digits with 17, as the shorthanded Lions ran past home standing Forest Area, 70-32, at West Forest.
Christian Smith added 15 points for C-L, which was playing without all-district player Dan Callen because of an injury, while Sam Leadbetter chipped in 11 points. The Lions did get Ian Callen back from injury, and the sophomore scored eight points.
Seth Berlin was a one-man show for the Fires scoring a game-high 26 points to go with 13 rebounds.
UNION 50, REDBANK VALLEY 36
NEW BETHLEHEM, Pa. – Lucas Bowser and Gavin Hawk combined to outscored Redbank Valley by themselves, as visiting Union topped the rival Bulldogs, 50-36.
Bowser had a game-high 22 points with Hawk adding 20.
Nick Smith and Adrian Daniels led Redbank Valley with nine points each, while Brock Barrett chipped in with seven points and 10 rebounds. Daniels added 13 rebounds.
NORTH CLARION 59, CRANBERRY 36
FRILLS CORNERS, Pa. – Behind 16 points and six steals from Chase Schmader, North Clarion defended its home court with a 59-36 win over Cranberry.
Nathan Banner added nine points and 10 rebounds for the Wolves, who also got 10 points from Zander Hargenrader.
Cameron Daugherty led Cranberry with 12 points, while Dan McQuaide added 10
KEYSTONE 50, KARNS CITY 45
KARNS CITY, Pa. – Visiting Keystone made an early claim for KSAC South supremacy with a 50-45 win over Karns City.
Austin Ion led the Panthers with 17 points and 10 rebounds with Nate Wingard adding 14 points and Corey Rapp 12.
Ian McElroy had a team-high 14 points for Karns City, who also got 10 from Christian Turner.
Keystone started fast and led 17-10 at the end of a quarter before Karns City got the deficit to one, 34-33, after three quarters.
MONITEAU 70, A-C VALLEY 29
WEST SUNBURY, Pa. – Nate Sosigian and Lake Pry each topped the 20-point mark, as Moniteau rolled past visiting A-C Valley, 70-29.
Sosigian had a game-high 24 points while hitting six 3-pointers, and Pry had a double-double with 21 points and 13 rebounds.
Joe Manculich led A-C Valley with eight points.
CLARION 77, VENANGO CATHOLIC 37
CLARION, Pa. – Reed Anthony led four Clarion players in double figures with a game-high 23 points to lead the Bobcats to a 77-37 win over visiting Venango Catholic.
Cam Craig chipped in 15 points for Clarion, while Ty Burford and Spencer Miller each added 10.
Josh Puleo paced Venango Catholic wht 15 and Tim Wagner added 10.
PUNXSUTAWNEY 73, CAMERON COUNTY 29
EMPORIUM, Pa. – Ethan Riley tied the school record with eight made 3-pointers while scoring a game-high 27 points to give visiting Punxsutawney a 73-29 win at Cameron County.
According to the website pahoops.org, Riley's eight triples tie the record set by Kolby Mummau in 2004 against Cameron County.
Ethan Blose added 12 points for the Chucks, who hit 14 3-pointers as a team, while Jake Weaver added 10 tallies.
Jake Walters' 10 points led Cameron County.
BUCKTAIL 51, AUSTIN 49
AUSTIN, Pa. – Mike Casper scored 20 points to help visiting Bucktail escape Austin with a 51-49 victory.
Matt Daniels led Austin, which scored a basket with three seconds left to set the final score, with 10 points. Dempsey Glover and Mason Valenti each added nine tallies with Parker Glover chipping in eight. Brian Shupe had 11 rebounds for the Panthers.
ST. MARYS 67, BALD EAGLE AREA 43
ST. MARYS, Pa. – Jeff Wehler exploded for 24 points, as St. Marys won its home opener, 67-43, over Bald Eagle Area.
Nathan Schneider added 12 points for the Dutch with Matt Marconi chipping in 10.
Jordan Jones had 14 for Bald Eagle Area.