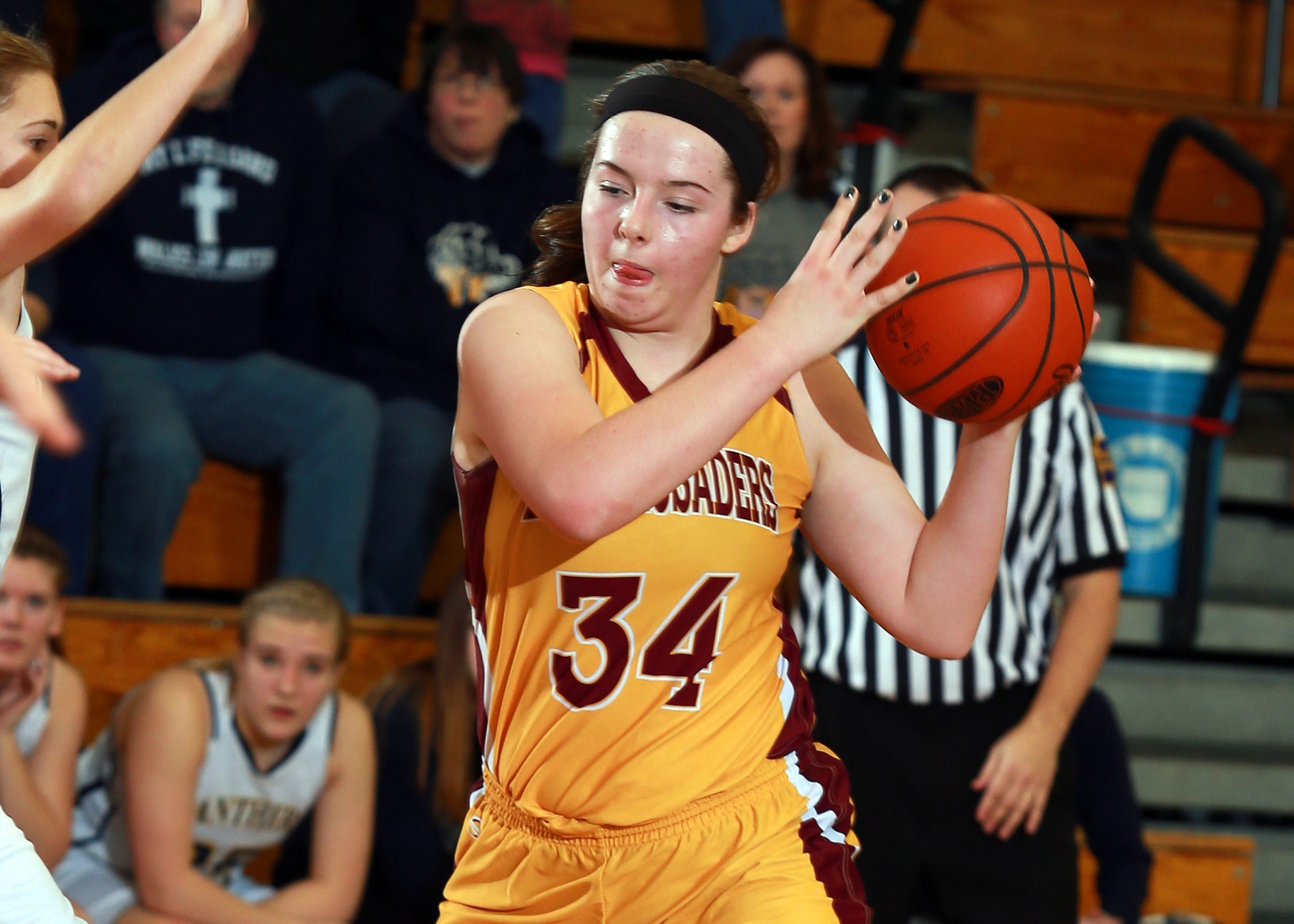 Dec. 14 girls' basketball recaps.
(Photo by Paul Burdick. Check out more of Burdick's work here)
ELK COUNTY CATHOLIC 42, JOHNSONBURG 37
JOHNSONBURG, Pa. – Reilly Herzing's 11 points led a balanced effort for Elk County Catholic, as the visiting Lady Crusaders started their season with a 42-37 win over Johnsonburg.
ECC, which outscored the Ramettes 21-15 in the middle two quarters, also got nine tallies from Josie Smith and eight from Cassidy Cunningham.
Cassidy King led all scorers with 13 points for Johnsonburg with Nicole Myers adding nine and Skyler Sherry seven.
REDBANK VALLEY 49, UNION 30
NEW BETHLEHEM, Pa. – Macy King had 17 points and 15 rebounds as Redbank Valley dispatched visiting Union, 49-30, in KSAC South action.
Kera Fink added 11 points for the Lady Bulldogs who also got nine from Alyssa Wiant.
Lexey Shick led Union with 17 points, three steals, two assists and two rebounds with Frankee Remmick adding eight points and eight rebounds.
MONITEAU 62, A-C VALLEY 59
FOXBURG, Pa. – Sara Hull had a couple of late putback rebounds, and a Kristina DeMatteis steal led to an Izzy Bair layup in the final two minutes to help visiting Moniteau claim a 62-59 win at A-C Valley.
DeMatteis had a strong night with 22 points, seven rebounds and six blocked shots with Hull adding 10 points and eight rebounds and Alazia Greaves 12 points.
Ellie Thompson led A-C Valley, which trailed 29-23 at halftime before rallying to tie the game at 44 after three quarter, with 20, including 13 in the second half, while Olivia Boocks added 18 points, including a pair of third-quarter 3-pointers, and Annie Viertel 10 points, all in the second half with seven coming in the third quarter.
CURWENSVILLE 51, WEST BRANCH 48
CURWENSVILLE, Pa. – Curwensville moved to 2-1 in the Moshannon Valley League with a 51-48 win over visiting West Branch.
Hannah Dixon led the Lady Tide, who led 37-22 with just under seven minutes to play before holding off a furious West Branch rally, with 22 points, Madison Weber added 11 tallies and Christine Limbert just missed a double-double with nine points and 16 rebounds.
Skylar Ceprish led West Branch with 29 points, including 13 down the stretch, with Hailey Prestash scoring nine of her 14 points in the last seven minutes. Alana Speigle added 11 points and 10 rebounds.
A 3-pointer by Ceprish with 5.3 seconds to play got the Lady Warriors to within one, 49-48, but Dixon hit a pair of free throws with 4.2 seconds left to get the lead back to three and a long 3 at the buzzer by Ceprish was too strong.
Dixon was clutch down the stretch for Curwensville going 9 of 10 from the free-throw line and scoring all but one of the Lady Tides' final 14 points in the last 3:44.
OSWAYO VALLEY 41, ARCHBISHOP WALSH (NY) 22
SHINGLEHOUSE, Pa. – Sarah Malogrino had 10 points and 14 rebounds, as Oswayo Valley beat visiting Archbishop Walsh (N.Y.) for the second time in five days with a 41-22 win.
Shayla Bickel added 10 points for the Green Wave, who also got 12 rebounds from Karina West and 14 boards from Abby Matthews.
DUBOIS CENTRAL CATHOLIC 48, BROOKVILLE 39
DUBOIS, Pa. – Riley Assalone led a balanced DuBois Central Catholic scoring attack with 13 points, as the Lady Cardinals opened their home slate with a 48-39 win over Brookville.
Gabby Caruso added nine points for DCC, which had seven players score.
Laken Hergert and Kira Powell each scored eight points for Brookville, which trailed by 15, 35-20, at halftime.
ST. MARYS 44, BALD EAGLE AREA 16
WINGATE, Pa. – Seven different St. Marys Lady Dutch players scored to give the visitors a 44-16 win over Bald Eagle Area.
Michelle Bauer and Rachelle Armanini led the way with nine points each, while Caitlyn Bankovich added eight tallies.
Julia Cingle led Bald Eagle with five points.