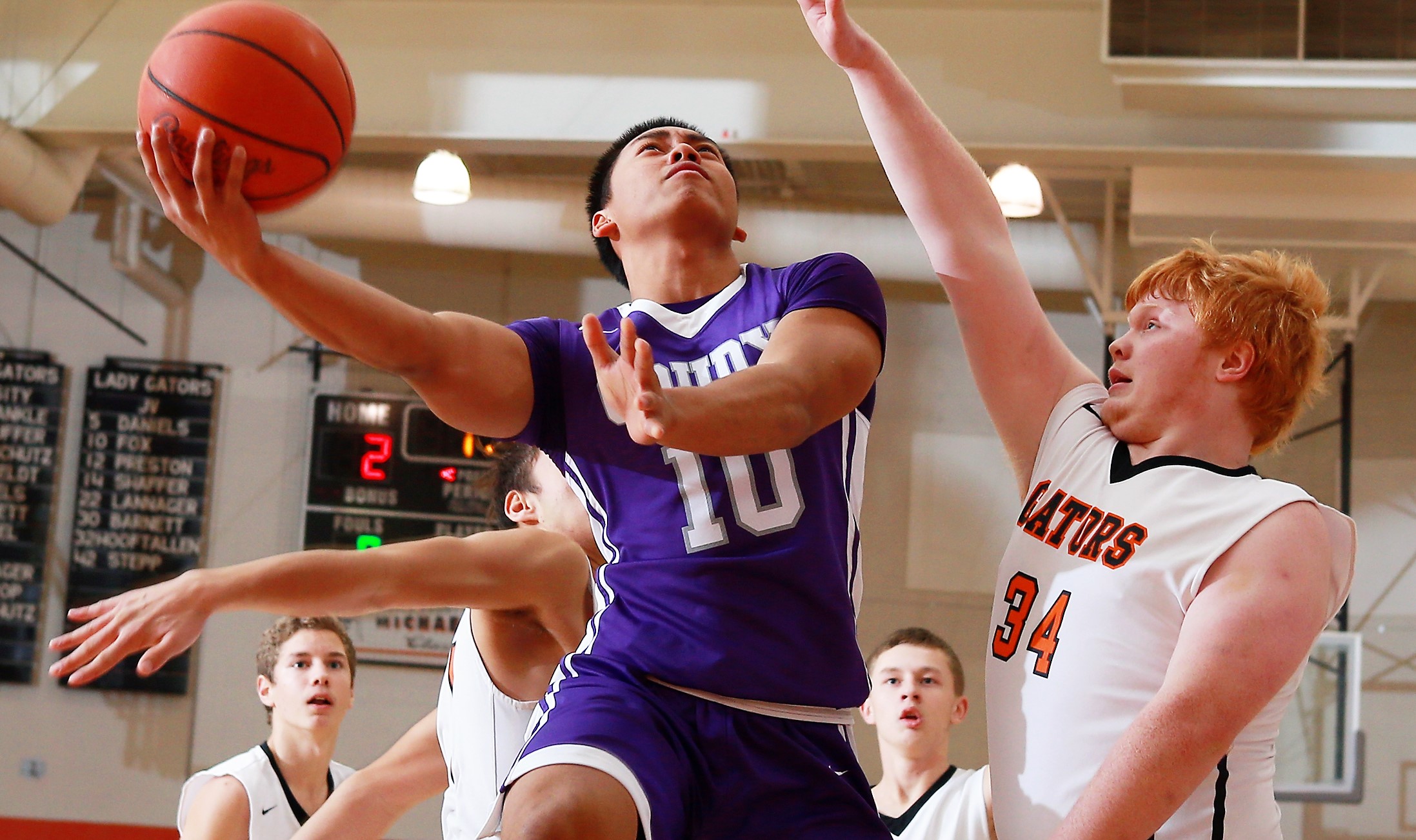 Dec. 19 boys' basketball roundup.
(Cover photo of Coudersport's Zach Layag driving to the hoop for a basketball against Port Allegany Monday night. Photo by Paul Burdick. Check out more of Burdick's work here)
COUDERSPORT 85, PORT ALLEGANY 66
PORT ALLEGANY, Pa. – Jared Green and Owen Chambers combined to pour in 49 points, as visiting Coudersport opened North Tier League play with an 85-66 win over Port Allegany.
Green netted a game-high 26 point, 23 in the first three quarters, for the Falcons with Chambers adding 23, 21 before the fourth quarter. Aaron Wolfinger also reached double digits with 14 tallies.
Brandon McCaslin led Port Allegany, which trailed 46-33 at halftime and 64-47 at the end of three, with 24 points. Howard Stuckey added 16 points.
CLEARFIELD 56, BELLEFONTE 33
BELLEFONTE, Pa. – Tommy Hazel had 20 points, six rebounds and three assists to lead visiting Clearfield to a 56-33 win over Bellefonte in Mountain League play.
Evan Brown added nine tallies, six boards and three helpers for the unbeaten Bison, who led 35-9 at halftime.
Cade Fortney led Bellefonte with seven points.
OSWAYO VALLEY 54, AUSTIN 28
SHINGLEHOUSE, Pa. – Behind 16 points, 12 rebounds, seven assists and four steals from Theo Henry, Oswayo Valley defended its home turf with a 54-28 win over Austin.
Garrett Babcock added 15 points, six rebounds, three steals, two assists and two blocks for the Green Wave, who led 30-16 at halftime.
Blake Burgett paced Austin with 13 points.
NORTHERN POTTER 45, SMETHPORT 39, OVERTIME
ULYSSES, Pa. – Holden Cowburn and Tucker Kosa each scored four points in overtime, as Northern Potter outscored visiting Smethport 8-2 in the extra session to get a 45-39 NTL win.
The teams were tied at 37 at the end of regulation before Cowburn, who scored 14 points in the game, including eight in the fourth quarter and overtime, hit a pair of baskets in overtime and Kosa, who had a game-high 15 points, hit all four of his overtime free throws.
Ian Woodruff, who led Smethport with 12 points, had the lone overtime basket for the Hubbers.
Brayden Southard added 11 points for Smethport, while Blake Jeffers chipped in 11 for Northern Potter.
ST. MARYS 62, DUBOIS CENTRAL CATHOLIC 31
DUBOIS, Pa. – Jeff Wehler had a triple-double with 22 points, 11 rebounds and 10 steals to help visiting St. Marys to a 62-31 win over DuBois Central Catholic.
Nathan Schneider added a double-double for the Dutch, who led 33-19 at halftime before outscoring the Cardinals 29-12 in the second half, with 16 points and 12 rebounds
Justin Miknis paced DCC with 16 points with Thomas Grecco adding eight.
SHEFFIELD 53, FOREST AREA 29
SHEFFIELD, Pa. – Drew Higby and Matt Dunham each scored 10 points to help Sheffield to a 53-29 win over visiting Forest Area.
Roger Dunham chipped in nine points for the Wolverines, who led 32-23 after three quarters before outscoring the Fires, 21-6, in the fourth quarter.
Seth Berlin had 11 points and eight boards for Forest Area.
KANE 58, CAMERON COUNTY 49
EMPORIUM, Pa. – Freshman Chad Greville netted 17 points, and Davis Gardner had a double-double with 13 points and 16 rebounds lifting visiting Kane to a 58-49 win over Cameron County.
Frank Truden added 12 points for the Wolves, who also got six points and 19 rebounds from Andrew Bucheit, who suffered a minor ankle injury in the fourth quarter and is listed as day-to-day by head coach Matt Gasbarre.
Adam Shaffer scored a game-high 19 points for Cameron County, including 11 of the Red Raiders 13 third-quarter points.
Cameron started fast and led 13-7 at the end of a quarter before Kane, behind six points by Gardner, took a 25-22 halftime lead that it expanded to six points, 41-35, by the end of the third quarter.