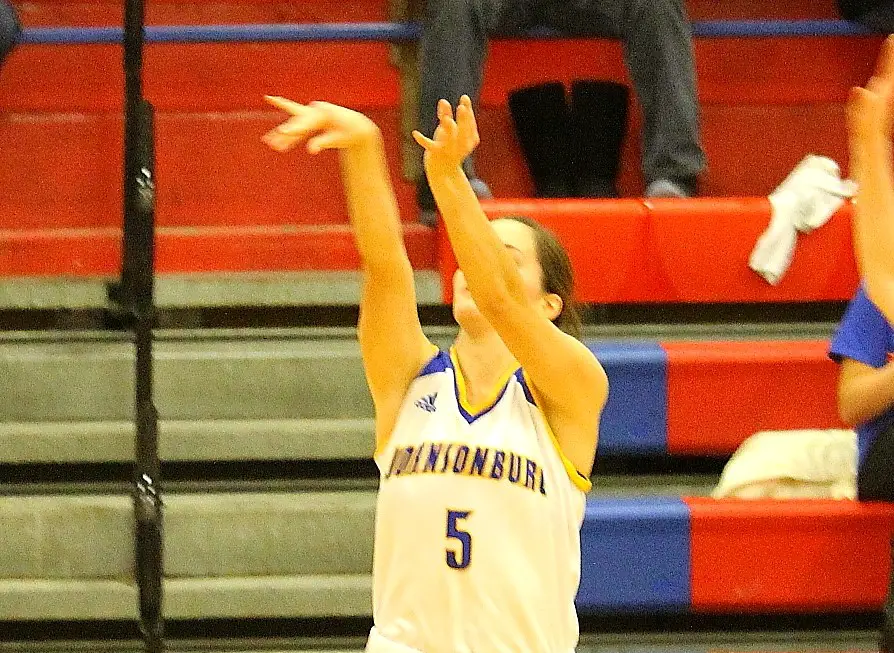 Dec. 19 girls' basketball roundup.
(Cover photo of Johnsonburg's Nicole Myers. Photo by Rich Quiggle)
JOHNSONBURG 61, BRADFORD 36
JOHNSONBURG, Pa. – Skylar Sherry scored a career-high 20 points to go with seven rebounds and four steals to help Johnsonburg to a 61-36 win over visiting Bradford.
Nicole Myers added 19 points and nine steals for the Ramettes, who also got eight points, eight assists, six steals and four rebounds from Cassidy King.
Bri Wells led all scorers with 25 points for Bradford.
CRANBERRY 41, EISENHOWER 12
RUSSELL, Pa. – Erin Merryman and Malliah Schreck combined for 27 points to help visiting Cranberry to a 41-12 win at Eisenhower.
Merryman scored a game-high 14 points for the Berries, who outscored Eisenhower 31-8 in the middle two quarters after they led 3-2 after a quarter, while Shreck added 13 points.
Kirsten Baran's five points led Eisenhower.
BELLEFONTE 55, CLEARFIELD 52
HYDE, Pa. – Visiting Bellefonte outscored Clearfield by six in a run-and-gun fourth quarter to rally past the Lady Bison, 55-52, in Mountain League play.
Clearfield led 31-28 going into the fourth quarter but was outscored by the Lady Raiders 27-21.
Malorie Smith scored 10 of her 13 points in the final eight minutes for Bellefonte, while Lauren Young added seven of her team-high 15 tallies.
Abbie Carr also scored 13 for Bellefonte, while Alayna Ryan led all scorers with 21 points for Clearfield.
Also for the Lady Bison, Brooke Cline chipped in 11 points and Nikol Chew eight.
OSWAYO VALLEY 47, AUSTIN 28
AUSTIN, Pa. – Behind a game-high 15 points from Shayla Bickel, visiting Oswayo Valley gained a 47-28 NTL win over Austin.
Bickel scored six of her points in an 18-point second quarter helping the Green Wave to a 29-13 halftime lead.
Karina West added eight points for Oswayo Valley, while Rylee Hooftallen led Austin with seven.
A-C VALLEY 70, BROCKWAY 55
FOXBURG, Pa. – Ellie Thompson poured in 25 points to lead A-C Valley to a 70-55 win over visiting Brockway.
Thompson was 13 of 16 from the free-throw line on her way to the 25 tallies and finished off a double-double with 15 rebounds, while Olivia Boocks added 12 points and Cami McNany 10 for the Lady Falcons.
Leah Lindemuth paced Brockway with 20 points, six steals and six rebounds with Katlyn Cappetta adding 12 points and 10 rebounds in her first game of the season. Adriana Azzato and Kaitlyn Morelli each chipped in 11 points for the Lady Rovers.
MARION CENTER 46, DUBOIS 30
DUBOIS, Pa. – Jackie Fetsko scored 16 points to lead visiting Marion Center to a 46-30 win over DuBois.
Taylor Shearer added 11 points Marion Center, while Chelsea DeSalve led DuBois with 13 points. Sarah Snyder added eight points for the Lady Beavers.
FOREST HILLS 56, PUNXSUTAWNEY 37
PUNXSUTAWNEY, Pa. – Behind 23 points from Courtney Cecere, visiting Forest Hill pulled away from Punxsutawney late for a 56-37 win.
The Lady Chucks were only down seven with four minutes to play before allowing the Lady Rangers to pull away late.
Leah Miller led Punxsutawney with 17 points and 18 rebounds.
KANE 57, CURWENSVILLE 26
KANE, Pa. – Ella Marconi had 23 points, 10 rebounds, four assists and three blocks to lead Kane to a 57-26 win over visiting Curwensville.
Rachel Morgan also had a double-double for the Wolves with 10 points and 11 rebounds while adding three blocked shots.
Trinity Clark chipped in 11 points, eight rebounds and five helpers, and Hannah Buhl had 10 points and six assists for Kane.
Madison Weber had 13 points for Curwensville.
RIDGWAY 50, BROOKVILLE 34
RIDGWAY. Pa – A big game from Emily Fullem helped Ridgway to a 50-34 win over visiting Brookville.
Fullem scored 16 points to go with nine blocks, five steals, four rebounds and two assists.
Hannah Park chipped in 15 points, five rebounds, three blocks, two steals and two assists for the Lady Elkers, who also had 11 points, eight rebounds, two steals and an assist.
Laken Hergert scored 11 points to pace Brookville with Brooke Shattenberg adding nine.
FOREST AREA 31, SHEFFIELD 26
TIONESTA, Pa. – Behind 10 points and 11 rebounds from Cassie Cochran, Forest Area held off visiting Sheffield, 31-26.
Lexi Lyon had nine points to pace Sheffield.
DUBOIS CENTRAL CATHOLIC 60, CLARION-LIMESTONE 21
STRATTANVILLE, Pa. – Jordy Frank and Riley Assalone combined for 25 points to lead visiting DuBois Central Catholic to a 60-21 win over Clarion-Limestone.
Frank scored 15 to lead all scorers with Assalone chipping in 10.
Paige Aaron had 10 points while hitting a pair of 3-pointers for C-L.