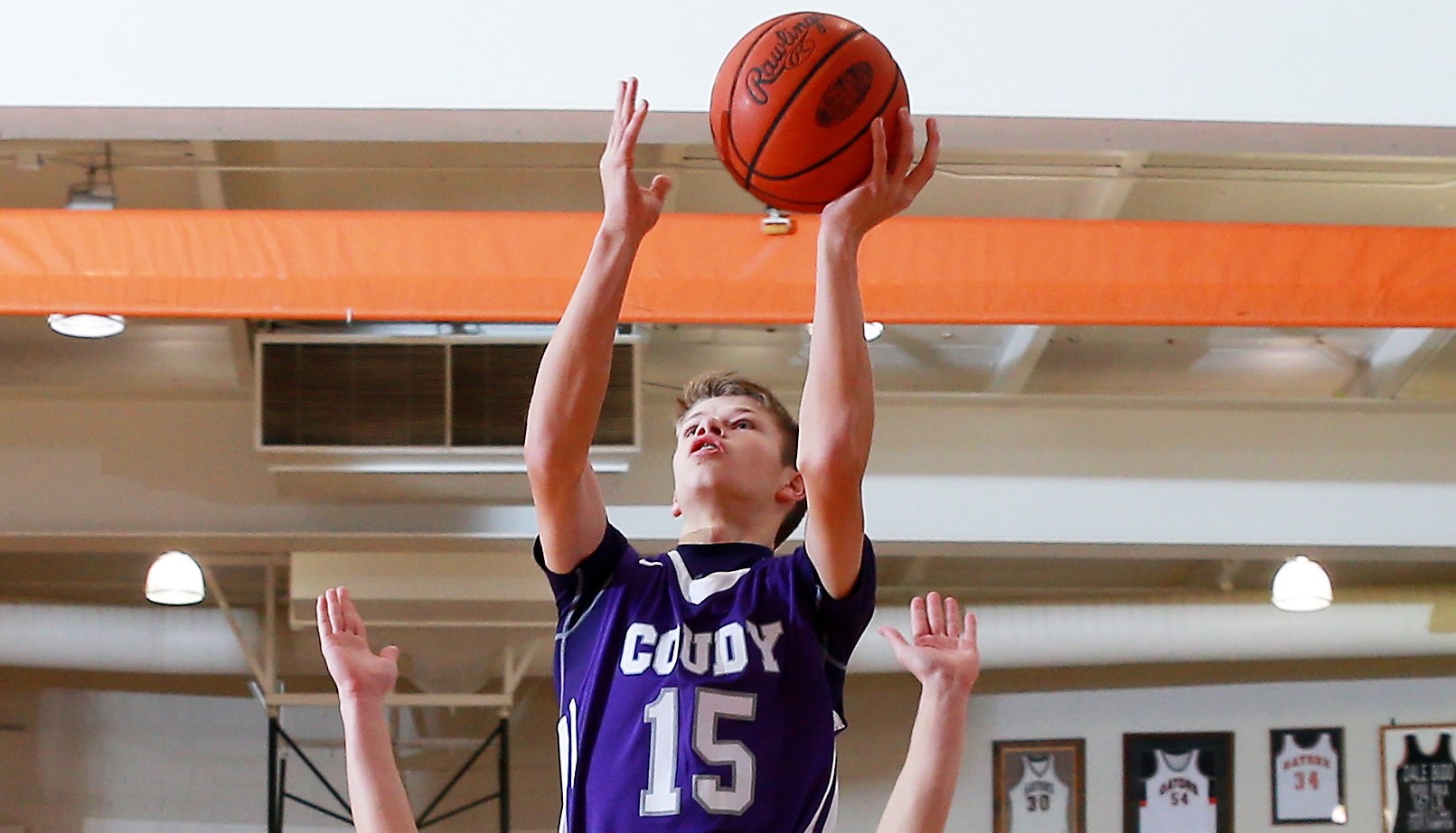 Dec. 21 boys' basketball roundup.
(Cover photo of Coudersport's Owen Chambers. Photo by Paul Burdick. Check out more of Burdick's work here)
COUDERSPORT 61, KANE 48
KANE, Pa. – In a battle of two of the top teams in District 9, visiting Coudersport saw Owen Chambers explode for 25 points to fuel a come-from-behind 61-48 win over Kane.
Chambers hit five 3-pointers and scored 18 second-half points helping the Falcons overcome a 27-23 halftime deficit.
Zach Layag added 14 points for Coudersport.
Andrew Bucheit had a monster game for Kane with 25 points and 11 rebounds. Frank Truden added nine points.
BROOKVILLE 59, SHEFFIELD 46
BROOKVILLE, Pa. – Freshman Aaron Park turned in his first double-double performance of his career, scoring 20 points and grabbing 12 rebounds in Brookville's 59-46 non-conference win over Sheffield.
Ben Reitz added 13 points as the Raiders won a foul-filled game that saw both teams combine for 57 free throws. The Raiders were 22-of-32 with Park making all eight of his attempts. Bryan Dworek made his season debut, recovering from a preseason ankle injury, and scored eight points.
Roger Dunham and Austin Simmer scored 17 and 11 points respectively for the Wolverines, whose coach Mike Knapp was hit with a double-technical foul late in the third quarter and ejected.
PENNS MANOR 60, DUBOIS CENTRAL CATHOLIC 44
CLYMER, Pa. – Austin Cogley scored 15 points and Thomas Grecco reached double figures with 10 points, but it wasn't enough for DuBois Central Catholic in a 60-44 non-conference loss to District 6's Penns Manor.
The Comets had three players score 11 points — Clarence Johnson, Zack Busovicki and Adam Dumm. Penns Manor outscored DCC, 13-5, in second quarter and led 27-18 at halftime.
OTTO-ELDRED 47, SMETHPORT 20
SMETHPORT, Pa. – Dylan Close scored 14 points to lead Otto-Eldred to a 47-20 win at Smethport in a North Tier League game.
Close was the lone double-digit scorer in the game as the Terrors led 22-4 at halftime.
Caleb Lutz scored five points to lead Smethport.
CURWENSVILLE 60, GLENDALE 54
CURWENSVILLE, Pa. – Picking up its first win of the year, Curwensville notched a 60-54 Moshannon Valley League win over Glendale.
Three players reached double figures in scoring. Christian Bakaysa had 13 points while Devan Barrett and Zach Marshall each scored 12 points.
Curwensville's 15-4 first-quarter start was big as the Golden Tide led 33-24 at halftime and 44-33 going into the fourth quarter.
Bailey Sinclair scored 15 points for the Vikings.
CLARION 62, NORTH CLARION 47
FRILLS CORNERS, Pa. – Ty Burford led a trio of Clarion players in double digits with 19 points, as the visiting Bobcats picked up a key early-season KSAC North victory, 62-47, over North Clarion.
Cam Craig chipped in 14 points for Clarion, which took a two-point game at the end of one quarter, into a nine-point halftime lead, 32-23, and a 47-29 lead after three quarters. Reed Anthony also scored 13 points.
Nathan Banner led North Clarion with 13 points.
CAMERON COUNTY 69, AUSTIN 16
AUSTIN, Pa. – Adam Shaffer outscored Austin all by himself netting 20 points in Cameron County's 69-16 win over the homestanding Panthers.
Jake Walters added 16 points for the Red Raiders, who led 51-9 at halftime.
Matt Daniels paced Austin with six points.
OSWAYO VALLEY 51, GALETON 49
GALETON, Pa. – Gavin Babcock's basket with 35 seconds left proved to be the difference, as visiting Oswayo Valley topped Galeton, 51-49, in NTL action.
The game was tied at 49 when Babcock hit the game-winning shot. The Green Wave defense didn't allow the Tigers to get a shot off at the end.
Garrett Babcock led Oswayo Valley, which trailed 24-18 at halftime and 38-34 after three quarters, with 21 points and seven steals. Gavin Babcock added 14 points.
Evan Brooks paced Galeton with 19 points, while David Steadman had 12.
ERIE CENTRAL TECH 51, BRADFORD 34
ERIE, Pa. – Leonard Johnson and Johnny Moore combined for 26 points to give Erie Central Tech a 51-34 win over visiting Bradford.
Johnson netted 14 points and Moore 12.
Deondre Terwilliger led Bradford with 13 points with Donny Pattison adding 11 tallies.