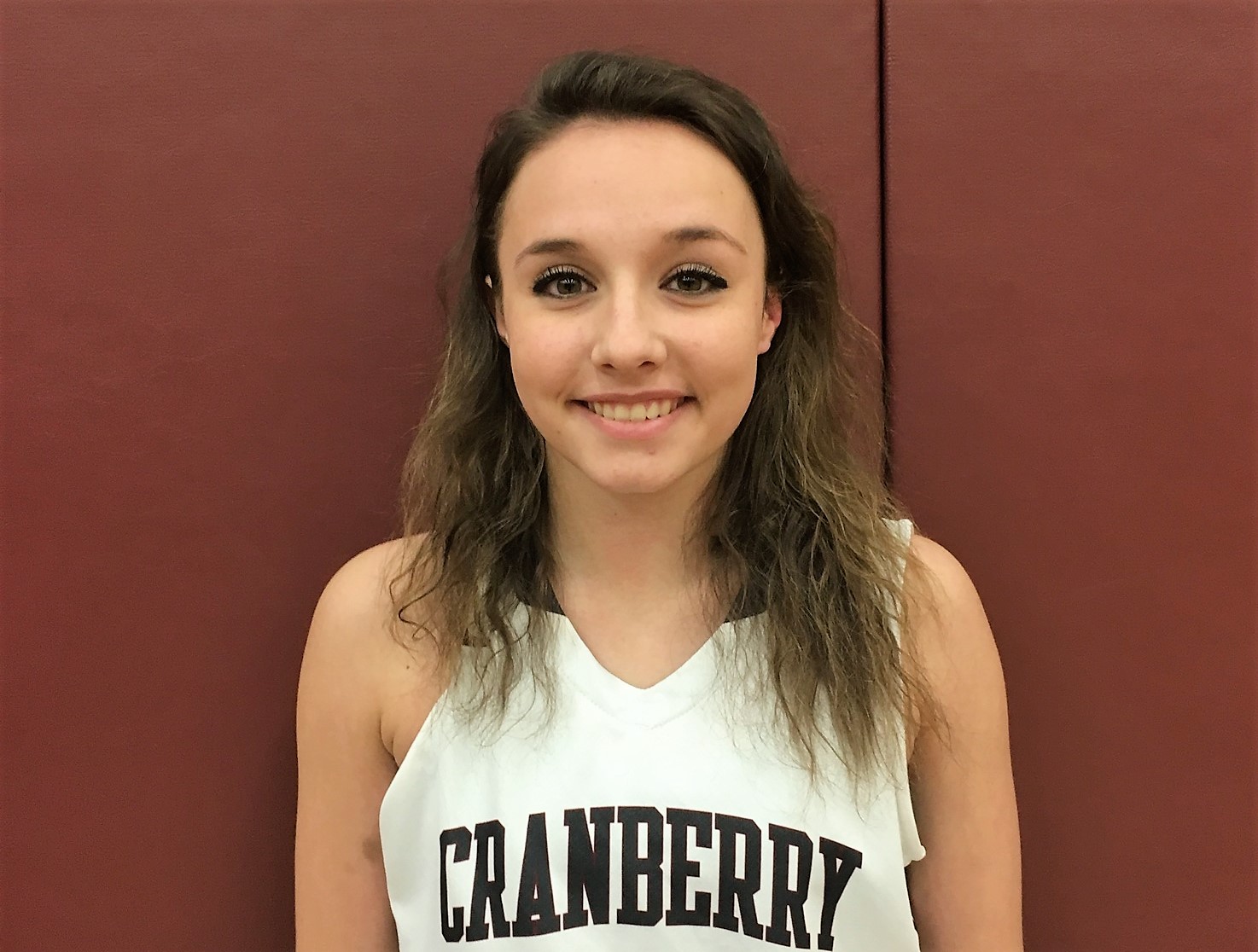 Dec. 21 girls' basketball recaps.
(Cover photo of Cranberry's Erin Merryman)
CRANBERRY 61, FOREST AREA 20
SENECA, Pa.  — The Lady Berries, led by Erin Merryman's 16 points, had three players score in double figures in a rout of Forest Area.
Hannah Duncan added 14 while Malliah Schreck scored 10 for Cranberry. The Lady Berries led 24-11 at halftime before using a big third quarter, 22-7, to blow the game open.
Three Forest players, Glory Wagner, Emily Everett and Cassie Cochran, each scored four points.
PUNXSUTAWNEY 56, DUBOIS CENTRAL CATHOLIC 40
PUNXSUTAWNEY, Pa. — The Punxsutawney Lady Chucks jumped out to a 33-16 halftime lead over the DuBois Central Catholic Lady Cardinals and claimed a 56-40 win.
It was DCC's first loss after a 5-0 start. Meanwhile the Lady Chucks evened their record at 2-2.
Leah Miller led Punxsy with 20 points, 22 rebounds and four rebounds while Alli Lunger had 15 points and Kate Horner added 12 points, seven assists and five steals.
For DCC, Jordy Frank and Riley Assalone each scored nine points while Macey Hanes and Gabby Caruso scored eight apiece.
JOHNSONBURG 54, RIDGWAY 16
JOHNSONBURG, Pa. — Nicole Myers scored 22 points to help lead the Johnsonburg Ramettes to a lopsided win over Ridgway.
Johnsonburg, which won its second straight game to improve to 3-3, outscored the Lady Elkers 21-2 in the second quarter to take a 33-7 halftime lead.
The Ramettes also shut out Ridgway in the fourth quarter, 13-0. Cassidy King joined Myers in double figures, scoring 11 points.
Emily Fullem led Ridgway with nine points.
TYRONE 65, CLEARFIELD 47
TYRONE, Pa. — The Clearfield Lady Bison had a rough second quarter on the road at Tyrone and it led to an 18-point loss in a Mountain League game.
Tyrone led 10-8 after one quarter before outgunning the Lady Bison 27-10 in the second to build a 37-18 lead at the half.
Clearfield did have two players score in double figures. Alayna Ryan led the way with 18 points while Nikki Brossard had 12. Ally Lindstrom chipped in nine.
Kasey Engle scored 23 points to lead Tyrone.
ELK COUNTY CATHOLIC 44, DUBOIS 39
ST. MARYS, Pa. — The Lady Crusaders built a 38-28 lead after three quarters before holding on to beat DuBois, 44-39.
Reilly Herzing scored 14 points and Cassidy Cunningham had 12 to lead ECC.
The Lady Beavers had three players in double digits with Ashley Hallowell and Chelsea DeSalve scoring 13 each and Laura Fatula scoring 10.
WARREN 48, ST. MARYS 33
ST. MARYS, Pa. — Warren put the clamps on the Lady Dutch to take home a 48-33 win.
The Lady Dragons held St. Marys to 12 first half-points while grabbing a 24-12 lead.
Rachelle Armanini led St. Marys with 18 points while Michelle Bauer had six.
Margo Loutzenhiser tallied 20 points for Warren.
KANE 65, BRADFORD 54
BRADFORD, Pa. — The Lady Wolves got a big night from Trinity Clark, who scored 24 points, to win a shootout at Bradford, 65-54.
Kane led 27-21 at halftime and 40-36 after three before slowly pulling away.
Rachel Morgan scored 15 and Camryn Cummings added 10 for Kane.
Bri Wells torched the nets for 21 points while Brinya Hoffett added 13 and Erica Marshall scored eight.
A-C VALLEY 63, UNION 50
FOXBURG, Pa. — A-C Valley held a slim 28-27 lead after one half of basketball before outscoring the Golden Damsels 17-9 on the way to a 63-50 win.
Ellie Thompson led the Lady Falcons with 24 points while Olivia Boocks scored 14 and dished out seven assists. Kylee Eaton scored 13 points and had 10 rebounds while Cami McNany scored 10 points.
For Union, Lexey Shick scored 20 points, Hannah Atzeni added 13 and Frankee Remmick scored eight.
BROCKWAY 44, CAMERON COUNTY 34
BROCKWAY, Pa. — Brockway scored a 44-34 win over visiting Cameron County as three Lady Rovers scored in double figures.
Adriana Azzato and Leah Lindemuth each had 14 points while Kaitlyn Morelli scored 12.
Madison Harrier scored 19 for the Lady Raiders.
Brockway led 20-17 at halftime and 36-28 after three.