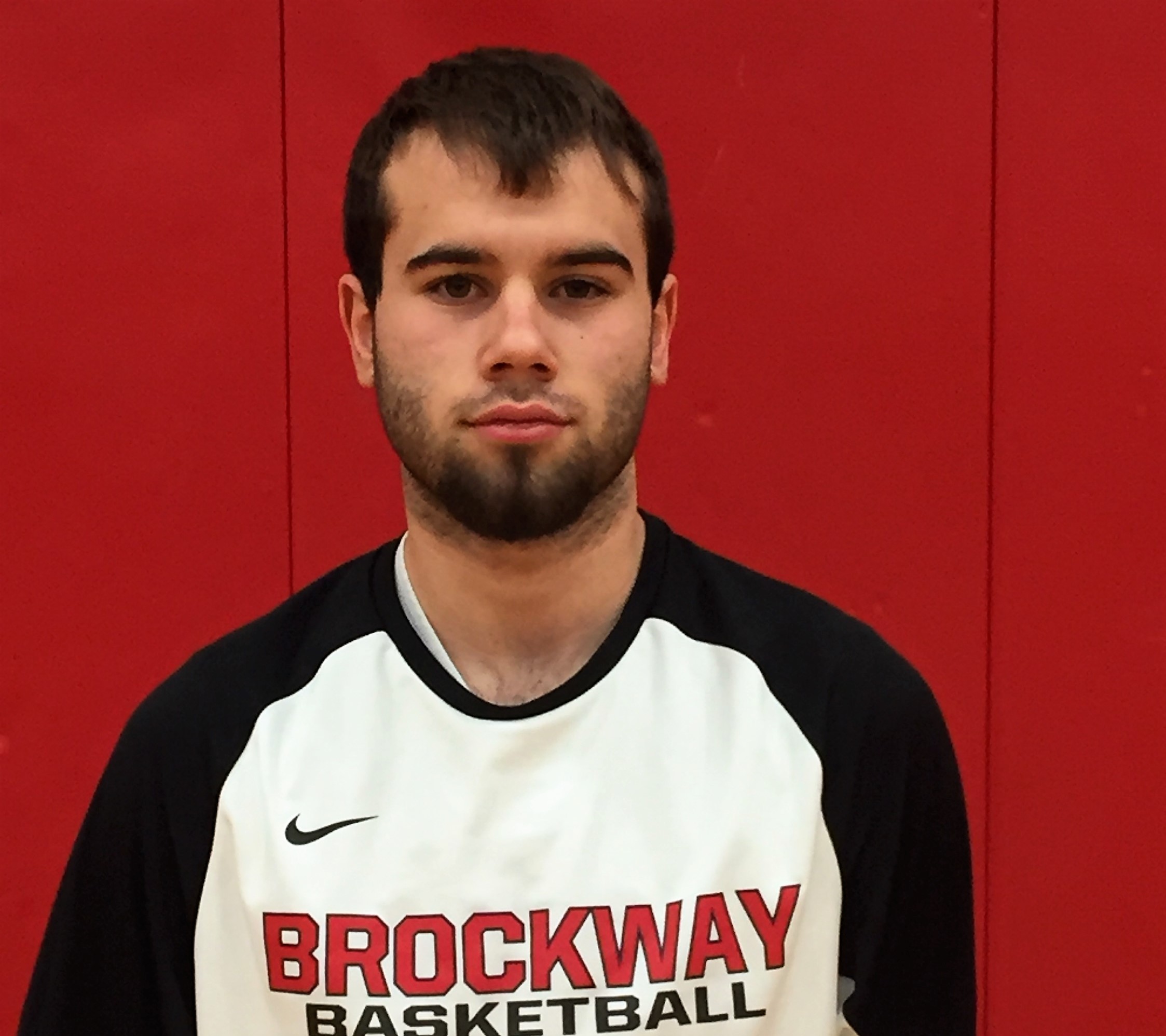 Dec. 22 boys' basketball recaps.
(Cover photo of Brockway's Jake Wineberg)
BROCKWAY 66, VENANGO CATHOLIC 20
BROCKWAY, Pa. – Led by 13 points from Jake Wineberg, nine different Brockway players scored in a 66-20 win over visiting Venango Catholic.
Hunter Miller and Carter Adams each added 11 points for the Rovers, who led 15-0 at the end of a quarter and 30-9 at halftime.
Tim Wagner paced Venango Catholic with 11 tallies.
DUBOIS CENTRAL CATHOLIC 60, HARMONY 49
DUBOIS, Pa. – Behind an all-around performance by Justin Miknis and a career night from Austen Cogley, DuBois Central Catholic rallied in the second half to knock off visiting Harmony, 60-49.
Cogley poured in a career-best 29 points, including 17 in the fourth quarter, while Miknis, only a sophomore, had 17 points, nine rebounds, six steals and five assists.
DCC trailed by nine, 25-16, at halftime but grabbed a 34-31 lead after three quarters thanks to Cogley and Miknis who each scored six points in a third quarter that saw the Cardinals outscore the Owls 18-6. Then Cogley exploded in the fourth quarter knocking down three 3-pointers on his way to scoring 17 of DCC's 26 points in the frame.
Mike Koblosky scored 17 to pace Harmony, while Dan Rorabaugh added 12 on four 3-pointers.
CLEARFIELD 65, TYRONE 40
CLEARFIELD, Pa. – Tommy Hazel, Evan Brown and Will Myers combined for 54 points and 18 rebounds to keep Clearfield unbeaten with a 65-40 Mountain League win over visiting Tyrone.
Hazel led the way for the Bison with 20 points and 10 rebounds with Brown adding 18 points and five boards and Myers 16 points, three rebounds and three assists.
Clearfield (5-0, 4-0) led by nine, 35-26, at halftime before outscoring Tyrone 15-3 in the third quarter behind six points from Hazel and five from Myers.
Parker Mitchell and Jacob Meredith paced Tyrone with eight points apiece.
JOHNSONBURG 70, PORT ALLEGANY 40
PORT ALLEGANY, Pa. – Ten different Johnsonburg players etched their names in the scorebook led by 15 points from Drew Akers, as the visiting Rams blew past Port Allegany, 70-40.
Akers scored 13 of his points before halftime to help Johnsonburg to a 40-21 halftime lead.
Kaycee Raubenstrauch (13 points) and Jake Sheldon (12) also reached double figures for the Rams.
Howie Stuckey paced Port Allegany with 19 points with Brandon McCaslin adding 15.
RIDGWAY 62, MONITEAU 42
WEST SUNBURY, Pa. – Four Ridgway players reached double figures leading the visiting Elkers to a 62-42 win over Moniteau.
Andy Breier led the way with 13 points, Justin Kasmierski and Johnny Mitchell each added 12 and Josh Thorwart 10.
Jake Jewart and Lake Pry each scored 11 points for Moniteau with Jewart adding five helpers.
PUNXSUTAWNEY 63, REDBANK VALLEY 39
PUNXSUTAWNEY, Pa. -Led by 15 points from Jacob Weaver, Punxsutawney dispatched visiting Redbank Valley, 63-39.
Brandon Matthews added nine points for the Chucks, who saw 10 different players score, while Jacob Horner had seven.
Grayson Harman netted 11 for Redbank Valley with Riley Campbell chipping in nine points and Nick Smith seven.
BUCKTAIL 63, NORTHERN POTTER 55
RENOVO, Pa. – Mitchell Intallura netted 17 points to lead Bucktail to a 63-55 win over visiting Northern Potter.
Liam Dwyer added 14 points for the Bucks with Mike Casper adding 13 points.
Tucker Kosa scored 20 points to lead all scorers for Northern Potter with Blake Jeffers adding 14 points.