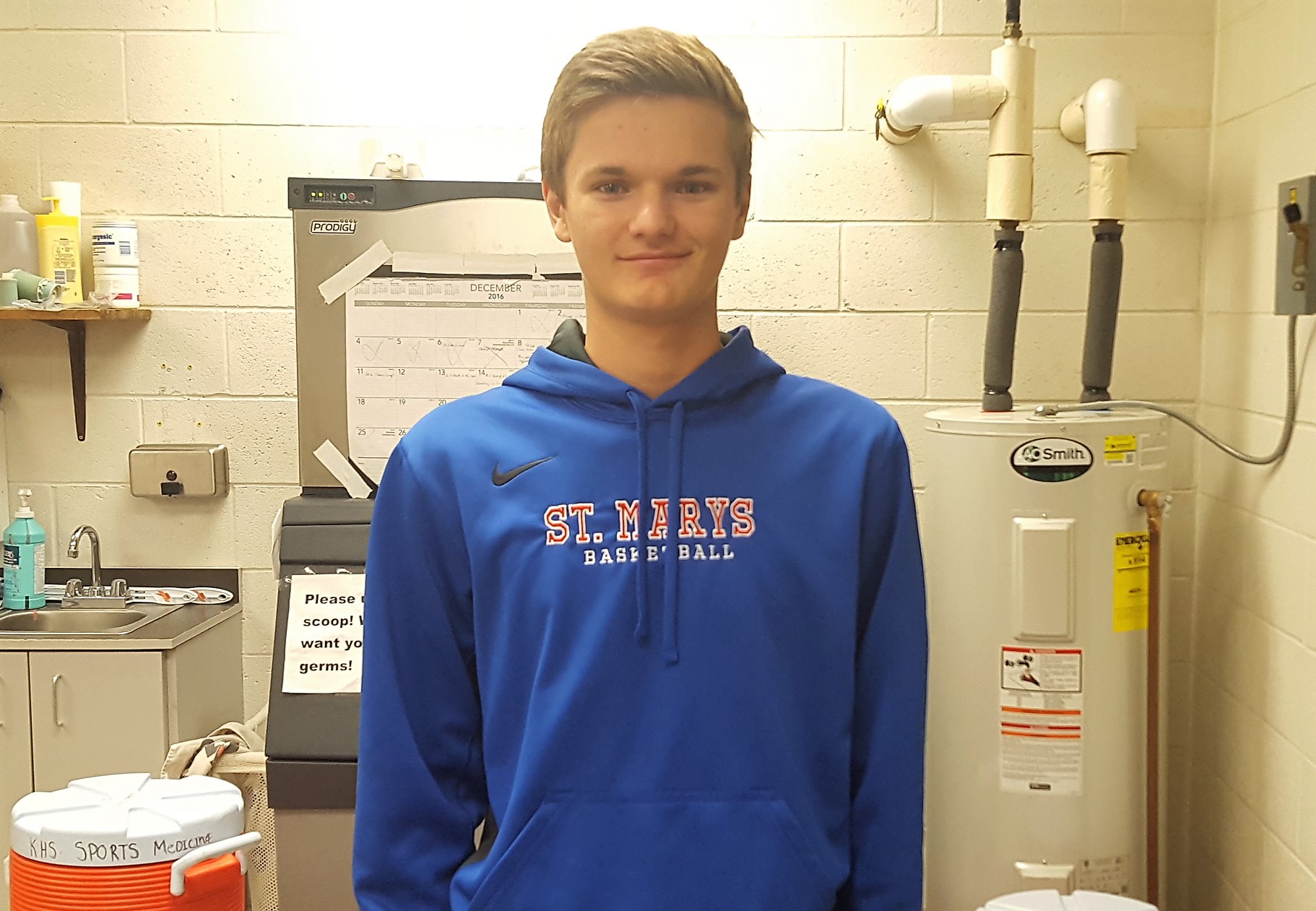 Dec. 23 boys' basketball recaps.
(Photo of St. Marys Nate Schneider. Schneider hit the game-winning shot in a win over Brookville Friday)
ST. MARYS 57, BROOKVILLE 55
BROOKVILLE, Pa. – Nate Schneider's putback off a Jeff Wehler drive to the hoop as time expired lifted visiting St. Marys to a 57-55 win over Brookville.
The Dutch looked like they were in a good spot at halftime leading 36-25 but watched as Brookville cut the deficit to single digits, 47-39 going to the fourth quarter. The Raiders then rallied to make it interesting.
Wehler and Schneider combined for 39 points led by 22 by Wehler with Schneider adding 17. Matt Marconi chipped in seven points and 14 rebounds for St. Marys, which played without big man Parker Smith due to an injury.
Aaron Park paced Brookville with 14 points. Seth Ray added nine for the Raiders.
ELK COUNTY CATHOLIC 61, BROCKWAY 40
ST. MARYS, Pa. – Nate DaCanal scored 17 points to help Elk County Catholic dispatch visiting Brockway, 61-40, in AML action.
DaCanal scored 11 of his points after halftime, as ECC outscored Brockway 38-22 in the second half after holding a 23-18 halftime lead.
Ryan Newton added 13 points for the Crusaders who also got 12 from Gabe Kraus and eight from Logan Hoffman.
Jarrett Esposito paced Brockway with 16 points, and Jake Wineberg added eight tallies.
CAMERON COUNTY 44, BRADFORD 43
EMPORIUM, Pa. – Cameron Count hit five second-half 3-pointers to rally past visiting Bradford, 44-43.
The Red Raiders trailed 26-13 at the break and 36-26 after three quarters but outscored the Owls, 18-7 in the fourth quarter behind three 3-pointers from Mo Yarborough, who finished with a team-high 15 points.
Derek Rieder added nine points for Cameron.
Deondre Terwilliger scored a game-high 16 points for Bradford with Donny Pattison adding 10 points and 12 rebounds. Danny Manion also had 12 rebounds for the Owls.
OTTO-ELDRED 65, SHEFFIELD 56
DUKE CENTER, Pa. – Otto-Eldred used a game-ending 11-2 run to hold off visiting Sheffield, 65-56.
The Terrors led by as many as 14 only to watch the Wolverines climb back into the game and tie the contest at 54.
Dylan Close led the way for Otto with 23 points, while Seth Drummond scored 13 and Trey Dalton 11.
Matt Dunham had 13 points to pace Sheffield with Cale Albaugh adding 11 and Drew Higby 10.
CAMBRIA HEIGHTS 78, DUBOIS 66
PATTON, Pa. – Nick Brawley scored 24 points to help Cambria Heights defeat visiting DuBois, 78-66.
Tyler Scott added 14 points for the Highlanders.
Nick LaBrasca paced DuBois with 20 points, while Alex Beers added 12 and Kenny Garvey 11.