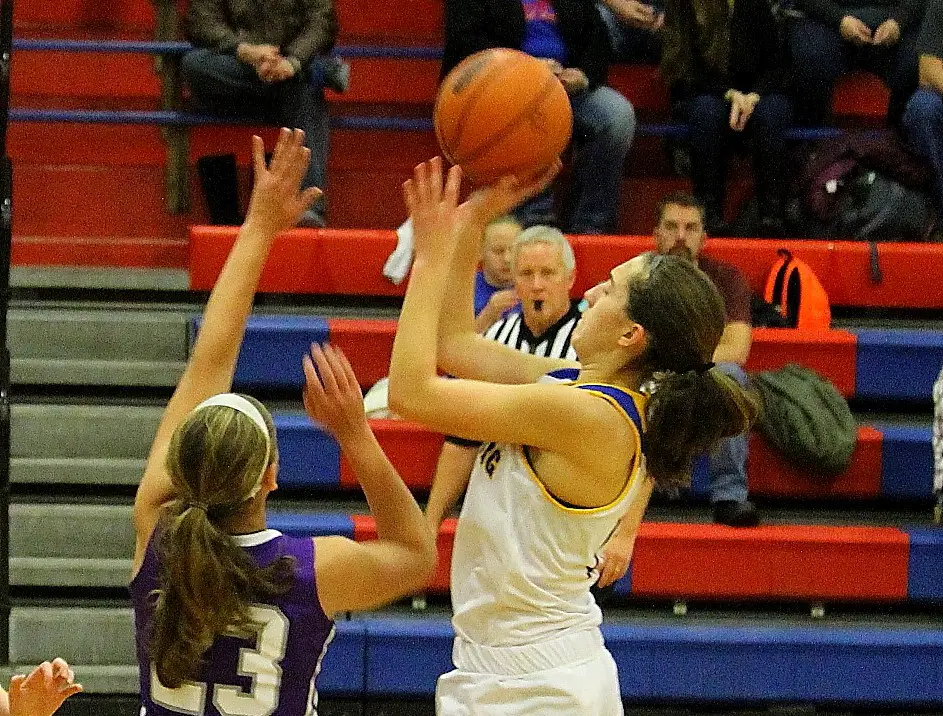 Dec. 23 girls' basketball recaps.
(Photo of Johnsonburg's Cassidy King. King scored 14 points in helping the Ramettes knock off DCC Friday. Photo by Rich Quiggle)
JOHNSONBURG 48, DUBOIS CENTRAL CATHOLIC 45
DUBOIS, Pa. – Nicole Myers and Cassidy King each scored 14 points, as Johnsonburg picked up a key road win, 48-45, over DuBois Central Catholic.
Skylar Sherry added 11 tallies for the Ramettes.
Libby Maurer paced DCC with 13 points. Gabby Caruso added 11.
Johnsonburg built a 23-19 halftime lead but led by just one, 37-36, going to the fourth quarter.
CLEARFIELD 52, DUBOIS 45
CLEARFIELD, Pa. – Clearfield built a 10-point halftime lead on its way to a 52-45 win over visiting DuBois.
The Lady Bison led 34-24 at the break.
Alayna Ryan paced the way for Clearfield with 19 points, Nicollette Brossard added 12 points and Ally Lindstrom 11.
Ashley Hallowell led DuBois with 14 points, Laura Fatula chipped in with 13 and Chelsea DeSalve 11.
ELK COUNTY CATHOLIC 39, BROCKWAY 33
BROCKWAY, Pa. – Reilly Herzing and Josie Smith combined to score 23 points to lead visiting Elk County Catholic to a 39-33 win over Brockway in AML action.
Herzing netted 13 points for the Lady Crusaders with Smith chipping in 10.
Kaitlyn Morelli led all scorers with 21 points for Brockway while adding 10 rebounds. Leah Lindemuth chipped in eight points and 10 rebounds.
Brockway was down two with 46 seconds to play but ECC made its fouls shots to win.
ST. MARYS 53, BROOKVILLE 30
ST. MARYS, Pa. – Caitlyn Bankovich, Rachelle Armanini and Megan Quesenberry combined to score 42 points, as St. Marys rolled past visiting Brookville, 53-30, in D9 League action.
Bankovich led the way with 19 points, Armanini added 13 and Quesenberry, a freshman, added 10.
Brooke Shattenberg paced Brookville with nine points.
MERCYHURST PREP 73, BRADFORD 29
ERIE, Pa. – Behind 18 points from Ellie Steiner, Mercyhurst Prep blew past visiting Bradford, 73-29.
Emily Shopene and Renee Stoicovy each added 12 points for Prep.
Bri Wells tied Steiner for game-high honors with 18 for Bradford.
EISENHOWER 56, SHEFFIELD 16
RUSSELL, Pa. – Kiersten Baran and Payton Mineweaser combined to score 25 points to lead Eisenhower to a 56-16 win over visiting Sheffield.
Baran led the Lady Knights with 14 points with Mineweaser added 11 points.
Lexi Lyon led Sheffield with nine points.