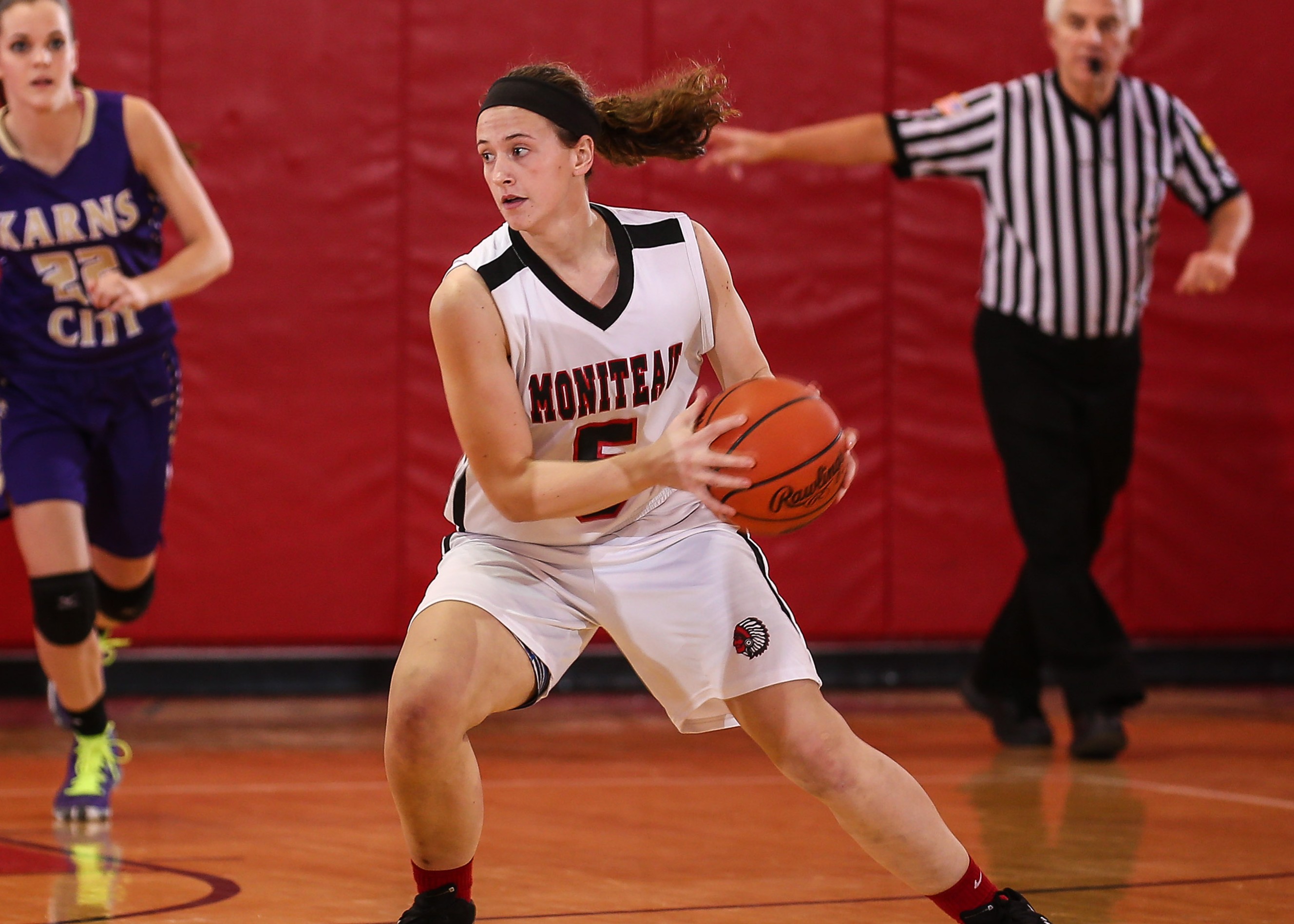 Dec. 29 girls' basketball roundup.
(Cover photo of Moniteau's Kristina DeMatteis. Photo by Mike Schnelle. Check out more of Schnelle's work here)
MONITEAU 51, HAZLETON 46
PUNXSUTAWNEY, Pa. – Kristina DeMatteis had 14 points, 12 rebounds and six steals to lead Moniteau to a 51-46 win over Hazleton in the championship game of the Carl Truance Holiday Classic at Punxsutawney.
DeMatteis, who was named the tournament MVP, scored 12 of her 14 points after halftime and helped offset a game-high 18 points from Kendra Pfeil for the Lady Cougars.
Emma Bair chipped in 10 points for Moniteau with Alazia Greaves and Sara Hull each scoring nine tallies.
Maddie Mrochko added 10 points for Hazleton, which had won the last three tournament titles at Punxsutawney.
PUNXSUTAWNEY 59, MARION CENTER 42
PUNXSUTAWNEY, Pa. – Kate Horner netted 16 points to lead Punxsutawney to a 59-42 win over Marion Center in the consolation game of the Carl Truance Holiday Classic at Punxsutawney.
Horner was one of three Lady Chucks in double digits with Elye White adding 15 points and Leah Miller 13.
Mia Oterson paced Marion Center with 10 points.
DUBOIS 51, BROOKVILLE 45
BROOKVILLE, Pa. – Junior Ashley Hallowell capped a tournament MVP performance with 20 points and 15 rebounds to lead DuBois to a 51-45 win over the hosts to capture the Brookville Christmas Tournament title.
Hallowell, who finished with 31 points and 39 rebounds in the two tournament wins, was joined in double figures by Chelsea DeSalve, who scored 15 points. Those two and Laura Fatula, who scored nine points, earned all-tournament selections.
Madison McAninch led Brookville with 11 points off the bench. Laken Hergert and Brooke Shattenberg each scored nine points. Hergert grabbed nine rebounds and earned an all-tournament honor.
DUBOIS CENTRAL CATHOLIC 39, BROCKWAY 23
BROOKVILLE, Pa. – Libby Maurer turned in a double-double with 13 points and 11 rebounds to lead DuBois Central Catholic to its Brookville Christmas Tournament consolation game win over Brockway.
Jordy Frank scored nine points and pulled down seven rebounds for DCC, which led from start to finish.
Brockway's all-tournament player, Leah Lindemuth, finished with 14 points and 11 rebounds.
UNION 41, FAIRVIEW 33
MERCER, Pa. – Putting three players in double-figure scoring, the Union Damsels notched a 41-33 win over Fairview at the Mercer Tournament, which used a classic format with pre-planned matchups on both days.
Lexey Shick scored 14 points with five assists, Frankee Remmick turned in a double-double with 12 points and 14 rebounds and Hannah Atzeni finished with 10 points.
Union trailed 15-12 at halftime but outscored Fairview 29-18 the rest of the way.
WARREN 50, REDBANK VALLEY 30
NEW BETHLEHEM, Pa. – Visiting Warren scored 35 points in the first half and rolled to a 50-30 win over the hosts in the championship game of the Redbank Valley Christmas Tournament.
The Lady Bulldogs scored three points in the second quarter and four points in the fourth quarter. Warren opened the game with a 25-13 first-quarter lead.
Lexi Holt scored 10 points while Maddie Marshall finished with nine points and 12 rebounds.
FOREST AREA 50, CLARION-LIMESTONE 42
NEW BETHLEHEM, Pa. – Claiming the consolation game at the Redbank Valley Christmas Tournament, Forest Area pulled away for a 50-42 win over Clarion-Limestone.
Jasmine Ginnery finished with 19 points and seven rebounds while Makiya Bellotti scored 11 points.
Madi Craig led C-L with 19 points. Jess Ball had eight points.
C-L led 15-11 after the first quarter, but Forest stretched it out with a 23-11 advantage in the second and third quarters.
CRANBERRY 41, KEYSTONE 35
SENECA, Pa. – Erin Merryman scored 15 points to lead Cranberry to a 41-35 win over Keystone in the championship game of the Don Hall Memorial Christmas Tournament at Cranberry.
Merryman connected on 9 of 11 free throws including 6 of 7 in the fourth quarter, as the Berries turned a one-point, 26-25, lead after three quarters into the six-point win thanks to going 9 of 13 from the line in the fourth quarter.
Bree Swartzfager added eight points for Cranberry with Andrea Altman chipping in seven.
Taylor Geer paced Keystone with 12 points, and Alyssa Beichner added 11 for the Lady Panthers.
ALLEGANY-LIMESTONE (NY) 58, BRADFORD 47
OLEAN, N.Y. – Morgan Davis scored 23 points and grabbed 20 rebounds to lead Allegany-Limestone (N.Y.) to a 58-47 win over Bradford in the opening round of the IAABO Tournament at St. Bonaventure University.
Brooke Giardini also scored 23 points for the Lady Gators, who overcame a 35-27 deficit midway through the third quarter.
Bri Wells paced Bradford with 18 points.
Bradford faces Olean (N.Y.) in Friday's consolation contest with Allegany-Limestone taking on Franklinville (N.Y.) in the title game.
ST. MARYS 44, JOHNSONBURG 28
ST. MARYS, Pa. – Kaylee Muccio and Rachelle Armanini combined to score 22 points to lead St. Marys to a 44-28 win over Johnsonburg in the first round of the Elk County Tournament at St. Marys High School.
Both players scored 11 points for the Lady Dutch, who will face crosstown rival Elk County Catholic in Friday's title game.
Nicole Myers netted a game-high 15 points for Johnsonburg, who faces Ridgway in the consolation contest Friday.
ELK COUNTY CATHOLIC 45, RIDGWAY 21
ST. MARYS, Pa. – Behind the play of Cassidy Cunningham and Reilly Herzing, Elk County Catholic advanced to the championship game of the Elk County Tournament at St. Marys High School with a 45-21 win over Ridgway.
Cunningham scored 11 points to lead the Lady Crusaders, while Herzing chipped in with 10 tallies.
Nine different players scored for ECC, which led 16-5 after one quarter.
Emily Fullem had a strong game for Ridgway with 11 points, nine rebounds, seven blocked shots and four steals.
KARNS CITY 37, OIL CITY 20
OIL CITY, Pa. – Karns City scored 21 points off 33 Oil City turnovers to down the Oilers, 37-20, in the consolation game of the Hart-Wice Memorial Tournament at Oil City.
Emily Hegedus and Mackenzie Craig each scored 14 points for the Lady Gremlins with Craig adding nine rebounds while also hitting three 3-pointers and Hegedus going 8 of 9 from the free-throw line.
Hegedus talked about the win after the game.
Abby Yeager had a solid game for Oil City with eight points and a game-high 12 rebounds, while Gracie Felmlee added two points, four blocked shots and eight rebounds.
Karns City shot 22.9 percent (11 of 48) from the field but led wire-to-wire.
COUDERSPORT 73, ARCHBISHOP WALSH (NY) 15
COUDERSPORT, Pa. – Led by 17 points from Haley Keck and 15 from Ally Easton, nine different Coudersport players scored in a 73-15 win over visiting Archbishop Walsh (N.Y.).
Shae Black added nine points and nine rebounds for the Lady Falcons, who also got eight points, eight rebounds and three assists from EmmaRae Easton.
Grace Geer scored 11 points to lead Walsh.
GALETON 59, BUCKTAIL 35
GALETON, Pa. – Makaya Shadle netted a game-high 23 points to lead Galeton to a 59-35 win over visiting Bucktail.
Laura Parsell chipped in 16 points for the Lady Tigers, who also got 10 from Cortney Parsell.