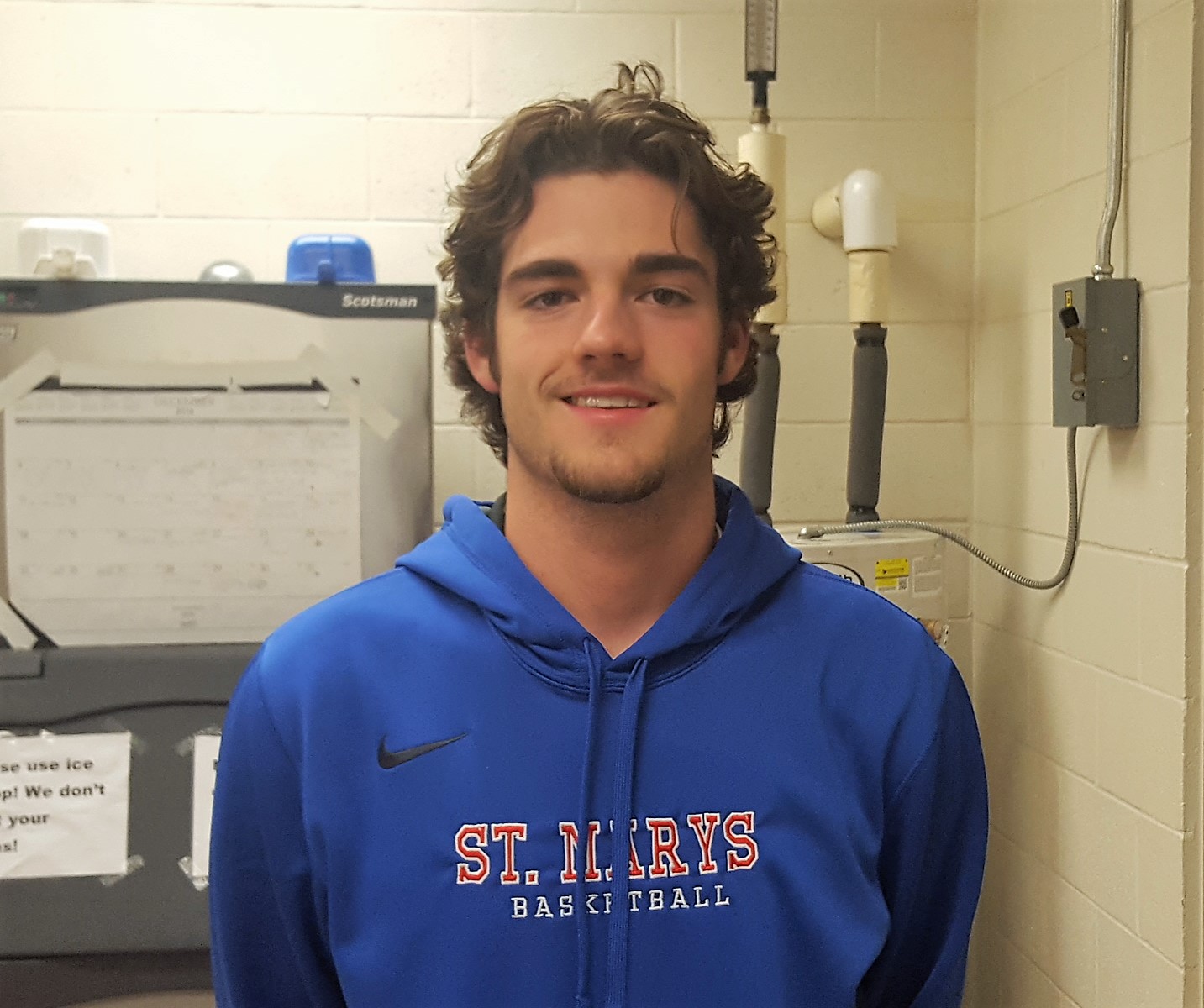 Dec. 29 boys' basketball recaps.
ST. MARYS 42, RIDGWAY 40, OVERTIME
ST. MARYS, Pa. – Jeff Wehler scored 13 of his 19 points in the fourth quarter and overtime to lead St. Marys to a 42-40 come-from-behind victory over Ridgway in overtime in the opening round of the Elk County Tournament at St. Marys High School.
Ridgway led by nine, 22-13, at halftime and 28-23 at the end of the third quarter before St. Marys, behind 10 points from Wehler, tied the game at 36 at the end of regulation. Wehler's 3-pointer in the final 30 seconds of regulation forced the overtime.
Wehler then scored three of St. Marys' six points in overtime – Matt Marconi had the other three, his only three of the game – to help the Dutch pull out the win.
Nathan Schneider started the comeback for the Dutch by scoring seven of his 13 points in the third quarter.
Justin Kasmierski had a game-high 21 points to lead Ridgway.
St. Marys will play Elk County Catholic in the title game Friday, while Ridgway plays Johnsonburg in the consolation game.
ELK COUNTY CATHOLIC 57, JOHNSONBURG 41
ST. MARYS, Pa. – Nate DaCanal scored 21 points to lead Elk County Catholic to a 57-41 win over Johnsonburg in the opening round of the Elk County Tournament at St. Marys High School.
Gabe Kraus added 14 points for the Crusaders, who face St. Marys in the championship game Friday.
Ryan Kilhoffer and Drew Akers each scored eight points to pace Johnsonburg, which faces Ridgway in the consolation game Friday.
COUDERSPORT 76, SAEGERTOWN 27
COUDERSPORT, Pa. – Zach Layag led a trio of Coudersport players in double digits with 19 points, as the Falcons blitzed Saegertown, 76-27, in the championship game of the Maple Leaf Tournament at Coudersport.
Jared Green added 16 points for Coudersport, which led 46-16 at halftime, with Owen Chambers adding 15. Aaron Wolfinger and Derek Keglovits both just missed joining the double-digit party with nine tallies apiece.
Alan McGill had six points to pace Saegertown.
NORTH CLARION 79, NORTHERN POTTER 33
COUDERSPORT, Pa. – Five different North Clarion players reached double figures in a 79-33 win over Northern Potter in the consolation game of the Maple Leaf Tournament at Coudersport.
Nathan Banner and Sam Minich led the Wolves with 16 points each, Chase Schmader added 12, Logan Minich 11 and Noah Meyers 10.
Tucker Kosa had 12 points to pace Northern Potter.
NICHOLS (NY) 45, BRADFORD 26
OLEAN, N.Y. – Will Johnson scored 14 points to lead Nichols (N.Y.) to a 45-26 win over Bradford in the opening round of the IAABO Tournament at St. Bonaventure University.
Donny Pattison led Bradford, who plays Warren in the consolation game Friday, with 12 points. Danny Manion added eight rebounds, eight steals and two points.
COMMODORE PERRY 43, REDBANK VALLEY 30
HADLEY, Pa. – In the first game of the Commodore Perry Tournament with two rounds pre-set matchups, Redbank Valley dropped a 43-30 decision to the hosts.
Riley Campbell led the Bulldogs with nine points. Keane Cropp's 13 points led Commodore Perry.
Redbank Valley plays Jamestown (Pa.) Friday.
KARNS CITY 69, CLARION-LIMESTONE 57
RURAL VALLEY, Pa. – Breaking open a tie game through three quarters, Karns City scored 25 points in the fourth and pulled away for a 69-57 win over Clarion-Limestone in the first round of the West Shamokin Tournament.
In a game with 58 free throws, Karns City leading scorer Ian McElroy scored 12 of his 22 points from the foul line, including an 8-for-10 effort from the line in the fourth. He was 12-for-16 overall. Noah Pollock scored 19 points and Chandler Turner had 12 points.
The Gremlins and Lions were knotted at 44-44 through three quarters before Karns City outscored C-L, 25-13, the rest of the way. Karns City went 10-for-17 from the line in the fourth and 24-for-36 for the game.
For C-L, Dan Callen scored 23 points while Sam Leadbetter scored nine points. Deion Deas and Julian Laugand each scored eight points. The Lions were 14-for-22 from the foul line.
Karns City faces Northgate in Friday's title game with C-L taking on West Shamokin in the consolation contest.
VENANGO CATHOLIC 58, VISIONQUEST 44
OIL CITY, Pa. – Tim Wagner exploded for 24 points to lead Venango Catholic to a 58-44 win over VisionQuest in the consolation game of the Boys Short Street Motorcars Tournament at Oil City High School.
Josh Puleo and Ben Gillispie each added nine points for the Vikings.
Rasheed Hopper and Kentrell Alexander both scored nine points to lead VisionQuest.
PUNXSUTAWNEY 59, CLARION 44
PUNXSUTAWNEY, Pa. – Devin Kelly scored 19 points to lead Punxsutawney to a 59-44 victory over Clarion in the title game of the Carl Truance Holiday Tournament at Punxsutawney.
Ethan Blose added nine points for the Chucks, while Jacob Horner added eight.
CLEARFIELD 82, NORTHERN CAMBRIA 23
PURCHASE LINE, Pa. – Tommy Hazel and Will Myers combined for 32 points and seven assists, as Clearfield rolled past Northern Cambria, 82-23, over Northern Cambria on the first day of the Purchase Line Christmas Classic.
Hazel scored 16 points and dished out four assists, while Myers also scored 16 points to go with three helpers. Jon Gates added 11 tallies for the Bison, who had 13 different players score.
PORTERVILLE CHRISTIAN 64, A-C VALLEY 44
FOXBURG, Pa. – Despite 11 points from freshman Eddie Stevanus, A-C Valley dropped a 64-44 decision to visiting Porterville Christian.
Joe Manculich added nine points and eight rebounds for the Falcons, who also got nine points from Kody Wolfe on three 3-pointers.