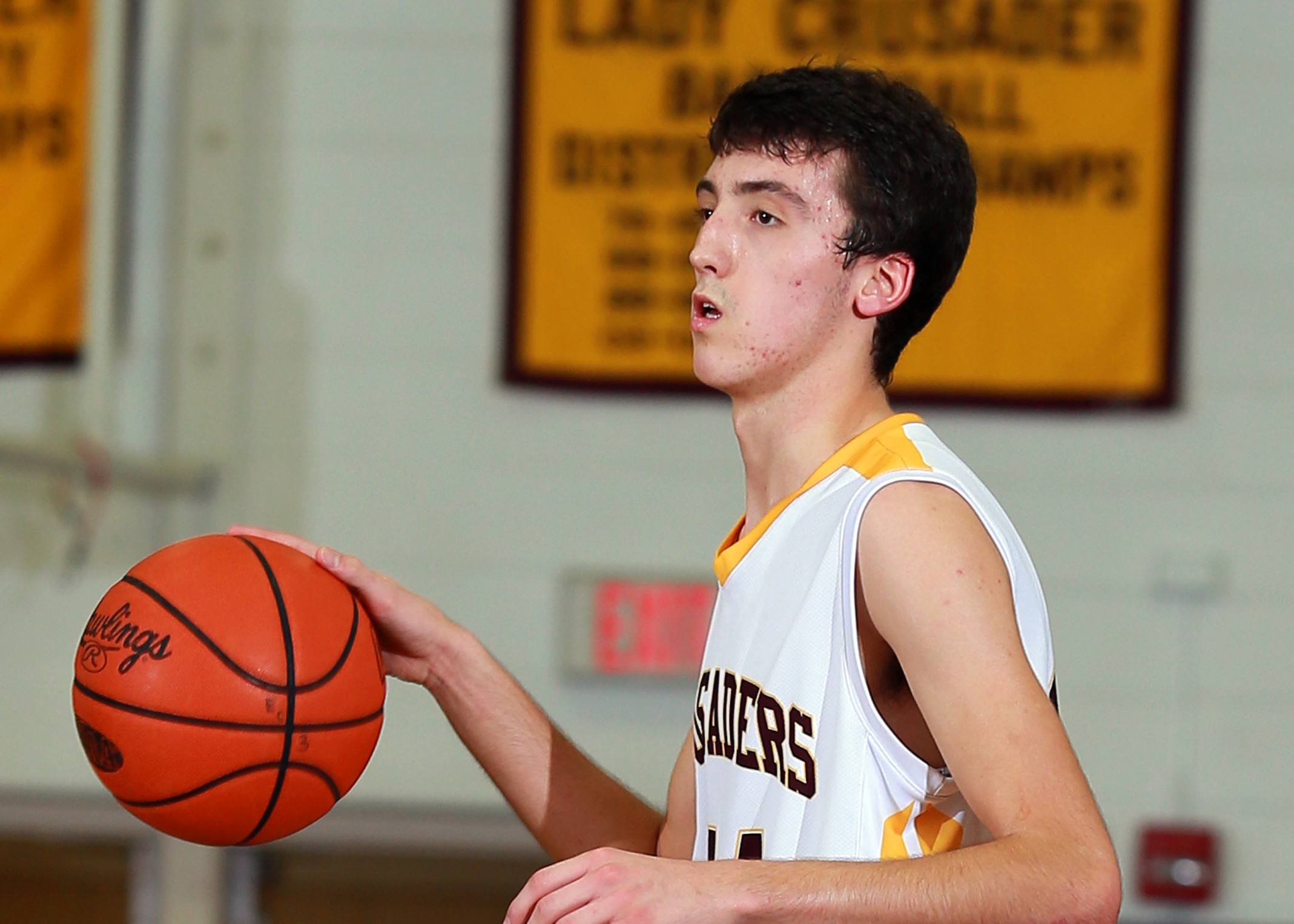 Dec. 30 boys' basketball roundup.
(Cover photo of ECC's Nate DaCanal. Photo by Paul Burdick. Check out more of Burdick's work here)
ELK COUNTY CATHOLIC 57, ST. MARYS 49
ST. MARYS, Pa. – Nate DaCanal scored eight of his game-high 20 points in overtime, as Elk County Catholic held off a second-half rally from St. Marys to claim the Elk County Tournament title with a 57-49 overtime victory over the host Dutch.
ECC seemed in control of the game at halftime leading 23-16 after a 17-point second quarter that featured five points from Ryan Newton, who had 11 for the game.
But St. Marys, which has shown to be a second-half team all season long, rallied in the third quarter outscoring the Crusaders 21-12 in the frame to take a 37-35 lead going to the fourth quarter.
Jeff Wehler scored 10 of his team-high 15 points in the third quarter to help rally the Dutch. But Wehler, a former ECC player who transferred to St. Marys before last season, didn't score after the third quarter and was assessed a technical foul late in the third.
With St. Marys' top gun being held scoreless, ECC rallied in the fourth quarter outscoring the Dutch 10-8 in the quarter to force overtime. Newton had four points in the quarter to lead a balanced scoring effort for the Crusaders.
ECC then completely took over in overtime outscoring St. Marys, which was playing its second straight overtime game in the tournament after beating Ridgway, 42-40, Wednesday, 12-4 in the extra sessions with three of the four points for St. Marys coming from Matt Marconi, who scored 13.
Gabe Kraus chipped in 11 points for ECC, while Austin Goodrow added nine points while going 8 of 9 from the line for the Dutch.
RIDGWAY 42, JOHNSONBURG 34
ST. MARYS, Pa. – Justin Kasmierski and Neil MacDonald each scored 10 points to help Ridgway knock off Johnsonburg, 42-34, in the consolation game of the Elk County Tournament at St. Marys High School.
The Elkers broke open a one-point game after a quarter, 10-9, by outscoring the Rams 11-4 in the second quarter and 11-8 in the third quarter to take a 32-21 lead into the final eight minutes.
Andy Breier added nine points for Ridgway.
Dilen Surra led Johnsonburg with 11 points with Ryan Kilhoffer adding 10.
NORTHGATE 83, KARNS CITY 78
RURAL VALLEY, Pa. – Despite a career-high 40 points from Ian McElroy and a strong comeback attempt after a slow start, Karns City couldn't hold a late lead and lost, 83-78, to Northgate in the championship game of the West Shamokin Holiday Tournament.
The Gremlins trailed 32-10 to start the game but rallied to take a 76-75 lead with 1:21 to play but couldn't hold on for the win.
McElroy, whose previous career best was 22 points Wednesday in a win over C-L, hit 15 shots including a pair of 3-pointers and went 8 of 11 from the free-throw line.  He is the first Gremlin to score 40 in a game since Tyler Callihan scored 40 Jan. 28, 2005.
Noah Pollock added 15 points and nine assists for Karns City with Chandler Turner chipping in 12 points and eight rebounds.
Stenton Adams paced Northgate with 27 points with Michael Allen adding 24 and Eligah Thomas 16. Malcom Randall also chipped in 10 tallies.
WEST SHAMOKIN 55, CLARION-LIMESTONE 50
RURAL VALLEY, Pa. – Ben Vincini scored five of his game-high 20 points in the fourth quarter, as West Shamokin rallied past Clarion-Limestone for a 55-50 win in the consolation game of the West Shamokin Holiday Tournament.
C-L started fast and led 13-6 at the end of the first quarter before taking a 29-23 lead into halftime. But the Wolves fought back in the second half cutting the Lions lead to 38-37 by the start of the fourth quarter and then outscoring the visitors 18-12 in the final eight minutes.
Carson Dewitt added 12 points for West Shamokin including eight in the third quarter, while Drew Orlosky chipped in 11 points.
Dan Callen tied Vincini for game-high honors leading C-L with 20 points but scored only six after halftime as he was saddled with foul trouble. Dion Deas chipped in nine points, while Ian Callen had eight and Christian Smith seven.
CALVARY BAPTIST 64, REDBANK VALLEY 60
HADLEY, Pa. – Colton Tapper exploded for 40 points to lead Calvary Baptist to a 64-60 win over Redbank Valley in the consolation game of the Commodore Perry Classic.
Tapper scored 29 second-half points including 19 in the fourth quarter to help the Thunder outscore Redbank Valley 20-12 in the final eight minutes to rally for the victory.
The 6-foot-2 senior hit 13 shots from the field, including six 3-pointers, while going 8 of 12 from the free-throw line. Two of those triples came in the fourth quarter after he hit three in the first quarter while scoring 11 first-quarter points to help Calvary Baptist to a 21-20 lead at the end of the quarter.
But Redbank Valley fought back and took a 36-32 halftime lead and still led by four, 48-44, going to the fourth quarter.
Redbank Valley, playing without three of its top four scorers including leading scorer Brock Barrett, got a career-high 17 points from Nick Smith, who nearly doubled his season output in one outing. Smith, who hit four 3-pointers, entered the game with 21 points on the year. Cyle Bowser also had a career night with 12 points, his first points of the year. Adrian Daniels chipped in 13 points and Tanner Kerle 11.
CLEARFIELD 65, PURCHASE LINE 45
PURCHASE LINE, Pa. – Behind the play of Will Myers, Tommy Hazel and Evan Brown, Clearfield overcame a slow start to beat Purchase Line, 65-45, on the second day of the Purchase Line Christmas Classic.
The Bison trailed 12-9 at the end of the first quarter but outscored the Red Dragons 42-18 over the next two quarters to take control of the game.
Hazel, who scored a game-high 23 points to go with seven rebounds, two assists and two steals, and Brown, who had 17 points, nine rebounds, four steals and two helpers, led the way in the second quarter combining for 15 of Clearfield's 20 points with Brown scoring nine and Myers six.
Myers continued to pour it on in the third quarter scoring nine more points in the frame with Hazel, who had a double-double with 20 points and 11 rebounds while adding four assists and three steals, also scoring nine in the quarter.
Melvin Sanchez led Purchase Line with 12 points with Dominique Campbell adding 11.