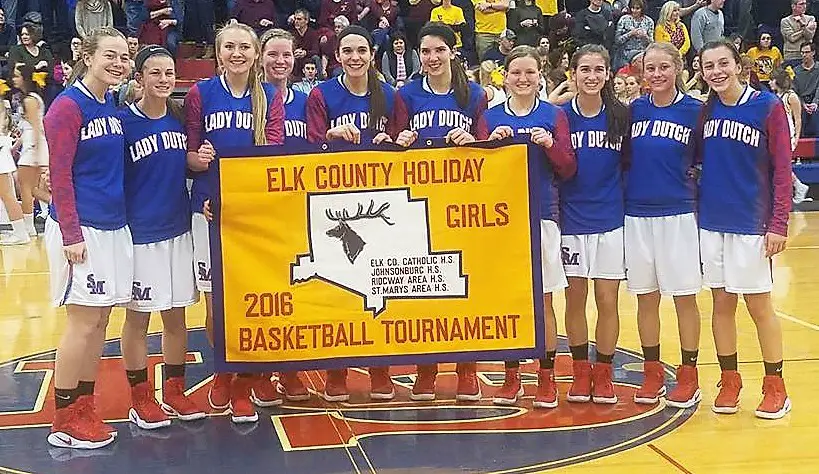 Dec. 30 girls' basketball roundup.
(Cover photo courtesy of Kayla Ho'ohuli)
ST. MARYS 42, ELK COUNTY CATHOLIC 30
ST. MARYS, Pa. – Kaylee Muccio and Bekka Bauer combined to score 22 points, as St. Marys claimed the championship at the annual Elk County Tournament with a 42-30 win over Elk County Catholic at St. Marys High School.
Muccio paced the Lady Dutch with 12 points with Bekka Bauer adding 10. It was a balanced overall effort for St. Marys with Michelle Bauer chipping in nine points and Rachelle Armanini eight.
ECC, which trailed 24-18 at halftime, got 12 points apiece from Josie Smith and Reilly Herzing.
JOHNSONBURG 34, RIDGWAY 28
ST. MARYS, Pa. – Nicole Myers poured in 18 points to help Johnsonburg to a 34-28 win over Ridgway in the consolation game of the Elk County Tournament at St. Marys High School.
Myers scored 11 of her points after halftime to help the Ramettes break a 16-all halftime tie. She had five points in the third quarter, as Johnsonburg grabbed a 26-22 lead after three and then added six of the Ramettes eight fourth-quarter tallies.
Cassidy King chipped in six points for Johnsonburg, while Emily Fullem had 16 points, seven rebounds and four blocks to pace Ridgway. Hannah Park chipped in 10 rebounds, three steals and two assists for the Lady Elkers.
OLEAN (NY) 66, BRADFORD 39
OLEAN, N.Y. – Sara Pfeifer exploded for 30 points to lead Olean (N.Y.) to a 66-39 win over Bradford in the consolation game of the IAABO Tournament at St. Bonaventure, N.Y.
Pfeifer finished four points off the tournament record while hitting 11 shots from the field including six 3-pointers.
Bri Wells tried to match Pfeifer for Bradford and scored a team-high 23 points.
Franklinville (N.Y.) won the title game with a 51-34 win over Allegany-Limestone (N.Y.)