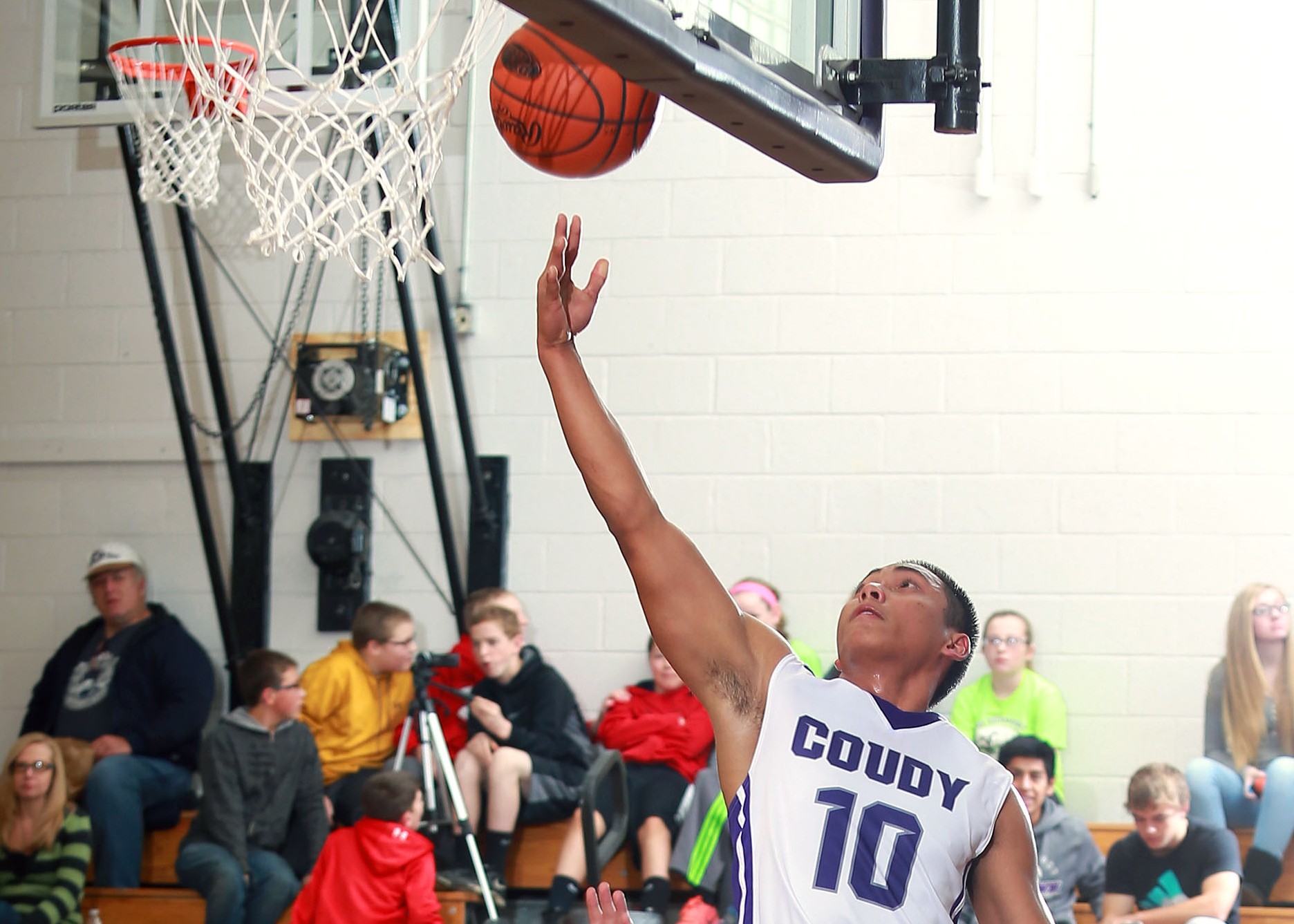 All scorers • Dec. 8 Girls' Recaps
COUDERSPORT 76, PORT ALLEGANY 27
COUDERSPORT, Pa. – Zach Layag, Aaron Wolfinger, Jared Green and Darren Keglovits each scored in double digits, as Coudersport cruised in its season opener with a 76-27 win over visiting Port Allegany.
Layag led all scorers with 19 points and added seven assists, while Wolfinger had 14 tallies. Green chipped in with 13 points, nine rebounds and eight steals, and Keglovits also scored 13 points.
Tre Garzel paced Port Allegany with 10 points and 15 rebounds.
Coudy only led by four, 12-8, at the end of the first quarter but blitzed the game open with a 19-2 second-quarter advantage that gave them a 31-10 halftime lead.
OTTO-ELDRED 57, GALETON 33
GALETON, Pa. – Ten different Otto-Eldred players tickled the twine led by 11 points from Sawyer Drummond, as the visiting Terrors won their North Tier League opener with a 57-33 victory at Galeton Tuesday night.
Heath Stewart added eight points, eight rebounds and four steals for Otto, which led 30-6 at halftime after shutting out Galeton in the second quarter, 6-0.
McKinley Ward led Galeton with 14 points, while Mitchell Smith and Evan Brooks each tallied eight.  
BROCKWAY 53, CURWENSVILLE 36
CURWENSVILLE, Pa. – Quenton Jackson and Quade Lundberg each scored 10 points, as Brockway picked up its first win of the season in its AML opener, 53-36, at Curwensville.
Corey Carr and Jared Rogos each added nine points for the Rovers, with all nine of Rogos' coming on three 3-pointers. Carr also had 11 rebounds.
RJ Olson led Curwensville with nine points with Quamone Newkirk adding six.
Brockway led 25-12 at halftime thanks to six points each from Rogos and Carr. The Rovers used a 17-0 run in the first half over an eight-minute span of time to open up the 13-point halftime lead.  
OSWAYO VALLEY 68, AUSTIN 29
AUSTIN, Pa. – Brandon Brabham had 22 points, five assists, four rebounds and two steals to lead visiting Oswayo Valley to a 68-29 North Tier League win at Austin Tuesday night.
Brabham hit 6 of 10 3-pointers on his way to his game-high tally.
Theo Henry chipped in with 16 points for the Green Wave, while Dylan Buchholz had 11. Eight different Oswayo Valley players scored including Ricardo Gross, who had an all-around solid night with two points, five assists, six steals and five rebounds.
Hunter Stuckey paced Austin with 13 points and eight rebounds, and Anderson Nicka had seven points.  
Oswayo Valley led 24-10 at the end of the first quarter and 45-16 at halftime.
CRANBERRY 61, NORTH CLARION 54
SENECA, Pa. – Brendan Zerbe scored 25 points to lead Cranberry to a 61-54 over visiting North Clarion in the KSAC North opener for both teams Tuesday.
Evan Lutz added 10 points for the Berries, including seven in the fourth quarter when he and Zerbe combined to score 12 of Cranberry's 21 points helping the Berries outscore the Wolves 21-11 in the final eight minutes to get the come-from-behind win.
Nathan Banner led North Clarion with 15 points, while Zayn Hargenrader added 14.
A-C VALLEY 64, MONITEAU 60, OVERTIME
FOXBURG, Pa. – Austin Heeter netted 25 points to go with 11 rebounds, as A-C Valley broke a 20-game conference losing streak with a 64-60 win over visiting Moniteau in the KSAC South opener for both teams Tuesday night.
The Falcons, who last won a conference game Feb. 12, 2013, over Union, outscored the Warriors 13-9 in overtime.
That ruined a comeback attempt by Moniteau, which trailed 38-31 going to the fourth quarter but outscored the Falcons 20-13 in the quarter to force overtime.
Joe Manculich added 12 points and 15 boards for A-C Valley, while JJ Waid paced Moniteau with 17 points. Nate Sogigian added 14 points for the Warriors, and Jake Jewart 12.
CLARION 65, VENANGO CATHOLIC 45
FRANKLIN, Pa. – Senior transfer Jonathan Smith started his Clarion career in style netting 20 points with a couple of slam dunks, as the Bobcats cruised to a 65-45 win in head coach Jess Quinn's debut on the bench.
Smith scored 13 of his points in the middle two quarters, as Clarion outscored Venango 34-19 in those quarters including 21-9 in the third quarter helping the Bobcats build on a 29-27 halftime lead.
Cam Craig also scored 20 for Clarion with Ty Burford pitching in with nine points.
Brady Kingston led Venango Catholic with 15 points, 10 rebounds and six assists, while Noah Puleo also scored 15 points.
CLARION-LIMESTONE 81, FOREST AREA 19
STRATTANVILLE, Pa . – Behind 17 points from Dan Callen and 14 from Taylor Smith, Clarion-Limestone started defense of its KSAC North title with an 81-19 win over visiting Forest Area.
Anthony Louder chipped in nine points for the Lions, who led 25-7 at the end of the first quarter and 49-10 at halftime. Twelve different C-L players scored.
Seth Berlin had seven points to lead Forest Area.
ELK COUNTY CATHOLIC 67, JOHNSONBURG 49
JOHNSONBURG, Pa. – Benji Hoffman, Nate DaCanal and Gabe Kraus combined to score 36 points to lead Elk County Catholic to a 67-49 AML win at Johnsonburg Tuesday night.
Ryan Kilhoffer led all scorers with 19 points for the Rams, while Tyler Singer had 13 points and Kevin Benson 11.
GEORGE JUNIOR REPUBLIC 69, DUBOIS 47
GROVE CITY, Pa. – Despite three players reaching double figures, DuBois lost for the first time this season when it fell at George Junior Republic, 69-47, Tuesday night in Grove City.
Dante Dawson led the Beavers with 12 points, while John Oberlin and Bradyn Schwabenbauer each scored 11. Schwabenbauer added seven rebounds.  
WARREN 62, BRADFORD 38
WARREN, Pa. – Ryan Skerda scored 20 points, and Eian Suppa added 18 to lead Warren to a 62-38 win over visiting Bradford Tuesday night.
Sophomore Deondre Terwilliger led Bradford with 17 points, while fellow sophomore Andy Pantuso added seven.