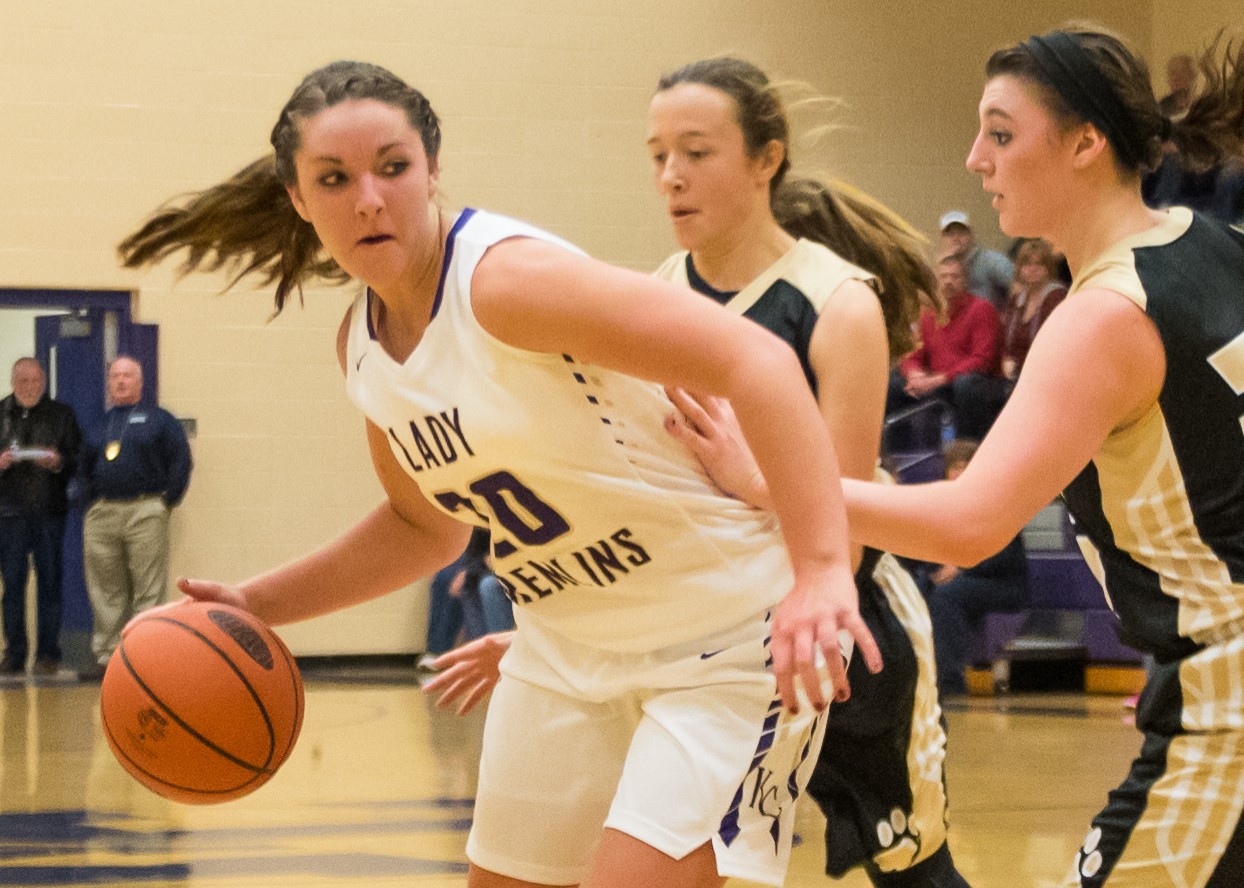 All Scorers • Dec. 8 Boys' Recaps
KARNS CITY 59, KEYSTONE 37
KARNS CITY, Pa. – LeeAnn Gibson scored a season-best 30 points, as Karns City rolled past visiting Keystone, 59-37, in the KSAC South opener for both teams Tuesday night.
Mackenzie Craig chipped in with 15 points for the Lady Gremlins (2-1 overall, 1-0 KSAC South), while Emily Hegedus, coming off a 31-point performance Saturday vs. Johnstown, added 10 tallies.
Amber Hess and Josselin Geer each had nine points for Keystone, while Alyssa Beichner added eight points and eight rebounds.
BROCKWAY 46, CURWENSVILLE 24
BROCKWAY, Pa. – Leah Lindemuth scored 23 points to lead Brockway to a 46-24 win over Curwensville in AML girls' action Tuesday night.
Lindemuth netted 10 points in the third quarter alone helping the Lady Rovers outscore Curwensville 16-8 in the quarter after leading by just one, 15-14, at halftime.
Kaitlyn Morelli added eight points for Brockway including six from the free-throw line in the fourth quarter when she went 6 of 7 from the charity stripe.
Hannah Dixon had nine for Curwensville, all before halftime, while Madison Weber chipped in with eight, including six in the second half.
OSWAYO VALLEY 50, AUSTIN 18
SHINGLEHOUSE, Pa. – Kelsie Pease scored 13 points and Taylor Bean had 10 rebounds to lead Oswayo Valley to a 50-18 North Tier League win over visiting Austin Tuesday night.
Hope Howard, Jillian Wichert and Brianna Siebert each chipped in with eight points for the Green Wave, who led 34-6 at halftime, while Jessica Edward added six points and nine rebounds.
Jordan Brewer paced Austin with eight tallies.
DUBOIS CENTRAL CATHOLIC 60, RIDGWAY 35
DUBOIS, Pa. – Caitlyn Manduley, Libby Maurer and Step Rossi combined to score 35 points, ad DuBois beat visiting Ridgway 60-35 in AML action Tuesday night.
Manduley and Maurer each netted a team-high 12 points, while Rossi added 11. Gabby Caruso chipped in with nine tallies part of an eight-player scoring attack for the Lady Cardinals, who forced 31 Ridgway turnovers.  
GALETON 45, OTTO-ELDRED 43
DUKE CENTER, Pa. – Makaya Shadle had 20 points and 10 steals to lead visiting Galeton to a 45-43 squeaker win over Otto-Eldred Tuesday night.
Galeton trailed 25-18 at halftime and 37-32 going to the fourth quarter but outscored the Lady Terrors 13-6 in the final eight minutes.
Cortney Parsell added 17 points for the Lady Panthers, while Camryn Thomas led Otto-Eldred with 17 points and 13 rebounds. Tiffany Bair chipped in with six points and 10 board, and Kylie Stuck had 12 tallies.
Otto used  17-8 second-quarter advantage to built the seven-point halftime lead.
COUDERSPORT 39, PORT ALLEGANY 28
PORT ALLEGANY, Pa. – Haley Keck hit three 3-pointers and finished with a team-best 13 points to lead visiting Coudersport to a 39-28 win over Port Allegany in the North Tier League opener for both teams Tuesday night.
Keck scored 11 of her points in the second half helping the Lady Falcons outscored Port Allegany 19-12 in the half.
The Gators led 11-4 at the end of the first quarter, but Coudersport took a 20-16 halftime lead thanks to a balanced second-quarter effort led by four points from Keck and three on a pair of 3-pointers from Skylar VanWagenen and Emma Rae Easton.
Ally Easton chipped in nine points for Coudy, while Emma Rae Easton adding seven.   
Autumn Buchsenschutz led Port Allegany with 14 points.  
MAPLEWOOD 44, CRANBERRY 39
GUYS MILLS, Pa. – Despite 10 points from Bree Swartzfager, Cranberry dropped a 44-39 road decision at Maplewood Tuesday.
Malliah Schreck added eight points for the Berries, while Katie Whitling and Erin Merryman each scored six.