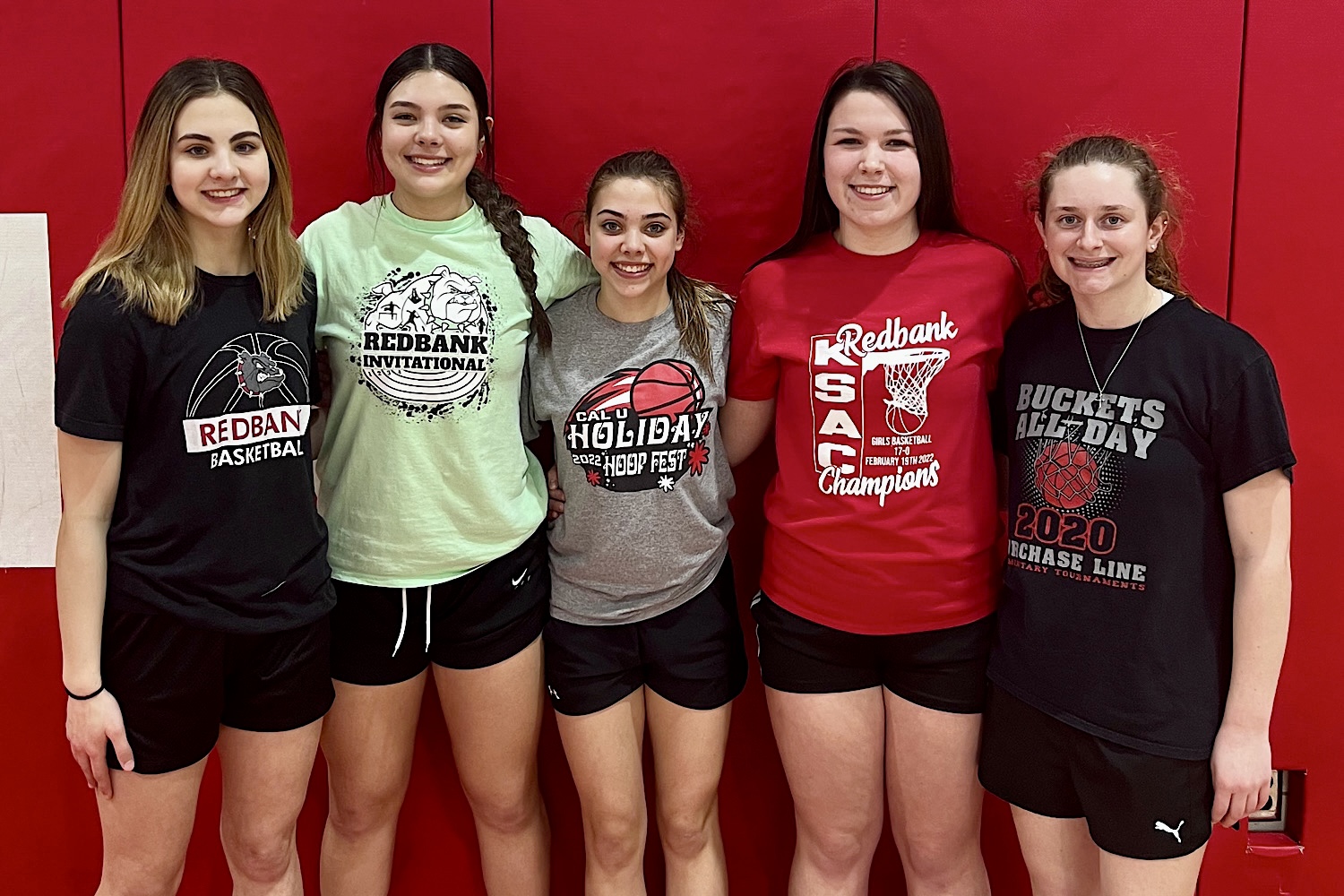 NEW BETHLEHEM, Pa. (EYT/D9) — They have the Keystone Shortway Athletic Conference MVP.
They even have last year's KSAC MVP.
They have a sharp-shooting guard.
And they have a pair of forwards who have a knack for getting rebounds, playing outstanding defense and doing the "dirty work" that every top-flight team needs.
(Pictured above, from left, Redbank Valley's Izzy Bondy, Kira Bonanno, Addy Bond, Ryleigh Evans and Quinn White)
The Redbank Valley girls basketball team has an eclectic starting five who have helped the Bulldogs to a 26-1 record to go along with KSAC and District 9 championships.
Everyone knows about Mylee Harmon (2022-23 KSAC MVP), Alivia Huffman (last year's KSAC MVP), shooting guard Caylen Rearick and forwards Brooklyn Edmonds and Alyssa Bowser. They are hard to ignore.

Redbank Valley, Keystone, and Union/A-C Valley sports coverage on Explore and D9Sports.com is brought to you by Heeter Lumber.
But they are also only part of the reason Redbank Valley is in the second round of the PIAA Class 2A playoffs with thoughts of a state title swimming around in their collective minds.
The bench has also been brilliant.
Reserves Izzy Bond, Addy Bond, Kira Bonanno, Quinn White and Ryleigh Evans have been stellar.
"It's exciting being a part of this team because we're not just a team — we're a family," Bonanno said. "All of us get along really well and our whole team is very talented."
They have shown that all season.
The deep bench gives Redbank coach Chris Edmonds an opportunity to play a style not many high school teams can employ — up-tempo and frenetic for 32 minutes.
He can cycle players in and out — and sometimes five at a time as if changing hockey lines — to keep applying pressure to shellshocked opponents.
"It's nice that we can rotate 10 to 12 kids in," Edmonds said after using that strategy to wear down Moniteau in the District 9 championship game. "I have confidence in every one of them. Their teammates have confidence in each other. That's one of our strengths — we can rotate players in and out and not lose a lot of talent."
Redbank has kept its foot on the gas all season.
That's one of the reasons why the Bulldogs have been able to win games through attrition — and often with just a plain ol' relentless onslaught.
"It allows everybody to keep fresh legs," Izzy Bond said. "It allows us to get points on transition, put our press on and really just run teams off the floor."
Harmon has been dazzling this season as a sophomore, averaging 22 points per game to go with a handful of assists and steals. Huffman has also been a star, putting up 16 points per night. That 1-2 punch is tough enough for teams to stop.
Throw in Rearick, who hit for 14 points in a first-round playoff win over Serra Catholic on Friday night, and there is no shortage of threats.
Even when those three aren't on the floor.
One through 10 — and sometimes 11 and 12 — Redbank has little drop-off.
Addy Bond has been just as dangerous as a perimeter shooter when she's in the game, especially down the stretch, and has also handled the point guard duties skillfully. Izzy Bond, a junior, has hit some huge shots. White, another freshman, can get as hot as anyone from 3-point range.
Bonanno has come up huge on both the defensive and offensive boards and Evans has provided valuable minutes.
As a whole, the Redbank Valley bench is averaging nearly 17 points per game.
"It's nice to be able to come in, play well and have everybody excited for you," Addy Bond said. "To have everybody pumped up."
The depth has also helped in practice, where the reserves mix it up with starters and challenge them at every step.
"There's always a whole bunch of competition during practice," Addy said. "That's great because it really makes us work harder and prepare better for games."
There is no quibbling about playing time or minutes.
Winning certainly helps foster that kind of attitude and Redbank has done a lot of that this year.
"We have great chemistry; we're all good friends," Izzy said. "No matter who is on the floor, it's always go, go, go. We're always supporting each other."
Redbank has another state playoff test on Tuesday when the Bulldogs travel to Kiski Area High School to take on Bishop McCort at 6 p.m.
With two big team goals out of the way — the KSAC and D9 crowns — all that is left is the biggest prize of them all.
A PIAA championship.
It's a singular goal for a deep team.
"We want to win a state title," Izzy said. "That's our main focus. It's really exciting to be a part of that process."

Redbank Valley, Keystone, and Union/A-C Valley sports coverage on Explore and D9Sports.com is brought to you by Heeter Lumber.