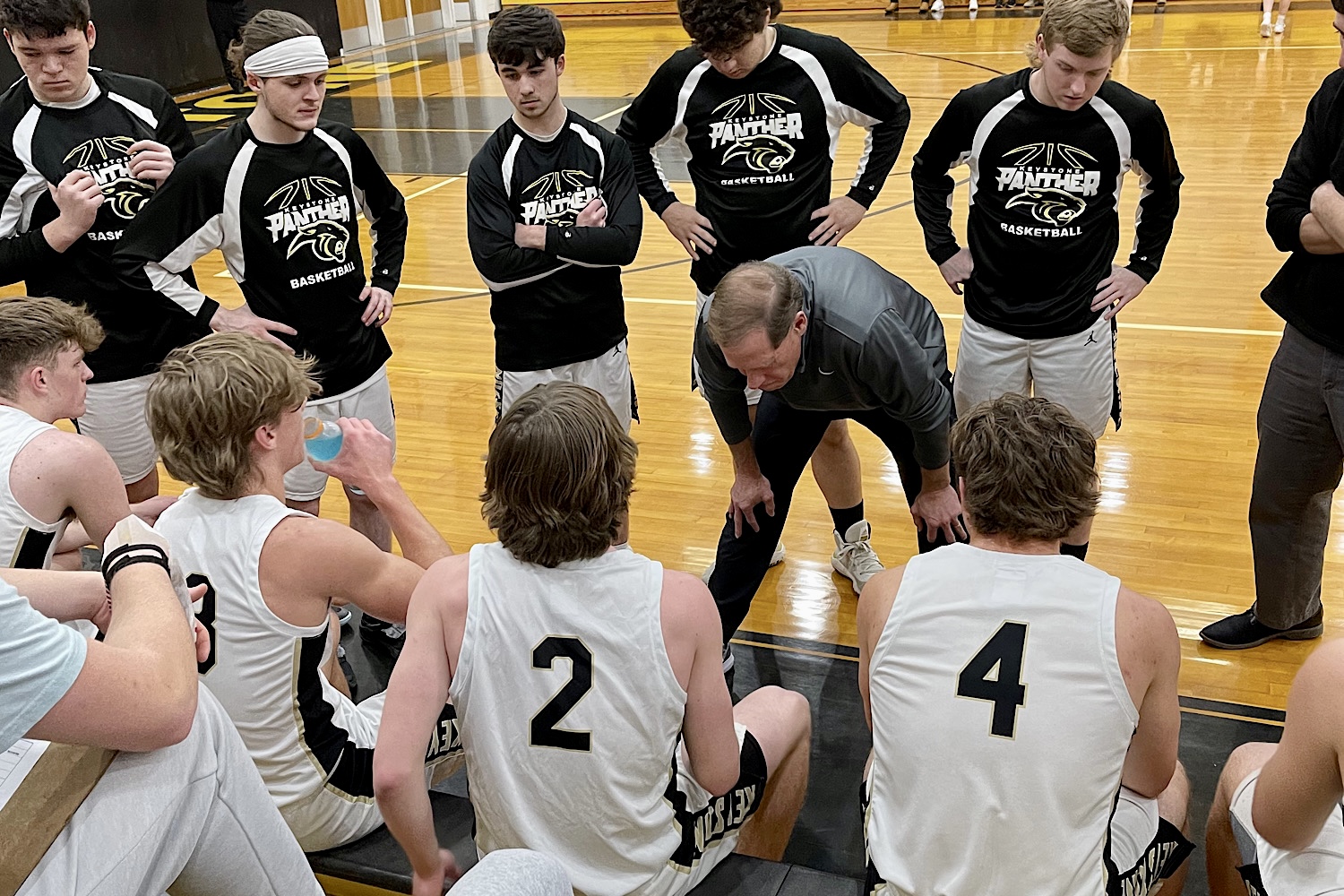 KNOX, Pa. (EYT/D9) — Just a few weeks ago, the Keystone boys basketball team was 0-5 and struggling.
Even amid the painful start, Panthers' coach Greg Heath was optimistic that better days were ahead.
Those days have arrived.
Tyler Albright hit a 3-pointer midway through the fourth quarter to give Keystone the lead for good at 39-38 and then another a few minutes later to hand the Panthers some breathing room on the way to a 48-40 home win over A-C Valley on Monday night.
It was the fourth win in the last five games for Keystone.
"Like I said earlier in the year, losing that week of practice really killed us," Heath said. "If we would have played that same team back in December, we would not have beaten them. There's no way. We just weren't ready."

Redbank Valley, Keystone, and Union/A-C Valley sports coverage on Explore and D9Sports.com is brought to you by Heeter Lumber.
The Panthers (4-6) were ready this time, even without big man Cole Henry on the floor for much of the first half because of two early fouls.
That allowed A-C Valley's tandem of 6-foot-5 forwards Jay Clover and Alex Preston to do some work in the paint.
They combined for 15 points as the Falcons led 22-19 at the half.
Clover finished with 20 and Preston added 13.
The key for Keystone was its ability to overcome that mismatch inside and withstand a 10-2 run by A-C Valley (6-6) at the end of the first half.
"Haden Foster did a nice job coming in and competed hard," Heath said. "He did a lot of good things in there and allowed us to stay in the game in the first half."
Henry returned in the second half and scored all nine of his points while also playing strong defense.
After A-C Valley took a 24-19 lead early in the third quarter, Keystone was able to even things up at 26-26 a few minutes later.
That set the stage for a back and forth second half that saw five ties before Albright finally put the Panthers ahead with his two big 3-pointers to aid Keystone in closing out the game on a 12-2 run.
"I was hoping to knock down some shots there," Albright said. "I was getting open looks but they just weren't falling."
Drew Keth and Kyle Nellis each scored 11 to lead Keystone. Albright added eight and Aidan Sell seven in the Panthers' extremely balanced attack.
"You have to take your hat off to them," said A-C Valley co-head coach Chris McNany. "They made the big shots when they needed them. In the last four minutes, we couldn't seem to get anything to fall. Our bigs had a couple of opportunities inside there that we rimmed out and we failed to get a couple of rebounds and some bounces went the other way."
The Falcons were cold in particular from the outside where they hit just two 3-pointers. Sharp shooters Brody Dittman and Ryan Cooper had a rare off-night.
"I'm happy with the effort," McNany said. "If we hit a couple of those 3s and we weren't very good from the foul line tonight. We just have to keep our heads up."
That's what Keystone did throughout its 0-5 start.
Albright said even when the Panthers were struggling, there was no doubt they could turn it around.
After all, it's the same blueprint as last season when Keystone scuffled out of the gate only to turn in a strong second half on the way to the playoffs.
"Imagine that," McNany said, flashing a grin. "A Keystone team turning it on halfway through the year."
"We didn't panic," Albright said. "It was just a matter of figuring out how to play good basketball. We were just trying to piece some things together. I think just coming off the football season, it takes time to get our feet underneath us. New year. We're stepping up big."

Redbank Valley, Keystone, and Union/A-C Valley sports coverage on Explore and D9Sports.com is brought to you by Heeter Lumber.