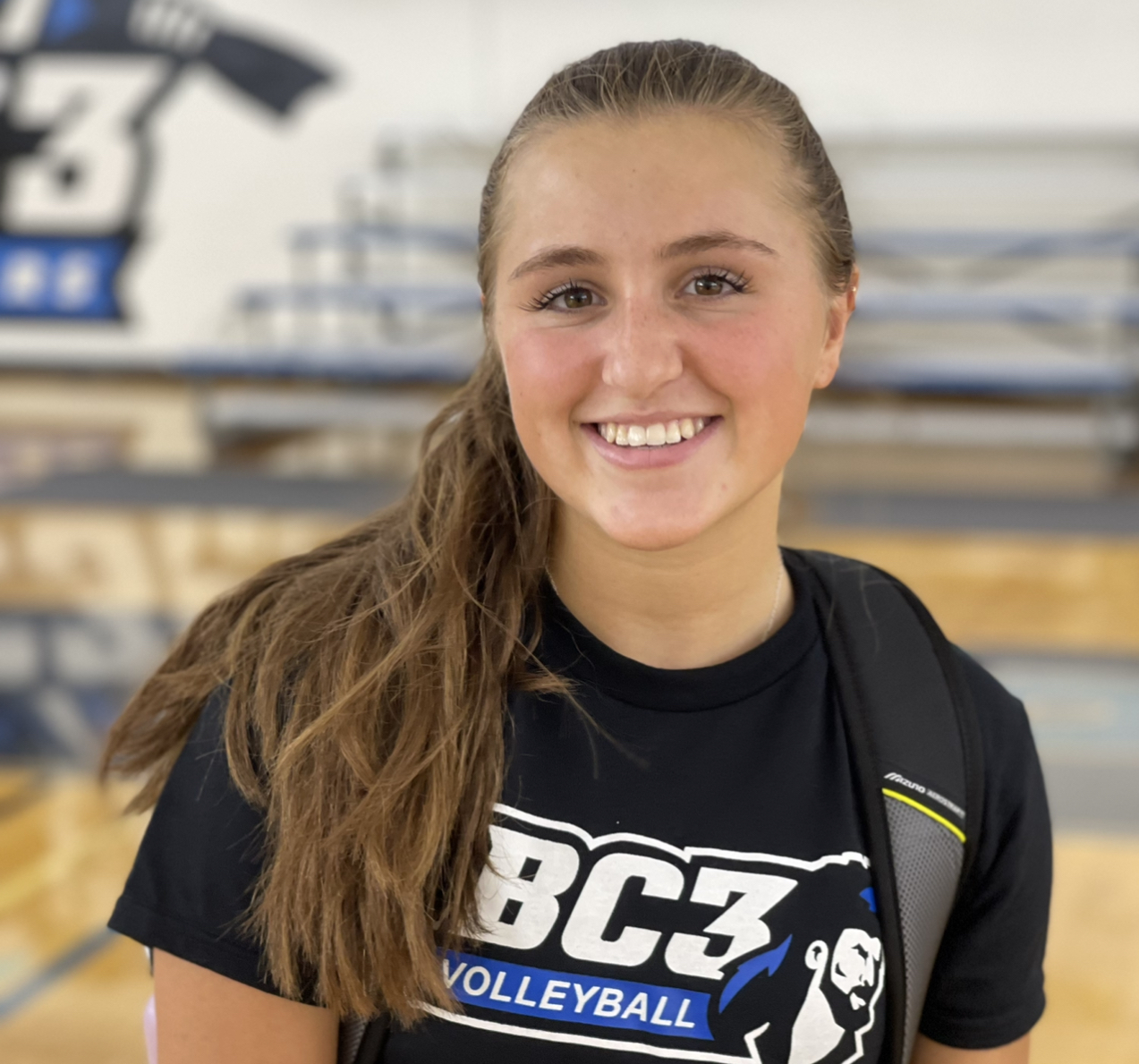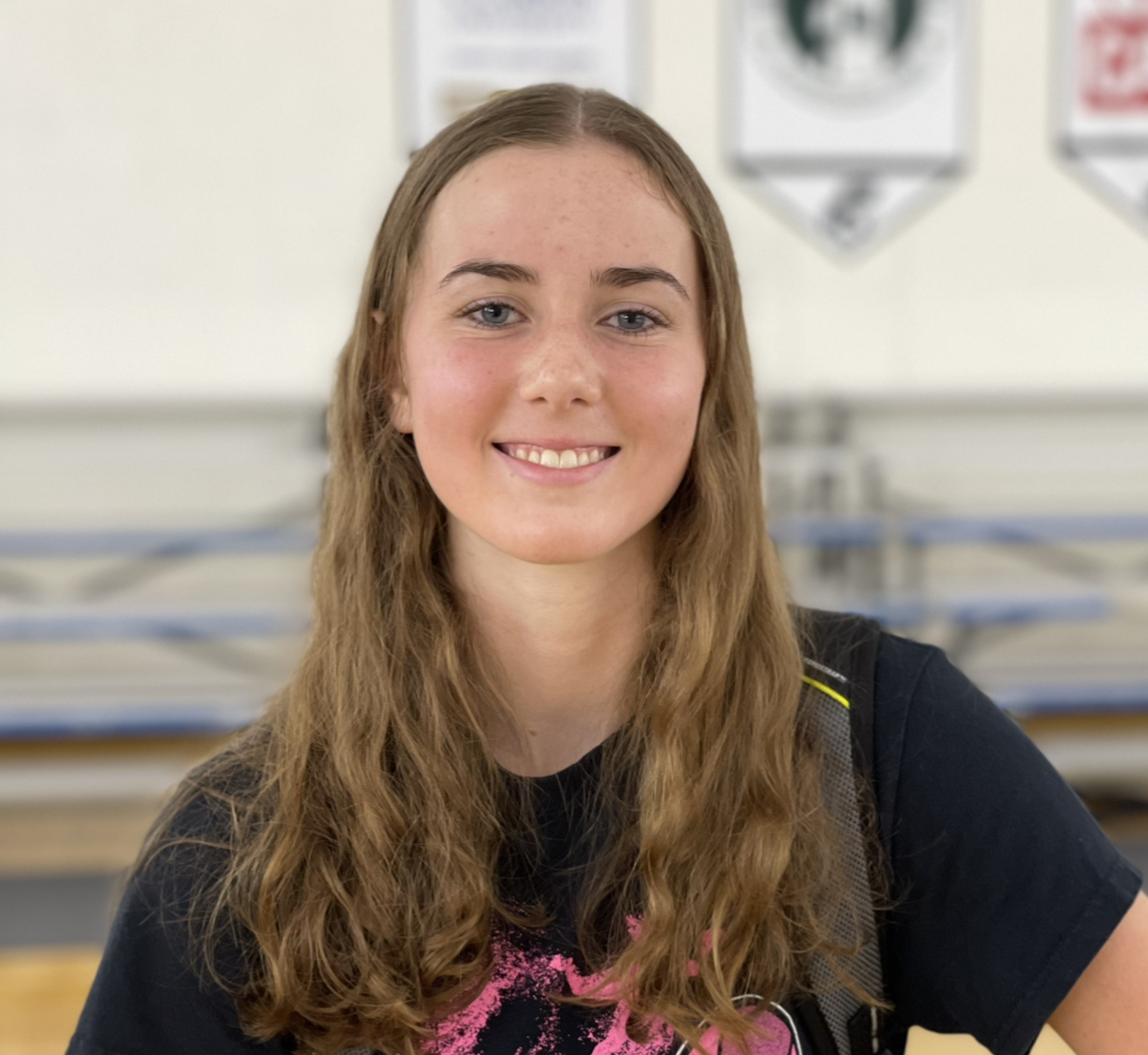 BUTLER, Pa. (EYT/D9) — For most of her life, Abby Young has bucked convention.
(Top photo, Abby Young. Bottom photo, Amber Maurer)
She's only 5-foot-3, but was a hurdler at Redbank Valley High School.
Young doesn't exactly look the part. But looks can be deceiving.
"When I was younger, I was involved in dance," Young said. "When I would dance, I would always do these jump and it's actually really close to hurdle form. So, it was easier for me."
But volleyball is the sport she is playing these days, finding her way to Butler County Community College this year as a freshman defensive specialist.
Young is coming off a knee injury and is still working her way back into form.
She dodged a bullet.
The injury to her knee, suffered while sliding during a softball game and aggravated while hurdling for the track and field team, could have been much worse.
"I saw a specialist and it was just micro-tears (in her ACL)," Young said. "I just mainly had to rest and get cortisone shots. Now, I can't really feel anything and the swelling went down a lot, so I'm able to play."
Young is still getting up to speed on the college game.
"I'm just easing back into it," Young said.
BC3 volleyball coach Rob Snyder sees a lot of potential in Young — as soon as she gets back to full speed.
"She's just catching up physically," Snyder said. "We have to go slowly and see where she fits in. We really needed defensive players and depth and that's what she will give us."
Karns City grad Amber Maurer is also a newcomer to the Pioneers from District 9.
Maurer is listed as a 5-foot-7 outside hitter, but she will likely be used primarily in the back row this season.
"Last year we spent a lot of time trying to get our hitters up to speed," said Butler County Community College volleyball coach Rob Snyder. "This year, all of our hitters (including Moniteau graduate Aslyn Pry) have a lot of experience, so we're gonna focus more on defense at the beginning of the year than we did last year."
Maurer rarely played defense at Karns City.
She's trying to quickly adapt to her new role at BC3.
"It's kind of surprising because I didn't play much defense at Karns City," Maurer said. "I played the whole way around, mostly because we didn't have too many subs, so I played defense as a necessity. But now I'm specializing in it."
Snyder said Maurer showed some natural ability to play in the back row. The coach has always had a knack for putting players in the best position to contribute, even if it is one they didn't play in high school.
"Amber has a really nice platform, really good foot-speed," Snyder said. "I think she's gonna do really well, and I'm going to expect her to be one of our primary passers and defensive players. She's picking it up."
Maurer said the biggest thing she's had to improve is her agility.
It's a work in progress. The college game is faster than that she was accustomed to at Karns City. She's been working on getting quicker and getting to ball on her feet, instead of having to dive for them.
She said she is excited to see what she can accomplish.
"I just want to live up to (Coach Snyder's) expectations," Maurer said. "I want to get better as a player and show the faith he has in me in justified. I've been here all summer doing the open gyms. Just from June until now, I've seen a tremendous difference from where I was in high school."
Young and Maurer are joining a volleyball program that has experienced a great deal of success at the junior college level.
The Pioneers went 18-3 and finished sixth at the National Junior College Athletic Association nationals last season.
"(Coach Snyder) is very good at observing and then telling you exactly what you need to change and how to change to fix the problem," Maurer said. "This is a whole different level."
Maurer is the latest in a long line of family members who have attended BC3.
Young came to the Pioneers for the three-year nursing program.
Initially, she was looking at Clarion University, but BC3 offered her a top-notch nursing program, as well as a chance to play volleyball.
"I heard a lot of great things about the nursing program here," Young said. "And also the volleyball team. It was a no-brainer."
Young is also eager to show what she can do on the volleyball court.
"I doing pretty well," Young said. "I feel healthy and I'm getting into the swing of things here. I'm pretty much trying to help the team any way I can."