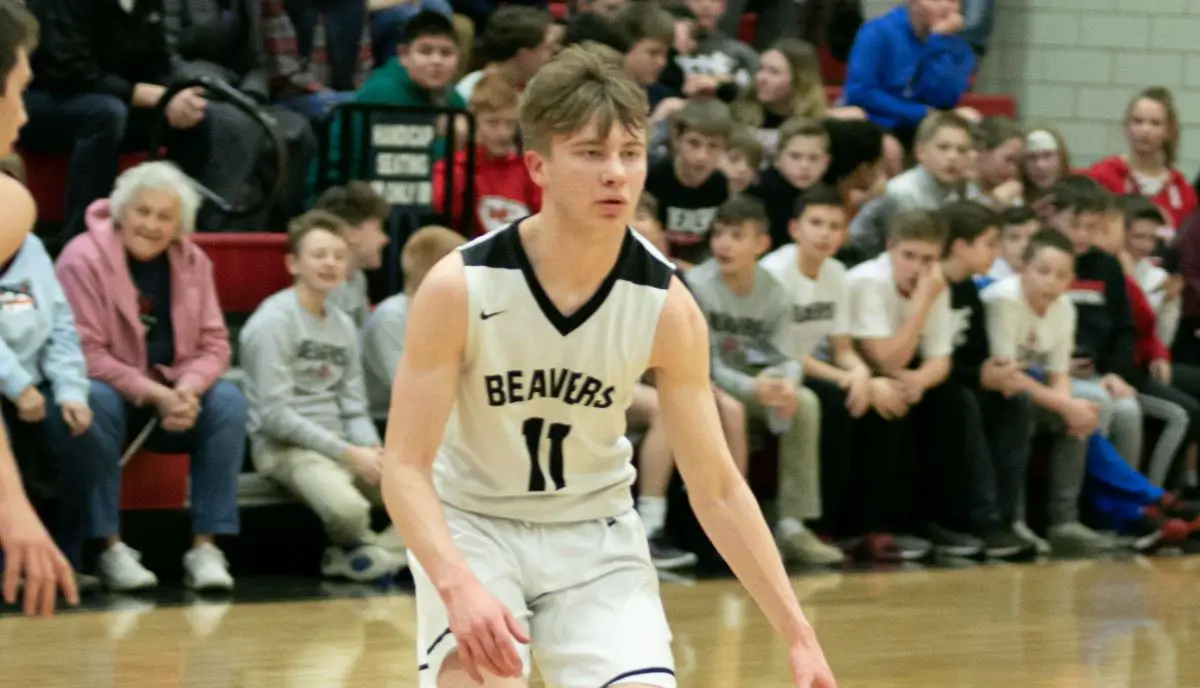 DUBOIS, Pa. – The last time the DuBois boys' basketball team beat Elk County Catholic Beavers' junior guard Nick Farrell was in third grade.
(Photo: Nick Farrell hit a dagger 3-pointer with 2 1/2 minutes left to help DuBois beat ECC for the first time since 2012 Wednesday night. Photo by Jared Bakaysa of JB Graphics. See more of Bakaysa's work here)
Wednesday night at DuBois' High School, Farrell's 3-pointer with 2:35 to play was the dagger that helped the Beavers to a 52-43 win over the visiting Crusaders and forged basically a tie for first place in the D9 League between the two schools.
Relisten to the game:
"We have been waiting for this one for a while," Farrell, who was named the Hager Paving Player of the Game said. "We knew coming in that we wanted this one really bad, and we got it."
Also see: Boys' Recaps from Jan. 29 including Cranberry's McQuaide Scoring 40 points in win
DuBois (15-2 overall, 5-1 D9 League) led by seven, 21-14, at halftime but watched as ECC (17-1, 6-1), which saw its 39-game regular-season win streak come to an end, rallied – as it had down at Johnsonburg Saturday – to take a 26-25 lead midway though the third quarter.
But Lennon Lindholm hit a 3-pointer immediately after ECC took the lead to stem the run, and while the Crusaders tied the game at 28 on a Mark Kraus layup, DuBois was able to close out the third quarter on a 5-2 run that started with a Michael Orzechowski basket to take a 33-20 lead into the fourth quarter.
Baskets by Jordin Sommers and Brady Woodward then helped get the lead to eight, 40-32, with just under six-and-half minutes to play.
ECC closed within six a couple of times, the latest at 42-36 with 3:20 left on a Regis Wortman basketball, but Farrell found himself open in the corner in front of his own bench and drilled the 3-pointer to push the lead back to nine, 45-36, and DuBois never looked back.
"I saw they were coming to double (my teammate)," Farrell said. "I said corner, corner and he passed it to me, and I shot it."
Watch Farrell's postgame interview.
DuBois was able to salt the game away by hitting 5 of 6 free throws in the final 53.2 seconds including Nick Felix going a perfect 4 of 4 from the line in the last 37 seconds.
When ECC missed a shot with around 10 seconds to play, the Crusaders backed off conceding the game to DuBois, and when the clock ran out the Dubois' students stormed the court after watching their team secure their first win over ECC since Feb. 1, 2012, and just the fifth win by the Beavers over the Crusaders in the last 40 contests.
It was a team-wide effort that got the victory for DuBois with six players scoring at least six points led by 6-foot-8 senior Chase Husted who had 11 points and finished with a double-double (official rebounding stats weren't available but he was easily over 10). This despite Husted twice leaving the court with a dislocated finger – once in the first quarter and once with about 1:30 to play – only to have the finger put back in place and come immediately back on the court.
"Chase wanted this one," DuBois head coach Dave Bennett said. "He had never beaten Elk, and he knew this was his last chance."
Sommers added 10 points while hitting a pair of 3-pointers, Felix and Linholm each had eight, Farrell added seven and Orzechowski had six after coming into the game averaging 2,9 ppg.
Wortman had a big game for ECC with a game-high 24 points while Kraus added 10. But the rest of the Crusaders scored just nine total points as they lost a regular-season game for the first time since Feb. 13, 2018, when they fell at home to Bradford, 56-54.
Both teams still have a lot of work left if they want to even share the D9 League title.
DuBois hosts St. Marys Friday in league play before traveling to Bradford – never an easy place to play Tuesday – then hosting Punxsutawney Feb. 7 before going to Brookville Feb. 14.
ECC, which has played one more league game already than DuBois, hosts Brookville Tuesday – the Crusaders are back in action Friday at Sheffield – before making the short trip to St. Marys Feb. 7 and hosting Bradford Feb. 11.
THE COACH AND THE SCRIBE POWERED BY THE REHAB CENTRE
Jess Quinn (The Coach) and Chris Rossetti (The Scribe) broke down the game on the Jan. 29 edition of The Coach and The Scribe Powered by the Rehab Centre. The Rehab Centre has six locations serving you, including in Clarion, Brookville, and Kittanning. The Rehab Centre, Chiropractors Caring for Health.
DUBOIS 52, ELK COUNTY CATHOLIC 43
Score by Quarters
ECC 6 8 16 13 – 43
DuBois 13 8 12 9 – 52
ECC – 43
Isaac Wortman 0 0-0 0, Carter Lindemuth 0 0-0 0, Jordan DePrator 0 0-0 0, Will Uberti 2 0-0 5, Regis Wortman 11 2-3 24, Mason McAllister 0 0-0 0, Leo Gregory 0 2-2 2, Mark Kraus 4 0-0 10, Charlie Breindel 0 0-0 0, Ben Hoffman 1 0-0 2. Totals 18 4-5 43.
DUBOIS – 52
Nick Felix 2 4-4 8, Jordin Sommer 4 0-0 10, Nick Farrell 3 0-0 7, Lennon Lindholm 3 1-2 8, Chase Husted 5 1-3 11, Michael Orzechowski 3 0-0 6, Brady Woodward 1 0-0 2. Totals 21 6-9 52.
Three-pointers: ECC 3 (Kraus 2, Uberti). DuBois 4 (Sommers 2, Farrel, Lindhom).