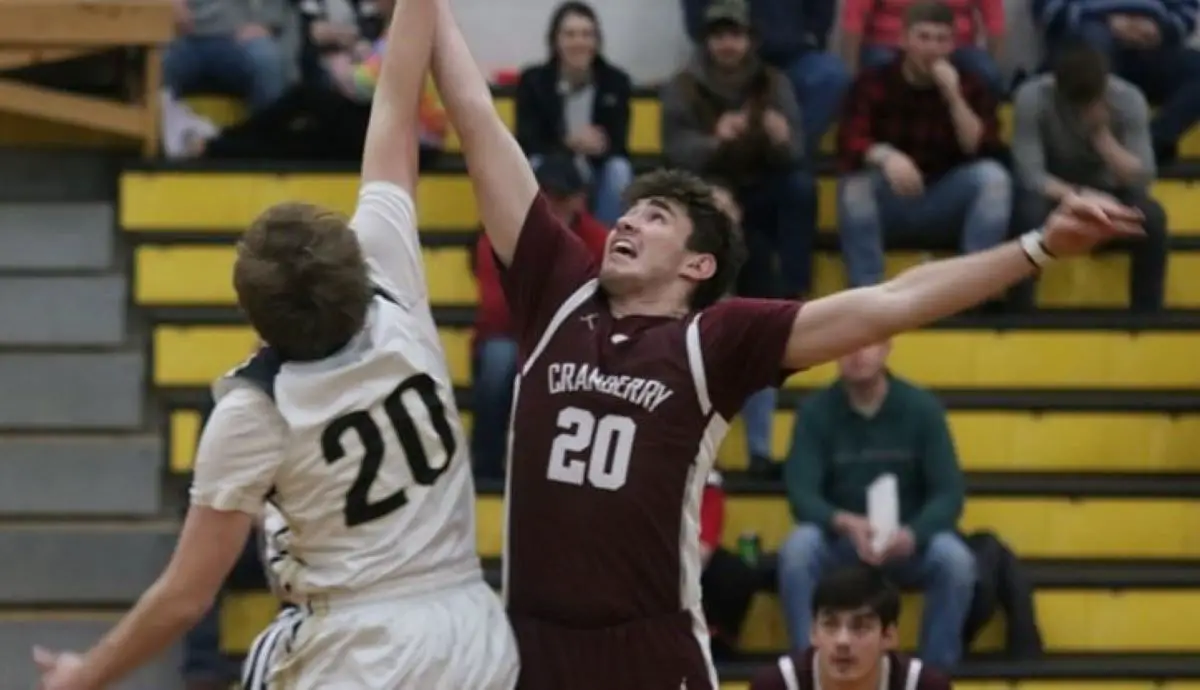 Jan. 29 boys' basketball recaps.
(Photo: Cranberry's Matt McQuaide exploded for 40 points in the Berries win over Redbank Valley. Photo by Mary Rearick)
Also see: DuBois snaps 15-game losing streak to ECC
CRANBERRY 75, REDBANK VALLEY 67
SENECA, Pa. – Matt McQuiade exploded for a career-high 40 points to go with 17 rebounds while helping Cranberry rally past visiting Redbank Valley, 75-67, in KSAC South action.
McQuaide scored 12 of his points in the fourth quarter to help the Berries overcome a 55-53 deficit entering the quarter.
He was consistent throughout the game also scoring eight points in the first quarter, 10 in the second and 10 in the third.
JT Stahlman added 17 points in the victory for Cranberry.
Bryson Bain scored 18 points to lead Redbank Valley with Chris Marshall adding 16, Owen Magagnotti nine and Delcan Fricko eight.
KANE 48, RIDGWAY 25
KANE, Pa. – Behind 22 CHad Greville points, Kane upended visiting Ridgway, 48-25.
Greville hit five 3-pointers and went 7-for-8 from the charity stripe for the Wolves. Matt DeLuca added 10 tallies while Zuke Smith chipped in five points, nine rebounds and three assists. Carson Whiteman grabbed four rebounds and dished out three assists.
Zack Zameroski paced the Elkers with 17 points.
Despite the loss, Ridgway clinched the AML South title when Brockway lost to Sheffield.
SHEFFIELD 48, BROCKWAY 43
SHEFFIELD, Pa. – Tyler Hepinger and Tony Richards combined for 24 points as Sheffield outlasted Brockway, 48-43.
Hepinger led the Wolverines offense with 13 points, including a pair of 3-pointers, six rebounds, five assists and four steals. Richards added 11 points and dished out four assists and Waler Kyler chipped in nine points, six rebounds and four steals.
Alec Freemer hit five 3-pointers and had a game-high 21 points in the loss for Brockway.
BRADFORD 64, ST. MARYS 33
ST. MARYS, Pa. – Behind 21 points from Tyler Gigliotti, Bradford defeated St. Marys on the road, 64-33.
Gigliotti had a team-best three 3-pointers for the Owls. Steven Knowlton added 13 tallies while Evan Schmidt chipped in 10. Peyton Manion grabbed 10 rebounds while Caleb Nuzzo dished out three assists.
Cahil Parrish and Nick Catalone each had seven points to pace the Dutch offense in the loss.
CURWENSVILLE 67, GLENDALE 55
CURWENSVILLE, Pa. – Trevor Lansberry exploded for 36 points to help Curwensville pick up a 67-55 Mo Valley League victory over visiting Glendale.
Lansberry hit three 3-pointers and went 9-for-14 at the charity stripe for the Tide. Adam Miller added 13 points and Scott Condon chipped in nine.
Ryan Sinclair had 18 points to pace the Vikings offense. Logan Cree added 10 tallies.
TYRONE 67, CLEARFIELD 49
HYDE, Pa. – Brandon Lucas and Landen DeHaas each scored 18 points as Tyrone defeated Clearfield, 67-49.
Damon Gripp added 14 points for the Golden Eagles and had a team-best four 3-pointers. Cortlyn Rhodes chipped in seven and David Lang had six.
Karson Rumsky paced the Bison offense with 16 points while grabbing nine rebounds. Cade Walker chipped in 15 points and Andrew Lopez dished out five assists.