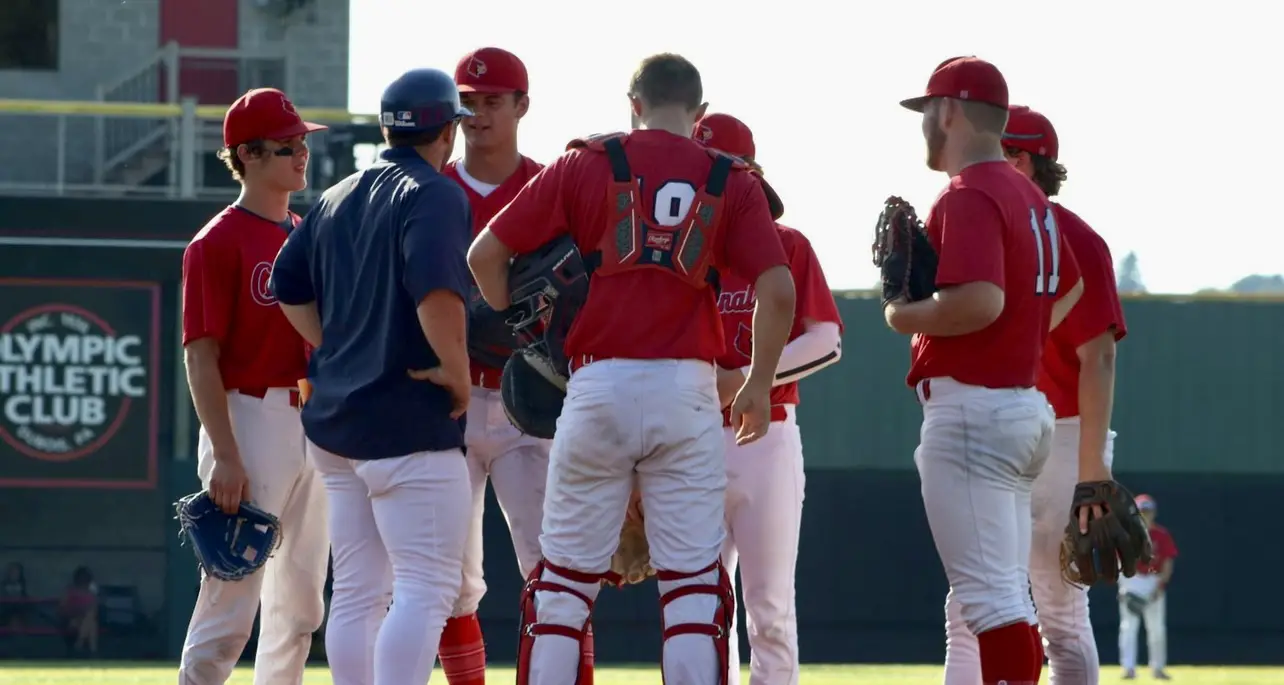 CRESSON, Pa. (EYT/D9) – Adam Fox doesn't think his DuBois Central Catholic baseball team has played its best game yet.
Scary thought for Halifax in the PIAA Class A championship game Friday morning.
The Cardinals cruised into the title clash with the District 3 Wildcats by rolling past Southern Fulton, 12-2, in six innings Monday afternoon.
It was the second time in the state tournament that DCC had won by the run rule.
"I told the kids after the game, I said, 'We haven't put it all together yet,'" Fox said. "I told them, 'I challenge you guys to put it all together in the state final; one time this year, put it all together.'"
It certainly looked like the Cardinals had everything put together against Southern Fulton.
The Cardinals jumped out to an 8-1 lead after four innings, then put the Indians out of their misery with four runs in bottom of the sixth.
DCC took advantage of four Southern Fulton errors to score those runs on seven hits.
"We want to just keep smothering teams with our lineup and our approaches at the plate and just grind it out," Fox said. "That's been kind of our motto."
Carter Hickman got the win, giving up one unearned run on three hits in 4 1/3 innings. He struck out only one and walked three, but was good enough.
Cole Sansom relieved him and pitched 1 2/3 scoreless innings.
"Carter hasn't had his best stuff in his last three outings, but he's been such a competitor that he's been filling up the zone and giving our defense a chance to make plays. Our outfield played really good defense tracking down balls and Carter went out and was a bulldog."
There was a couple of scares, though.
Southern Fulton loaded the bases twice in the fourth and sixth innings, but got only two runs to show for it.
And now DCC rolls into the state title game. The Cardinals have outscored their three opponents in the state playoffs 34-3.
"It was just a great team win," Fox said. "They're a good group of kids. We're lucky to have them, blessed to have them. They all work hard. They're all driven."
CENTRAL 6, PUNXSUTAWNEY 5 – The magic ran out for the Chucks at First Commonwealth Bank Field in Homer City Monday night.
A three-run homer by Devon Boyles erased a 3-1 deficit for the Dragons in the bottom fifth inning and Central tacked on two more runs in the frame and held on to remain undefeated and advance to the PIAA Class 3A championship game.
Punxsutawney, though, gave the Dragons from Martinsburg all they could handle.
Josh Tyger broke a 1-1 tie with a RBI single in the top of the fifth and the Chucks went up 3-1 on a run-scoring double by Ashton Stonbraker.
The lead was short-lived.
Down 6-4 after the rough bottom half of the fifth, Punxsutawney cut into the lead with a pair of runs in the top of the sixth.
But Boyles set the Chucks down in order in the top of the seventh.
Central (26-0) will take on District 3 champion Lancaster Catholic at 1:30 p.m. Friday at Penn State University.