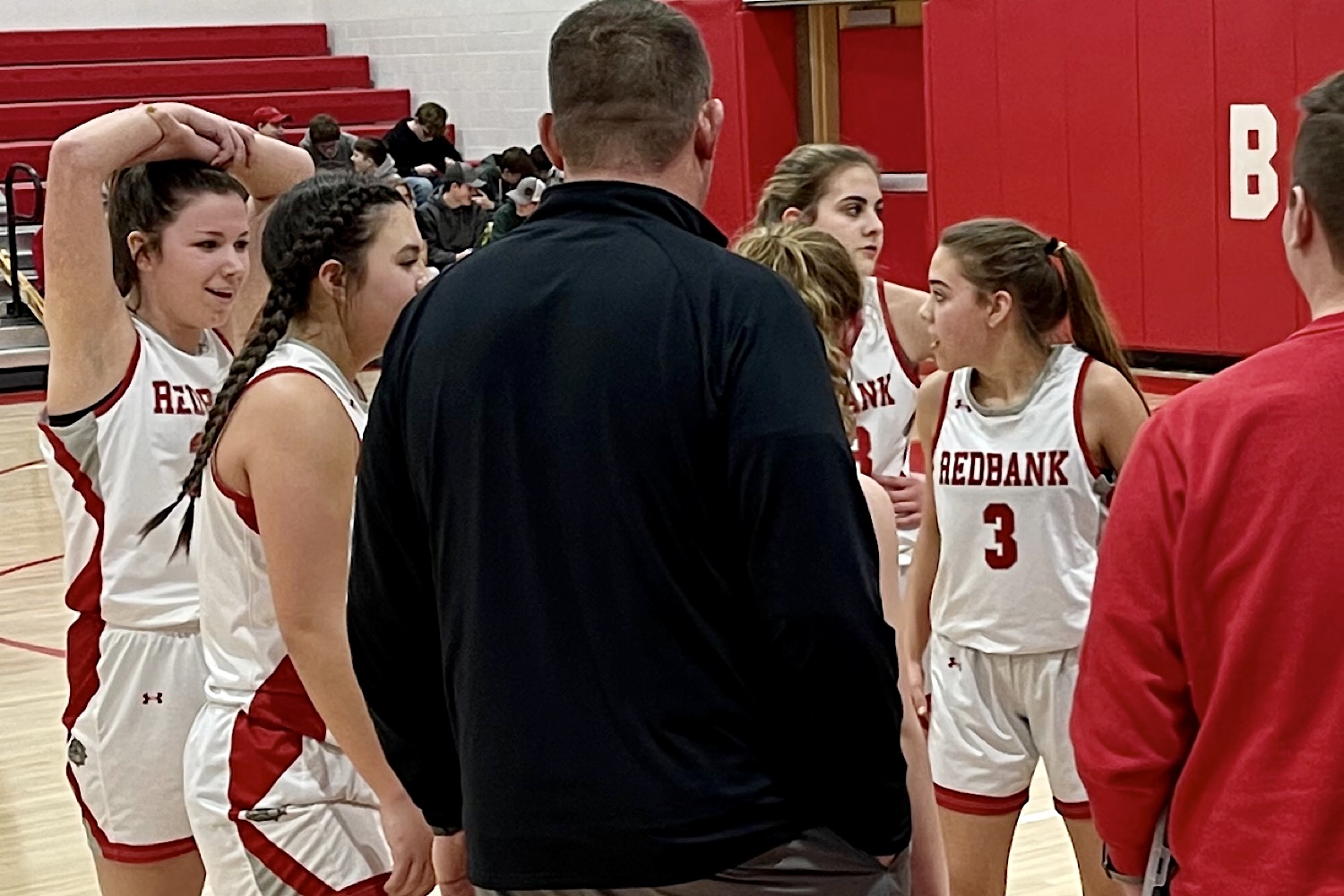 NEW BETHLEHEM, Pa. (EYT/D9) — The usual suspects often shine for the Redbank Valley girls basketball team.
Alivia Huffman is going to do her Swiss-Army-knife thing. Mylee Harmon is going to get steals, slash to the hoop and score points in bunches.
Caylen Rearick is going to hit 3-pointers. Brooklyn Edmonds and Alyssa Bowser are going to get the dirty work done: snag rebounds, jump on loose balls, play physical defense.
But one of the keys of success for the Bulldogs this season has been the play from their bench.
They were at it again on Thursday night, scoring 20 points in relief of those five starters in a 55-27 victory over visiting Karns City.

Redbank Valley, Keystone, and Union/A-C Valley sports coverage on Explore and D9Sports.com is brought to you by Heeter Lumber.
"We always get hyped up for the people out on the court," said freshman reserve guard Addy Bond. "That way we just bring up the intensity and when we come in, we're already super intense and can do really well."
Bond scored 13 points as five players came off the bench to score in the win over the Gremlins.
Bond hit three 3-pointers.
Her older sister, Izzy, also came off the bench to hit a big 3-pointer in the first quarter that broke a 4-4 stalemate five minutes into the game.
That basket helped get Redbank Valley (18-1) going.
The Bulldogs led 25-14 at the half, then opened up a 42-17 lead late in the third with a trademark prodigious run, keyed by the defense.
Midway through the fourth, Redbank Valley was up 51-21.
"There's a lot of factors you think about during the game," said Karns City coach Steve Andreassi. It was execution — we let them dictate our execution."
Karns City (11-7) was again playing without three key players, including starting guard Chloe Fritch.
The Gremlins' bench was short, although they, too, got key contributions from reserve Hannah Buchanan.
"There are no excuses at this point in the season," Andreassi said. "I'm not gonna sit here and talk about injuries. We let them dictate how we executed and we're going to work on it. We're going to continue to strive and we hope we learn a lesson from every game. This game will teach us a lot more than a 30-point victory.
"That's a great team that's on a great run here. We strive to be like them."
Huffman led Redbank Valley with 15 points. Harmon added 11 and Edmonds seven.
Brooklynn Taylor paced Karns City with 12 points.
Addy Bond said the bench has also been important on non-game days.
Practices are spirited because the reserves are eager to show their skill against the starting five.
"It helps all of us tremendously," she said. "It really helps all of us in those tough games that we are going to see in the playoffs.
"We all pass the ball and no one is selfish on this team," Bond added. "It's really nice to see everyone be hyped up for each other. Everyone always makes that extra pass to get someone open so they can score, no matter who they are."
Bond was surprised she had scored 13 points.
"It was really fun," she said. "I just love how I feel after I make a good play. My teammates are always there to support me and fire me up and anyone is capable of getting the team going."

Redbank Valley, Keystone, and Union/A-C Valley sports coverage on Explore and D9Sports.com is brought to you by Heeter Lumber.