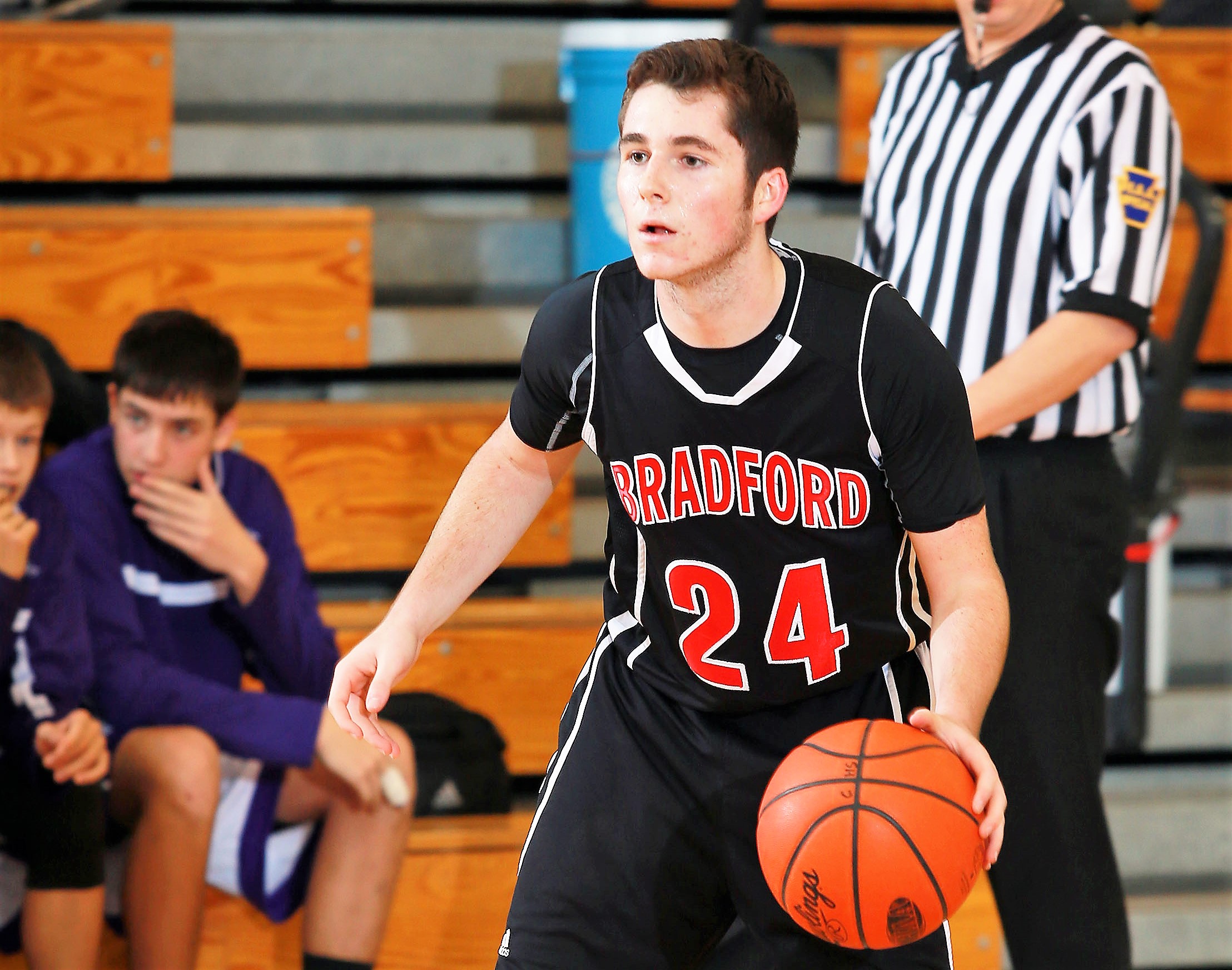 Feb. 1 boys' basketball recaps.
(Cover photo of Bradford's Nate Higbie. Photo by Paul Burdick. Check out more of Burdick's work here)
BRADFORD 58, ST. MARYS 55
BRADFORD, Pa. – The Bradford Owls have had a tough season, but they put together a monster third quarter to help them beat the Dutch for their fifth win and its second in a row.
St. Marys, which has dropped five of its last seven, led 27-26 at halftime, but the Owls dominated the third quarter 25-7 to take a 51-34 lead to the fourth where they held off a comeback attempt from St. Marys.
Bradford had three players score in double digits led by Tyler Gigliotti's 15 points. Nate Higbie added 14 points and Kyle Kirk scored 10. Higbie added five rebounds and Gigliotti five assists.
Jeff Wehler had the hot hand in a losing effort with 32 points for St. Marys. Matt Marconi scored 11.
JOHNSONBURG 38, DUBOIS CENTRAL CATHOLIC 31
DUBOIS, Pa. – Johnsonburg pulled away late from DuBois Central Catholic to a get a 38-31 AML victory at DCC.
The Rams, who led 12-11 at halftime after shutting out the Cardinals in the second quarter, still led by one, 23-22, going to the fourth quarter before outscoring DCC 15-9 in the quarter.
Kasey Raubenstrauch led Jburg with 11 points with Drew Akers adding 10.
Justin Miknis had 12 to pace DCC with Noah Pettenati adding eight.
RIDGWAY 59, KANE 36
RIDGWAY, Pa. – Three third quarter technical fouls on Kane helped Ridgway blow open a close game and get a 59-36 AML victory over the visiting Wolves.
Kane trailed by seven in the third before technical fouls on Andrew Bucheit, Frank Truden and head coach Matt Gasbarre helped Ridgway outscored the Wolves 23-9 in the third quarter.
Ridgway led 19-14 at halftime before expanding the lead to seven midway through the third quarter
Andy Breier's 19 points paced Ridgway. Neil MacDonald added 13.
Davis Gardner led Kane with nine points. Bucheit and Chad Greville each added seven.
BROCKWAY 64, SHEFFIELD 30
BROCKWAY, Pa. – Sheffield started strong taking a 13-11 lead after one quarter, but it was all Brockway after that with the Rovers cruised to an easy, 64-30, win.
Brockway outscored the visitors 33-4 in the second quarter to lead 44-17 at halftime.
Jake Wineberg led the Rovers with 13 points with Carter Adams adding 11.
Drew Higby led Sheffield with 12 points.
ELK COUNTY CATHOLIC 82, DUBOIS 46
ST. MARYS, Pa. – A 24-8 third-quarter advantage helped Elk County Catholic erase a three-point halftime deficit on its way to an 82-46 D9 League home win over DuBois.
DuBois led 31-28 before the Crusaders, who are 18-0 on the year, outscored the Beavers 54-15 in the second half.
Nate DaCanal scored 16 points to lead three Crusaders in double figures. Gabe Kraus added 12 points and Frank Singer scored 10.
Kenny Garvey had 14 points for DuBois.
UNION 56, REDBANK VALLEY 40
NEW BETHLEHEM, Pa. – Lucas Bowser started strong and ended strong, leading Union to a 56-40 KSAC South win.
Bowser scored 26 points, 11 apiece coming in the first and fourth quarters. He added five rebounds, four assists and three steals. Gavin Hawk and Kolby Montgomery scored 13 and 12 points respectively.
Union led 22-21 at halftime and outscored the Bulldogs, 34-19, the rest of the way.
Keaton Kahle led Redbank Valley with 11 points.
NORTH CLARION 61, CRANBERRY 46
SENECA, Pa. – Nathan Banner had 14 points, 10 rebounds and four blocked shots to help North Clarion to its 10th win of the year, 61-46, at Cranberry in KSAC North play.
Keeven Weaver chipped in 13 points and eight rebounds for the Wolves who also got nine points from Logan Minich and eight from Chase Schmader.
Dan McQuaide paced Cranberry with a game-high 15 points.
MONITEAU 65, A-C VALLEY 52
FOXBURG, Pa. – Lake Pry was one of four Moniteau Warriors in double digits with 24 points and eight rebounds, as the visiting Warriors knocked off A-C Valley, 65-52, in KSAC South action.
Ethan McDeavitt added 13 points and four assists, Josh Adamson had 12 points and Ross Tenney a double-double with 11 points and 12 rebounds.
Jeff Ginn and Joe Manculich each had 14 points and eight rebounds for A-C Valley. Kody Wolfe added nine points, six steals and six assists.
CLEARFIELD 68, BALD EAGLE AREA 36
CLEARFIELD, Pa. – It was another easy Mountain League victory for one-loss Clearfield with the Bison cruising to a 68-36 win over visiting Bald Eagle Area.
Will Myers had 24 points, 13 rebound and three assists to lead Clearfield with Reese Wilson chipping in 10 points, three rebounds and two blocked shots. Tommy Hazel had seven points, seven rebounds, five assists and two steals and Dave McKenzie added two points, two assists and seven rebounds.
GLENDALE 64, CURWENSVILLE 57
FLINTON, Pa. – Jacob Josper and Jason Potutschnig combined to score 31 points, as Glendale rallied in the second half to beat visiting Curwensville, 64-57, in Moshannon Valley League action.
Curwensville led by three, 30-27, at halftime but was outscored 37-27 in the second half.
Josper led Glendale with 17 points with Potutschnig adding 14.
Christian Bakaysa had a game-high 18 points for Curwensville with Devon Barrett adding 13.