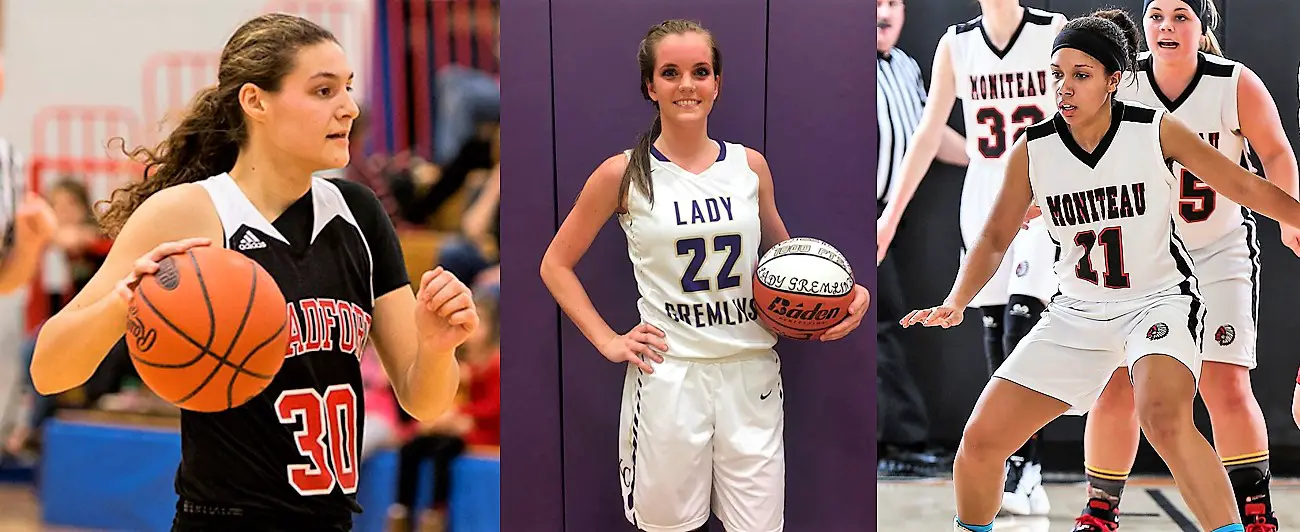 A pair of District 9 girls' basketball players reached the 1,000-point mark Wednesday while another one set the single-game scoring record for her team.
Karns City's Emily Hegedus and Bradford's Bri Wells both reached the 1,000-point plateau, while Moniteau's Alazia Greaves set the school's single-season scoring record in a win over A-C Valley.
KARNS CITY 56, KEYSTONE 20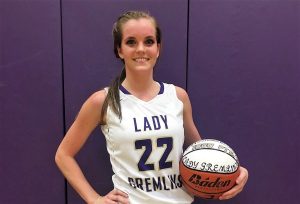 KARNS CITY, Pa. – Hegedus needed four going into the night to become the 10th girls' player at Karns City with 1,000 points and reached the milestone early in the first quarter of a 56-20 KSAC South win over visiting Keystone.
The junior recorded 12 of her game-high 23 points in the opening quarter helping the Lady Gremlins to a 28-4 lead after one. Her 1,000th point came on a free throw.
Watch Hegedus score her 1,000th point (Submitted video)
Alyssa Gibson chipped in 13 points for Karns City with Mackenzie Craig adding 11.
Taylor Geer's 11 points led Keystone.
BRADFORD 41, ST. MARYS 24
ST. MARYS, Pa. – Wells needed 23 points to join the now 12-member 1,000-point club at Bradford, and she achieved that mark by scoring exactly 23 points in the Lady Owls 41-24 D9 League road win over St. Marys.
Bradford, which swept the season series from the Lady Dutch, led 22-13 at halftime.
Rachelle Armanini led St. Marys with nine points.
MONITEAU 81, A-C VALLEY 54
WEST SUNBURY, Pa. – Greaves scored 17 of her school-record 44 points in the fourth quarter, as Moniteau cruised past visiting A-C Valley, 81-54, in KSAC South action.
The Lady Warriors were ahead handily going to the fourth, 59-41, and Greaves stood at 27 points, eight shy of her career high. She easily reached that mark of 35 and then went over 40 in the fourth quarter.
Kristina DeMatteis added 23 points, 11 rebounds and six assists for Moniteau with Sara Hull chipping in 10 rebounds and five points. Greaves also added seven rebounds, six steals and four assists.
Ellie Thompson netted 23 points for A-C Valley, which trailed 24-15 after a quarter and 40-28 at halftime. Olivia Boocks chipped in 12 points.
DUBOIS 47, ELK COUNTY CATHOLIC 45, overtime
DUBOIS, Pa. – Chelsea DeSalve scored five of her game-high 17 points in overtime, as DuBois rallied past visiting Elk County Catholic, 47-45, in D9 League action.
The teams were tied at 42 after regulation thanks to a second-half rally by the Lady Beavers, who trailed 24-16 at halftime but got within two, 31-29 going to the fourth quarter and then tied the game by outscoring the Lady Crusaders 13-11 in the fourth.
Then in overtime DeSalve hit a three and then connected on a two that put DuBois ahead 47-44. Reilly Herzing, who netted 11 points, including all three in overtime for ECC, hit one of two free throws to get the Lady Crusaders within two with 1:22 left but that was the last scoring for either team in the extra session.
Ashley Hallowell added a double-double with 10 points and 20 rebounds for DuBois despite being double teamed all night. Laura Fatula chipped in nine tallies.
NORTH CLARION 57, CRANBERRY 43
FRILLS CORNERS, Pa. – North Clarion all but clinched its second straight KSAC North title with a 57-43 win over visiting Cranberry.
The She-Wolves are now 5-0 in league play with a two-game lead over Cranberry (3-2) and a 2 ½ game lead over Clarion (2-2) in the division with three games to play.
Cassie Wagner led North Clarion with a career-high 18 points. Abby Gatesman added 12 points with Tori Obenrader chipping in 11 points and 11 rebounds. Obenrader now sits 11 rebounds shy of becoming the first 1,000-point, 1000-rebound player in school history.
North Clarion put the game away in the first half grabbing a 33-15 halftime lead and got the advantage to as many as 20 in the second half before being outscored 17-9 in the fourth quarter.
Erin Merryman paced Cranberry with 16 points with Malliah Schreck adding 14.
KANE 52, RIDGWAY 30
KANE, Pa. – Trinity Clark scored 18 points and hauled down 11 rebounds to lead Kane to a 52-30 win over visiting Ridgway in AML action.
Ella Marconi added eight points, seven blocked shots and 13 rebounds, Rachael Morgan chipped in nine points and 10 rebounds and Camryn Cummings had six points, six assists, five steals and five rebounds.
Emily Fullem led Ridgway with 12 points, 10 rebounds, seven blocked shots and four steals.
BROCKWAY 49, SHEFFIELD 23
SHEFFIELD, Pa. – Kaitlyn Morelli's 21 points led Brockway to a 49-23 win at Sheffield in AML action.
The Lady Rovers led 18-4 after one quarter before the Lady Wolverines made it close at the half, 22-14, before Brockway re-established its dominance in the second half to pull away.
Katlyn Cappetta added 10 for Brockway.
Lexi Lyon and Ashley Frederick each had nine points for Sheffield, which played with just five players because of a couple of reasons.
DUBOIS CENTRAL CATHOLIC 39, JOHNSONBURG 34
JOHNSONBURG, Pa. – DCC trailed Johnsonburg at halftime before ralling to pull out a 39-34 win in AML action.
The Lady Cardinals outscored the hosts 27-20 in the second half. Riley Assalone scored 13 points and Gabby Caruso added 10.
Johnsonburg was keyed by 13 points from Skylar Sherry and 10 from Cassidy King as it led 14-12 at the half.
CLEARFIELD 49, BALD EAGLE AREA 42
HYDE, Pa. – Brooke Cline and Alayna Ryan each scored 16 points to lead Clearfield to the 49-42 win over Bald Eagle Area in Mountain League action.
Nikki Chew added 18 rebounds for Clearfield, which led 22-12 at halftime.
OTTO-ELDRED 45, PORT ALLEGANY 31
PORT ALLEGANY, Pa. – Otto-Eldred overcame a slow start to claim a 45-31 North Tier League road win over Port Allegany.
Port led 7-5 after one quarter before Otto-Eldred took a 19-15 halftime lead and then built its advantage steadily throughout the second half.
Camryn Thomas led the Lady Terrors with 21 points.
Autumn Buchsenschutz had 18 for Port and is now 21 points shy of 1,000.
CURWENSVILLE 46, GLENDALE 35
CURWENSVILLE, Pa. – Hannah Dixon exploded for 25 points to lift Curwensville to a 46-34 win over visiting Glendale in Moshannon Valley League action.
Christine Limbert added 10 points for the Lady Tide, who led 33-28 going to the fourth quarter.
Cierra O'Shell paced Glendale with 11 points.
COUDERSPORT 86, OSWAYO VALLEY 38
COUDERSPORT, PA. – Haley Keck's 18 points led five Coudersport players in double digits in an 86-38 win over visiting Oswayo Valley in North Tier League action.
Keck added nine rebounds and three blocked shots for the Lady Falcons, who stayed unbeaten in NTL action.
Ally Easton added a double-double with 13 points and 14 rebounds for Coudy, who also got 12 points from Macy Gleason, 11 from Alyssa Wood and 10 from EmmaRae Easton. Skyler VanWagnen chipped in eight points and six assists.
Shayla Bickel netted 14 points to lead Oswayo Valley with Karina West adding 11.
GALETON 57, AUSTIN 9
GALETON, Pa. – Makaya Shadle and Olivia Pagano each recorded double-doubles, as Galeton flew past visiting Austin, 57-9, in North Tier League play.
Shadle had 17 points and 12 rebounds to lead the Lady Tigers with Pagano adding 12 points and 13 rebounds. Cortney Parsell also reached double figures for Galeton with 13 points.
Alyson Rotello paced Austin with four points.
CAMERON COUNTY 42, SMETHPORT 38
SMETHPORT, Pa. – Cameron County built an eight-point halftime lead and then held on for a 42-38 North Tier League road victory over Smethport.
The Lady Raiders led 24-16 at the break on the strength of a 14-7 first-quarter advantage.
Madi Guisto led Cameron County with 19 points with Alyvia McKimm adding 15.
Abbey Woodard paced Smethport with 21 points.
WEST SHAMOKIN 62, PUNXSUTAWNEY 36
RURAL VALLEY, Pa. – Andrea Orlosky and Olivia Fusaro each netted 21 points, as West Shamokin ran past visiting Punxsutawney, 62-36.
Kate Horner had a team-high 12 points for Punxsy with Leah Miller adding 10 points, eight rebounds and five blocked shots.
FOREST AREA 45, CLARION-LIMESTONE 38
TIONESTA, Pa. – Brianna Hetrick and Jasmine Ginnery scored 13 and 11 points respectively, leading Forest Area past Clarion-Limestone, 45-38, in a KSAC North matchup.
Forest led 21-13 at halftime and hiked its lead to 40-24 before C-L got it back to single digits with a 14-5 advantage in the fourth quarter.
Rachel Greeley scored 15 points to lead C-L.
REDBANK VALLEY 33, UNION 29
RIMERSBURG, Pa. – Lexi Holt scored 10 of her 12 points in the fourth quarter, helping Redbank Valley get by Union, 33-29, in a KSAC South matchup.
The game was tied at 22-22 going into the fourth quarter before the Lady Bulldogs outscored the Damsels, 11-7, the final eight minutes.
Alyssa Wiant added 10 points for Redbank Valley.
Damsels senior Lexey Shick scored 15 of her 17 points in the second half and came within one point of reaching 1,000 career points.
CLARION 55, BROOKVILLE 48
CLARION, Pa. – Alexis Constantino and Wendy Beveridge scored 20 and 15 points respectively in Clarion's 55-48 non-league win over Brookville.
Brooke Shattenberg scored 11 points while Marcy Schindler finished with 10 points for Brookville.
Gloria Kroh chipped in five points and 17 rebounds in the win for the Lady Cats.