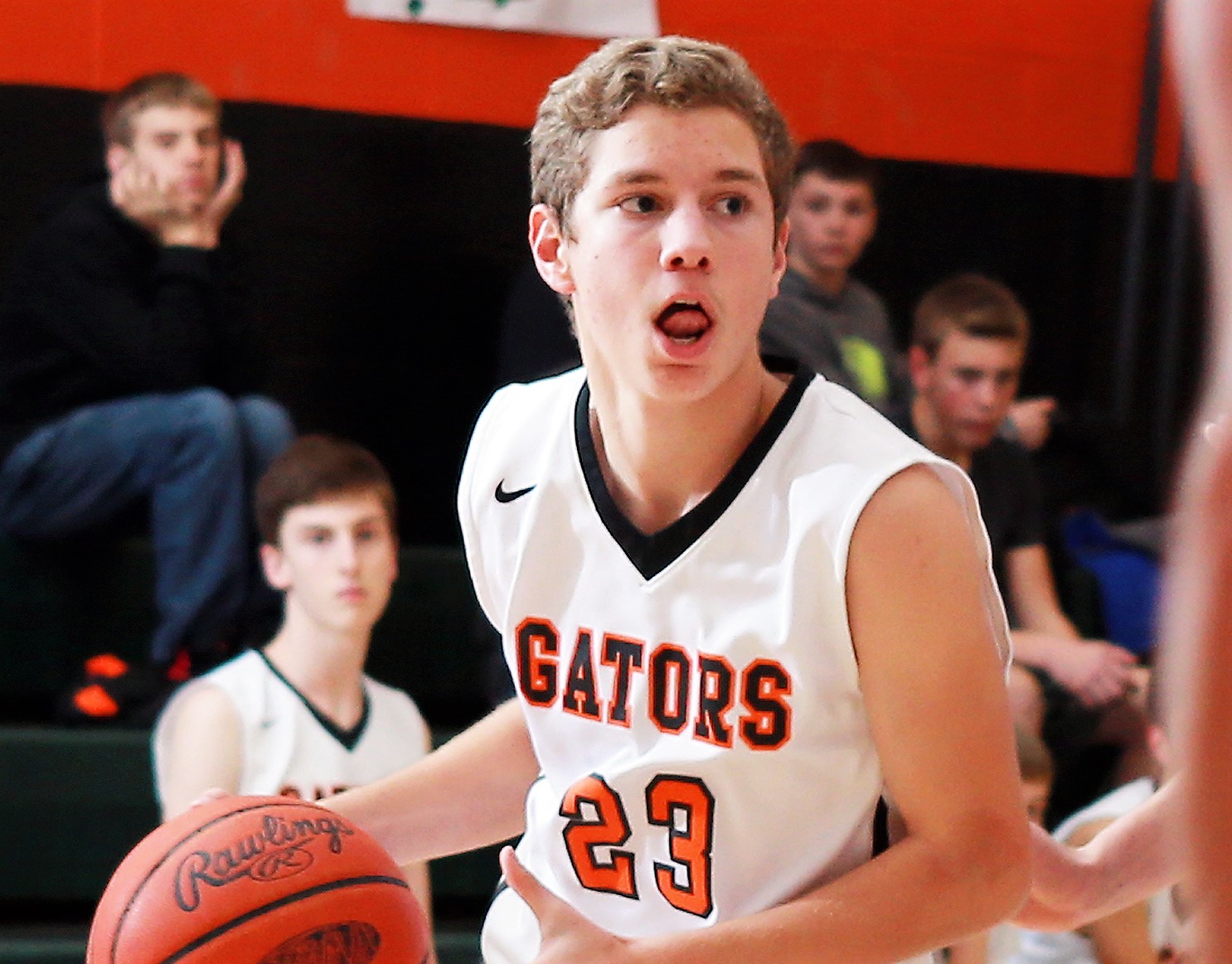 Feb. 10 recaps.
(Photo by Paul Burdick. Check out more of Burdick's work here)
Punxsutawney's Matthews Scores 1,000th career point in win over St. Marys
BOYS
AUSTIN 85, PORT ALLEGANY 62
PORT ALLEGANY, Pa. – Port Allegany's Howie Stuckey hit 12 3-pointers and scored a career-high 42 points, but visiting Austin got a double-double of 31 points and 12 rebounds from Dempsey Glover to beat the Gators, 85-62, in North Tier League action.
Stuckey, who was coming off a career-best 37 points while hitting eight 3-pointers in a loss to Otto-Eldred Friday night, one-upped that performance on Saturday.
The 12 triples broke the school record of 11 set by his cousin, Craig Flint, Jan. 3, 2002. The 12 is also believed to be the most in District 9 during the D9Sports.com-era (2001-present) with Flint's 11 being the previous known high. Calvin Grumley of Johnsonburg hit 10 in a game Feb. 11, 2002. And the 42 points are also the most by a Port Allegany player in the D9Sports.com-era breaking Flint's mark of 36 the day he hit 11 triples.
Maybe even more impressive was Stuckey was limited to just three first-quarter points on his first 3-pointer on the night, as Austin raced out to a 16-3 lead after eight minutes.
But the sophomore caught fire in the second quarter nailing four 3-pointers and scoring 14 points to give him 17 at halftime. He then hit three more triples in the third quarter while scoring 11 points before nailing four more in the fourth quarter and scoring 14 points.
Mason Valenti added 20 points for Austin, which has won four in a row and five of seven while assuring itself of its first winning season since 2004. Blake Burgett chipped in 12 points and nine rebounds and freshman Jackson Glover nine points for the Panthers. Garrett Rees also had 10 boards.
David Talkington chipped in nine points for Port Allegany.
NORTH PENN LIBERTY 43, GALETON 36
GALETON, Pa. – Duncan Zeafla netted a game-high 17 points to help visiting North Penn Liberty to a 43-36 win over Galeton.
Evan Brooks scored 16 for Galeton.
GENERAL MCLANE 66, KANE 44
KANE, Pa. – Behind 26 points from Seth Myers visiting General McLane knocked off Kane, 66-44.
Logan Donahue and Josh Schreiber each added 12 points for the Lancers.
Chad Greville paced Kane with 17 points with Austin Pierson adding 11.
EISENHOWER 83, SHEFFIELD 60
SHEFFIELD, Pa. – Tajah Warren and Zack Fincher combined for 41 points to lift visiting Eisenhower to an 83-61 win over Sheffield.
Warren scored a team-high 22 points with Fincher adding 19.
Jaydan Hayes also scored 13 points for the Knights.
Cale Albaugh had a career-high 34 points – he hit nine 3-pointers – to go with seven rebounds for Sheffield with Matt Dunham adding 10 points, nine assists, six rebounds and four steals.
GIRLS
ELK COUNTY CATHOLIC 39, ST. MARYS 26
ST. MARYS, Pa. – Taylor Newton had 20 points and 11 rebounds to help Elk County Catholic top rival and visiting St. Marys, 39-26, in D9 League action.
Makenzie Cashmere added 14 points while hitting four 3-pointers and coming up with five steals for the Lady Crusaders.
Kaylee Muccio paced St. Marys with 17 points.
NORTH CLARION 58, CLARION 43
CLARION, Pa. – Tori Obenrader had 30 points and 14 rebounds, as North Clarion shook off a pesky Clarion squad to finish KSAC North play a perfect 8-0 for the second straight year with a 58-43 win.
Abby Gatesman also had a double-double for the She-Wolves with 15 points and 10 rebounds.
North Clarion led 30-20 at halftime thanks to a late 3-pointer by Obenrader, but Clarion cut the deficit to six, 33-27, early in the third quarter before the She-Wolves defense turned up the pressure leading to a 13-0 run that put the game out of reach.
Kait Constantino paced Clarion with 14 points and six steals. Wendy Beveridge added 13 points and five blocked shots and Ali Troese had two points to go with six rebounds.
COWANESQUE VALLEY 58, AUSTIN 32
AUSTIN, Pa. – Mikayla Vargeson's 10 points paced a balanced effort from visiting Cowanesque Valley in a 58-32 win over Austin.
Jordan Brewer led Austin with 13 points with Shea Setzer adding eight tallies.
SAEGERTOWN 39, CRANBERRY 38
SENECA, Pa. – Visiting Saegertown held off a late charge from Cranberry to knock off the Berries, 39-38.
Cranberry trailed by six, 31-25, going to the fourth quarter before outscoring the Lady Panthers 13-8 in the quarter.
Courtney Hess led Saegertown with nine points, Haley Hess added eight and Katelyn Young seven.
Malliah Schreck had a double-double for Cranberry with a game-high 17 points to go with 11 rebounds and five steals. Hannah Duncan added 12 tallies and six rebounds.