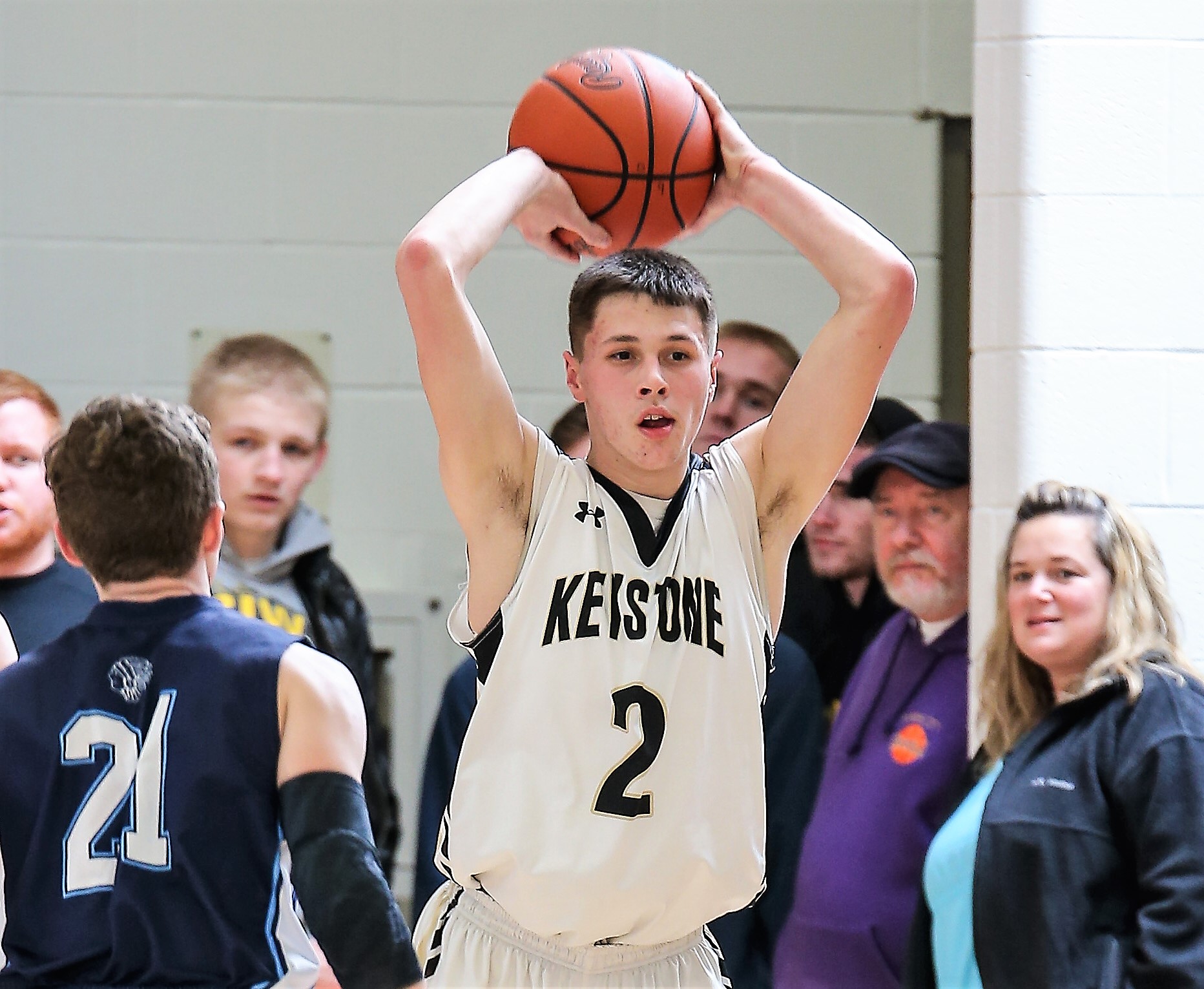 Feb. 10 boys' recaps.
(Cover photo of Keystone's Austin Ion. Photo by Mike Schnelle. Check out more of Schnelle's work here)
KEYSTONE 49, UNION 45
RIMERSBURG, Pa. – Austin Ion scored 18 of his game-high 22 points in the second half to help Keystone hold off an upset bid by Union for a 49-45 KSAC South road win.
Ion, who was 11 of 12 from the line while adding 10 rebounds and five steals, scored 13 of Keystones' 15 third-quarter points to help the Panthers expand a 28-27 halftime lead to 43-41 after three. He then went 5 of 6 from the line in the fourth quarter while scoring eight of the Panthers' 16 points in the quarter.
Tanner Wilson was also 5 of 7 from the line in the fourth on his way to 11 points. Keystone shot 22 of 25 from the free-throw line on the night.
Dalton Jones chipped in 10 points for the Panthers.
Lucas Bowser led Union with 21 points with Gavin Hawk chipping in four points, nine rebounds and four assists.
Keystone now needs just one win in its final two games to clinch the KSAC South title.
NORTH CLARION 69, VENANGO CATHOLIC 33
FRILLS CORNERS, Pa. – Led by 12 points from Sam Minich, 13 different North Clarion players scored in a 69-33 home KSAC North win over Venango Catholic.
All 12 of Minich's points came before halftime with eight in an 18-point first quarter that helped the Wolves to an 18-6 lead after one.
Nathan Banner chipped in 10 points, Chase Schmader nine and Kyle Mills eight for North Clarion.
Tim Wagner led Venango Catholic with 11 points with Josh Puleo scoring nine.
KARNS CITY 58, A-C VALLEY 35
KARNS CITY, Pa. – Ian McElroy was the lone Karns City player in double figures with 12 points, as the Gremlins topped visiting A-C Valley, 58-35, in KSAC South play.
Chandler Turner added nine points for Karns City, which had 10 players score, with Noah Pollock adding five points and seven assists.
Freshman guard Eddie Stevanus led A-C Valley with 10 points and five steals.
MONITEAU 71, REDBANK VALLEY 45
NEW BETHLEHEM, Pa. – Lake Pry scored 33 points and dished out five assists while Josh Adamson had a career-best 21 points to lead Moniteau to its sixth straight win, 71-45, at Redbank Valley in KSAC South action.
Jake Jewart added four points and nine assists for the Warriors.
Nick Smith had 17 to pace Redbank Valley with Adrian Daniels adding 13 points.
CLARION 98, FOREST AREA 44
MARIENVILLE, Pa. – Eight different Clarion players had at least nine points, as the Bobcats rolled past Forest Area, 98-44, in KSAC North play.
In all, 12 different Clarion players found the scorebook led by 13 points from Cam Craig. Reed Anthony chipped in with 11 points, Ceventh Lynch-Skunda and Spencer Miller each had 10 and Nick Terwint, Skylar Rhoades, Austin Hummell and Ty Burford each scored nine.
Seth Berlin paced Forest Area with 30 points and 14 rebounds including 17 in the third quarter.
RIDGWAY 47, BROCKWAY 37
BROCKWAY, Pa. – Behind 18 points from Neil MacDonald Ridgway, which earlier in the week claimed the AML South crown, beat Brockway, 47-37.
Justin Kasmierski added 11 points for the Elkers who also got 10 tallies from Andy Breier.
Jarrett Esposito led Brockway with 13 points.
JOHNSONBURG 39, KANE 23
KANE, Pa. – Kacey Raubenstrauch scored 10 points and Drew Akers added nine to help visiting Johnsonburg to a 39-23 win over Kane in AML action.
Kane, which clinched an AML playoff berth earlier in the week, played mostly seniors on Senior Night. One of those seniors, Keaton Rounsville led the way with six points. Another Davis Gardner added five while leading scorer Andrew Bucheit was limited to four tallies.
BRADFORD 53, BROOKVILLE 38
BRADFORD, Pa. – Bradford continued its late-season surge with a 53-38 D9 League home win over Brookville.
Tyler Gigliotti led the Owls, who have won 4 of 5 after starting the year 3-11, with 14 points. Nate Higbie chipped in 13 points, five assists and four rebounds with Donnie Pattison adding 12 points.
Brookville, which has lost two straight and four of its last seven, got 12 points from Colton Singleton.
The game was tight through three quarters with the Raiders trailing Bradford by two, 31-29, going to the fourth quarter before six points each from Gigliotti, Higbie and Pattison helped the Owls pull away.
ELK COUNTY CATHOLIC 64, ST. MARYS 47
ST. MARYS, Pa. – Elk County Catholic closed out its regular-season home schedule with a 64-47 D9 League win over rival and visiting St. Marys while inching to within a game of back-to-back undefeated regular seasons for the first time in school history.
Nate DaCanal led the Crusaders with 15 points with Ryan Newton and Brad Dippold each scoring nine.
Nathan Schneider paced St. Marys with a game-high 23 points while former Crusader Jeff Wehler added 13 for the Dutch.
PUNXSUTAWNEY 75, DUBOIS 64
PUNXSUTAWNEY, Pa. – Devin Kelly scored a season-high 25 points to help Punxsutawney beat visiting DuBois, 75-64, in D9 League action.
Brandon Matthews added 20 points for the Chucks, who were 17 of 22 from the free-throw line.
Bryce Bright had a career night for DuBois with 26 points, more than he had scored in his previous seven games combined. Nick LaBrasca added 23 and Kenny Garvey 11 for the Beavers who were 16 of 29 from the line.
COUDERSPORT 58, SMETHPORT 17
SMETHPORT, Pa. – Jared Green, Owen Chambers and David Rigas combined for 37 points to help Coudersport complete its first unbeaten regular season since 2008 with a 58-17 North Tier League road win at Smethport.
Green led the Falcons, who were 4-0 this week, with 14 points. Chambers added 12 points and Rigas 11.
CAMERON COUNTY 49, OTTO-ELDRED 36
EMPORIUM, Pa. – Adam Shaffer and Jaker Walters each scored 12 points to help Cameron County all but secure the No. 2 seed in the upcoming District 9 Class 1A playoffs with a 49-36 win over visiting Otto-Eldred in North Tier League action.
The only team now with any chance of passing the Red Raiders for the second seed is North Clarion, and the Wolves would need to win their final game over Forest Area while the Red Raiders drop their final two games at Oswayo Valley and DuBois Central Catholic to get the second seed.
Otto-Eldred, which shot 23 percent from the field and 2 of 10 from the free-throw line, trailed 23-4 after a quarter of play.
Cameron Grigsby led the Terrors with eight points with Dylan Close adding seven.
AUSTIN 60, NORTHERN POTTER 38
AUSTIN, Pa. – Austin picked up its second North Tier League win of the year in impressive fashion with a 60-38 win over visiting Northern Potter.
Blake Burgett had a double-double for Austin with 11 points and 10 rebounds. Glover Dempsey led the home squad with 12 points while Garrett Rees added nine and Brian Shupe eight.
Tucker Kosa had a game-high 17 points for NoPo with Blake Jeffers adding 14.
CURWENSVILLE 69, SHEFFIELD 60
CURWENSVILLE, Pa. – Josh Terry netted 19 points to lift Curwensville to a 69-60 win over visiting Sheffield in AML action.
Dakota Bloom and Devon Barrett each added 10 points for the Golden Tide.
Roger Dunham paced Sheffield with 16 points with Cale Albaugh adding 13 points, seven assists and three steals and Austin Simmer 11 points and 13 rebounds.