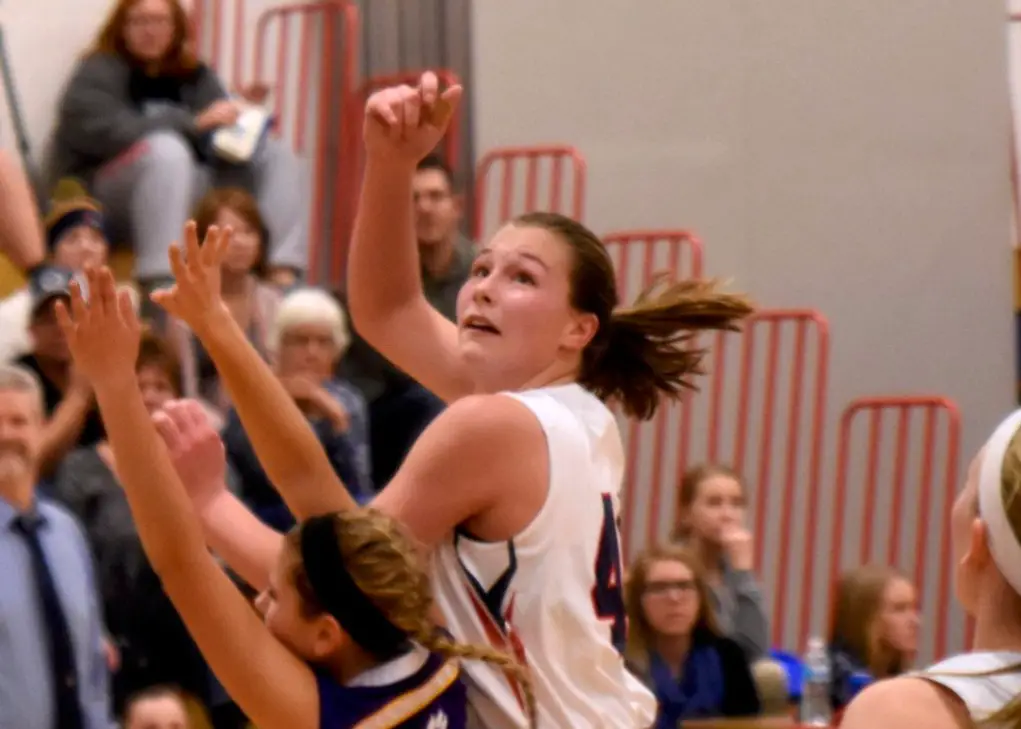 Feb. 10 girls' basketball roundup.
(Cover photo of Kane's Trinity Clark
KANE 44, JOHNSONBURG 32, OVERTIME
KANE, Pa. – Trinity Clark scored six of her game-high 25 points in overtime, and Kane shutout visiting Johnsonburg in the extra session to gain a 44-32 AML home win over the Ramettes.
Clark, who added 12 rebounds and five steals, also scored six of Kane's nine points in the fourth quarter helping the Lady Wolves rally from a three-point deficit, 26-23, entering the quarter to force overtime at 32 apiece.
Camryn Cummings chipped in two points, six assists and six rebounds for Kane with Rachael Morgan adding 10 rebounds and three points.
Rylee Casilio led Johnsonburg with 10 points.
KARNS CITY 70, A-C VALLEY 46
FOXBURG, Pa. – Mackenzie Craig scored 29 points and grabbed 14 rebounds to lead visiting Karns City to a 70-46 win over A-C Valley in KSAC South action.
Emily Hegedus also had a double-double for the Lady Gremlins with 21 points and 10 rebounds.
Craig was the story in the first half for Karns City netting 16 points including eight in a second quarter that saw the Lady Gremlins outscore A-C Valley 20-11 to take a 34-21 halftime lead.
Then, in the third quarter after A-C Valley used an 8-0 run to get within seven, 36-29, Hegedus and Craig spearheaded a 19-3 run that put the game away. Hegedus scored five points during the run with Craig adding six and Emily Clark five.
Craig talked about the win, the 10th straight for Karns City.
Ellie Thompson paced A-C Valley with 18 points and eight rebounds.
BROCKWAY 51, RIDGWAY 42
RIDGWAY, Pa. – Kaitlyn Morelli scored 20 points to lead visiting Brockway to a 51-42 win at Ridgway in AML action.
Leah Lindemuth added 11 points for the Lady Rovers, who snapped a two-game losing streak.
Emily Fullem paced Ridgway, who had won five of six entering the game, with 20 points.
CURWENSVILLE 65, SHEFFIELD 40
SHEFFIELD, Pa. – Hannah Dixon exploded for 32 points to help visiting Curwensville inch closer to the playoffs with a 65-40 win over Sheffield in AML play.
Dixon's second 30-plus-point game of the season edges her closer to 1,000 in her career. She unofficially has 957 with three regular-season games left. Meanwhile, the Lady Tide need just one win in those three games to qualify for the postseason based on school policy, it is believed.
Madison Weber added 21 points for the Lady Tide with Christine Limbert closing off the Curwensville scoring with 12 of her own,
Lexi Lyon paced Sheffield with 14 points. Mya Grubbs chipped in nine.
CLARION 38, FOREST AREA 22
CLARION, Pa. – Alexis Constantino and Wendy Beveridge combined to score 24 points to help Clarion to a 38-22 KSAC North home win over Forest Area.
Constantino led the Lady Cats with 13 points with Beveridge adding 11. Constantino had five of her points during a 14-4 fourth quarter for Clarion that helped the Lady Cats pull away after leading 24-18 going to the fourth.
Jasmine Ginnery and Bianca Hetrick each scored eight points for the Lady Fires.
UNION 44, KEYSTONE 21
KNOX, Pa. – Union used strong first and third quarters to most likely end the playoff hopes of last year's District 9 Class 1A champion, Keystone, with a 44-21 KSAC South road win over the Lady Panthers.
The Golden Damsels raced to a 14-3 lead at the end of one quarter before taking a 19-9 halftime advantage. They then outscored Keystone 17-6 in the third quarter to put the game away.
Lexy Shick led Union with 17 points, seven rebounds three steals and two assists. Frankee Remmick added 12 points and 11 rebounds.
McKenzie Hovis led Keystone, which can't finish at .500 (school has a .500 policy for postseason play) with eight points.
MONITEAU 45, REDBANK VALLEY 30
WEST SUNBURY, Pa. – Moniteau took another step to winning its first KSAC South title since 2010 with a 45-30 win over visiting Redbank Valley.
Alazia Greaves led Moniteau with 13 points, Kristina DeMatteis added 11 and Emma Bair six. Sara Hull chipped in eight rebounds to go with two points.
Tara Hinderliter had a season-high nine points for Redbank Valley.
CRANBERRY 64, CLARION-LIMESTONE 14
STRATTANVILLE, Pa. – Behind Erin Merryman, Bree Swartzfager and Malliah Schreck, Cranberry closed out its regular season with a 64-14 KSAC North road win at Clarion-Limestone.
The Berries, who finished the regular campaign 17-5, were led by Merryman's 17 points. Schreck added 13 points and Swartzfager 12.
Morgan Clark paced C-L with eight points with Maddy Craig adding the other six.
BROOKVILLE 52, BRADFORD 43
BROOKVILLE, Pa. – Twins Madison and Morgan Johnson combined for 19 points to lead Brookville to a 52-43 D9 League victory over visiting Bradford.
Madison Johnson led the Lady Raiders, who had 10 different players score, with 10 points with Morgan Johnson adding nine.
Bri Wells led all scorers with 22 points for Bradford.
COUDERSPORT 55, SMETHPORT 46
COUDERSPORT, Pa. – Haley Keck scored 10 of her game-high 30 points in the fourth quarter, as Coudersport outscored Smethport 12-3 in the final eight minutes to gain a 55-46 home North Tier League win over the Lady Hubbers.
It was the second double-digit scoring quarter of the game for Keck, who exploded for 18 in the second quarter to help Coudy outscore Smethport 23-19 in the quarter. That allowed the Lady Falcons to pull into a 26-all halftime tie with the Lady Hubbers, who led 7-3 after one. The team remained tied, 43-43, after three.
Ally Easton chipped in 12 points, nine rebounds, six steals and three blocked shots for Coudersport with Macy Gleason adding 11 points.
Abbey Woodard and Katie Treat each scored 16 points for Smethport with Emily Treat adding 10.
PORT ALLEGANY 45, GALETON 35
PORT ALLEGANY, Pa. – Cailey Barnett's double-double of 17 points and 11 rebounds helped Port Allegany knock off visiting Galeton, 45-35, in North Tier League action.
Autumn Buchsenschutz added 15 points for the Lady Gators, who also got five points and 10 rebounds from Hannah Lathrop.
Makaya Shadle paced Galeton with 14 points.