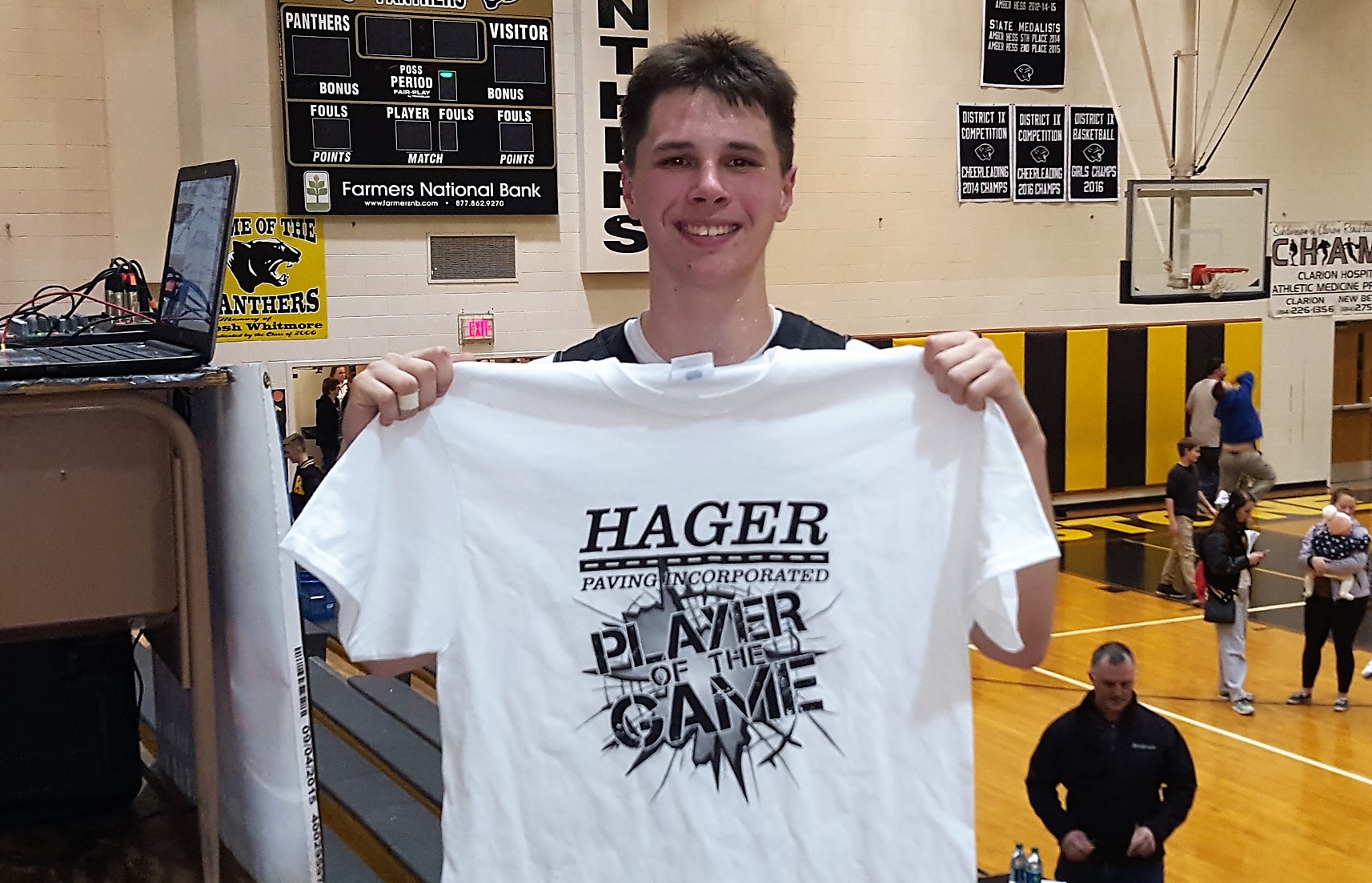 Feb. 13 boys' basketball recaps.
(Cover photo: Austin Ion, Keystone)
KEYSTONE 47, KARNS CITY 45
Read full story at ExploreClarion
KNOX, Pa. – Austin Ion's step-back jumper from just inside the 3-point arc in front of the student section lifted Keystone to its first KSAC South crown since 2009 with a 47-45 win over visiting Karns City.
Watch Ion win the South for the Panthers.
Ion's basketball came 13 seconds after Karns City's Ian McElroy had tied the game at 45 with a 3-pointer from about 24 feet out and capped a fantastic fourth quarter that saw the teams exchange the lead three times while being tied three other times in the quarter.
Finishing the game with 15 points and 14 rebounds, Ion talked about the shot and the victory.
Tanner Wilson added 15 points for Keystone.
McElroy, who was in foul trouble with three in the first half, paced Karns City with 18 points and eight rebounds including 14 second-half points. Noah Pollock added 11 tallies for the Gremlins, who trailed 10-0 right out of the gate but took a 38-34 lead on a Pollock three with 3:27 to play. Chandler Turner chipped in seven points and 11 rebounds with Jimmy Thompson adding six points and 11 boards for KC, which outrebounded Keystone 50-29 including 23-6 on the offensive glass.
CLARION 65, VENANGO CATHOLIC 51
OIL CITY, Pa. – Ty Burford scored nine of his game-high 18 points in the second quarter helping Clarion secure the fifth seed in the upcoming District 9 Class 2A playoffs with a 65-51 win at Venango Catholic.
Burford, whose 18 points tie for his second most of the season, was a big reason the Bobcats outscored the Vikings 17-7 in the second quarter to take a 32-22 halftime lead after the teams were tied at 15 at the end of a quarter.
Cam Craig added 11 points for Clarion with Spencer Miller and Reed Anthony each chipping in with 10.
Tim Wagner paced Venango Catholic with 16 points. Josh Puleo had 13 and Parker Slagle 11 for the Vikings.
BROOKVILLE 66, REDBANK VALLEY 34
BROOKVILLE, Pa. – Stopping a late-season slide that saw them lose twice on the road last week in D9 League games, the Brookville routed Redbank Valley, 66-34.
The Raiders led from start to finish, 35-15 by halftime and by as many as 33 points. Nine different players scored, led by Trenton Gilhousen's double-double with 16 points and 11 rebounds. Colton Singleton scored 13 points and Jimmy Moore finished with nine points and six rebounds.
Grayson Harman came off the bench to score 12 points for the Bulldogs. Brock Barrett had eight points and six rebounds. Riley Campbell finished with four points and a team-high eight rebounds.
DUBOIS 67, JOHNSONBURG 63, TWO OVERTIMES
DUBOIS, Pa. – DuBois outscored Johnsonburg 7-3 in the second overtime to claim a 67-63 win over visiting Johnsonburg.
The Beavers rallied from a 51-40 deficit going to the fourth quarter by outscoring the Rams 13-2 in the fourth. The two teams then scored seven points apiece in the first overtime before DuBois pulled in out in the second extra session.
Kenny Garvey got hot late scoring 13 of his 18 points in the fourth quarter and the two overtimes for DuBois, who also got a game-high 23 points from Alex Beers and 15 from Nick LaBrasca.
Drew Akers paced Johnsonburg with 20 points with Kacey Raubenstrauch adding 11 and Tyler Singer 10 for the Rams, who used a 21-15 third quarter to take the 11-point lead into the final eight minutes.
MOSHANNON VALLEY 68, CURWENSVILLE 42
HOUTZDALE, Pa. – Jacob Murawski and Connor Holobinko combined to score 56 points to lead Moshannon Valley to a 68-42 win over visiting Curwensville in MoValley League action.
Murawski netted a game-high 32 points with Holobinko, a 6-foot-7 center, adding 24.
Devon Barrett paced Curwensville with 12 points with Josh Terry adding 10.
CAMERON COUNTY 55, OSWAYO VALLEY 52
SHINGLEHOUSE, Pa. – Cameron County outscored Oswayo Valley by three in the fourth quarter to secure the No. 2 seed in the District 9 Class 1A playoffs with a 55-52 win at Oswayo Valley in North Tier League action.
The teams were tied at 38 at the end of the third quarter before the Red Raiders outscored the Green Wave 17-14 in the fourth quarter.
Jake Walters had 10 points and 15 rebounds for Cameron County with Marcus Brown and Adam Shaffer each scoring 14 points with Mo Yarborough adding 10 points.
Theo Henry had a game-high 22 points for Oswayo Valley with Garrett Babcock adding 13 and Gavin Babcock 12.
OTTO-ELDRED 69, AUSTIN 38
DUKE CENTER, Pa. – Bosco Ramiro-Alonso and Trey Dalton each scored 11 points to help Otto-Eldred to a 69-38 North Tier League win over visiting Austin.
Twelve Terrors scored in all in the victory, which most likely gives Otto the No. 3 seed in the District 9 Class 1A playoffs.
Mason Valenti led Austin with 15 points.
PORT ALLEGANY 58, SMETHPORT 49
PORT ALLEGANY, Pa. – Brandon McCaslin scored 13 of his game-high 19 points from the free-throw line to lead Port Allegany to a 58-49 North Tier League home win over Smethport.
McCaslin was 13 of 15 from the free-throw line. Howie Stuckey added 17 points for the Gators with Jordan Bell adding 10.
Caleb Lutz led Smethport with 17 points with Bobby Pearson adding 11.