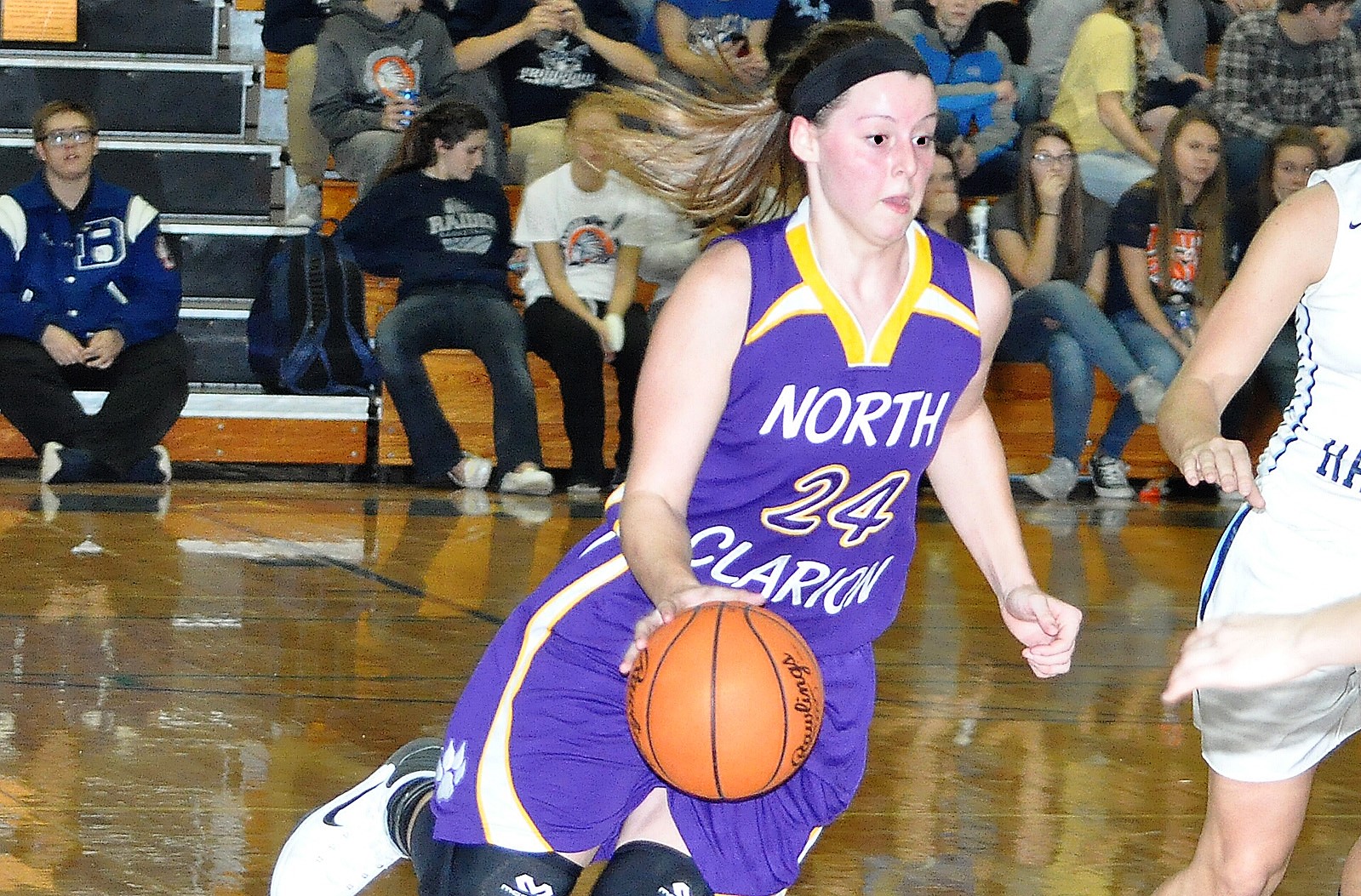 Feb. 13 girls' basketball roundup.
(Cover photo: Tori Obenrader, North Clarion)
NORTH CLARION 67, TIDIOUTE CHARTER 24
FRILLS CORNERS, Pa. – Tori Obenrader had 19 points and 10 rebounds, her 20th double-double in 21 games and her 16th straight, as North Clarion beat visiting Tidioute charter, 67-24.
With the win, the She-Wolves appear to have locked up the top seed in the upcoming District 9 Class 1A playoffs. Even if they lose to Forest Area Wednesday and Northern Potter beats Galeton Tuesday leaving both teams tied at 19-3 overall. The tiebreaker appears to go to North Clarion based on winning percentage vs. District 9 opponents.
Ally Carll added 11 points for North Clarion with Hanna Divido pacing Tidioute with 11.
UNION 51, CLARION 44
RIMERSBURG, Pa. – Behind Frankee Remmick's third-highest scoring game of the season, Union won for the second straight time, 51-44, over visiting Clarion.
Remmick netted 20 points to go with nine rebounds to lead the Golden Damsels. Lexey Shick added 18 points, six steals and five assists in the victory with Hannah Atzeni chipping in eight points.
Gloria Kroh paced Clarion with 13 points with Wendy Beveridge adding 12.
KEYSTONE 40, FOREST AREA 21
MARIENVILLE, Pa. – Taylor Geer and Kaci Weaver combined for 28 points to help Keystone to a 40-21 win over Forest Area at East Forest.
Geer led the Lady Panthers with 17 points with Weaver chipping in 11.
Bianca Hetrick had seven points and nine rebounds to pace the Lady Fires.
RIDGWAY 69, CLARION-LIMESTONE 33
STRATTANVILLE, Pa. – Emily Fullem had a career-high 35 points to go with 20 rebounds, five blocked shots, five steals and four assists, as visiting Ridgway rolled past Clarion-Limestone, 69-33.
Hannah Park added 16 points and five rebounds for the Lady Elkers.
Maddy Craig paced C-L with 11 points with Paige Aaron chipping in nine.
BROCKWAY 55, SHEFFIELD 22
BROCKWAY, Pa. – Kaitlyn Morelli had 21 points, six rebounds and five steals to help Brockway finish the season on a two-game win streak after a 55-22 victory over visiting Sheffield.
Leah Lindemuth added 16 points, seven rebounds and six steals for the Lady Rovers.
Sierra Grubbs and Lexi Lyon each had five points for Sheffield.
COUDERSPORT 64, CAMERON COUNTY 32
COUDERSPORT, Pa. – Macy Gleason scored 18 points to help Coudersport close out the regular season with its ninth straight win thanks to a 64-32 doubling up of visiting Cameron County in North Tier League action.
The victory concludes a perfect 16-0 North Tier League season for the Lady Falcons, who will enter the District 9 Class 2A playoffs as the top seed with a 21-1 record.
Haley Keck added 14 points and three steals for Coudy with Ally Easton chipping in seven points and six rebounds and Shae Black six rebounds.
Madi Guisto led Cameron County with 12 points.