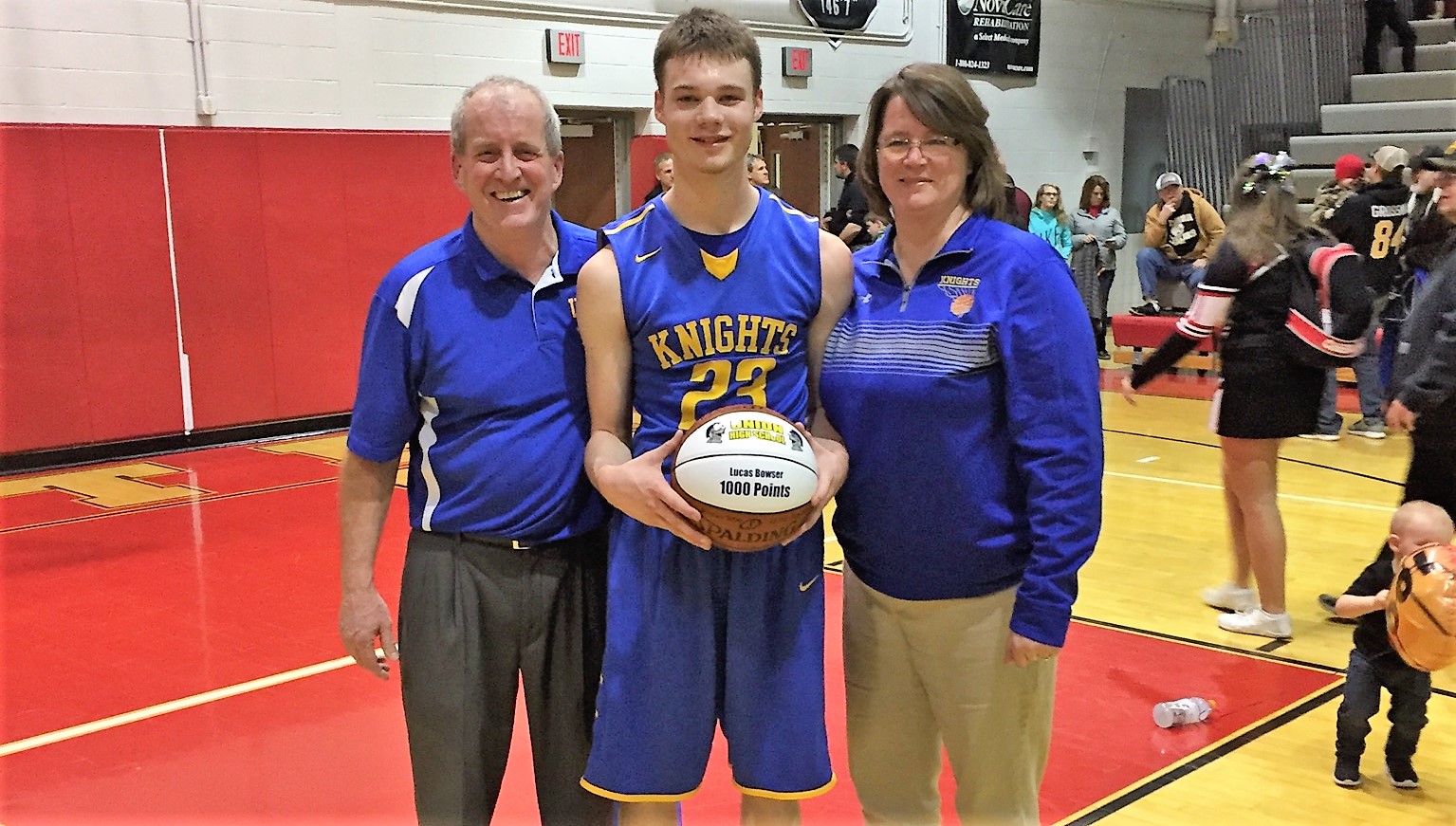 Feb. 15 boys' basketball recaps.
MONITEAU 51, UNION 43
WEST SUNBURY, Pa. – Union's Lucas Bowser scored his 1,000th career point, but the Golden Knights fell on the road, 51-43, to Moniteau in KSAC South play.
Bowser, a junior who needed three points going into the game for 1,000, reached the mark with a free throw in the first quarter. He joins his mom Tracie (Murray) Bowser as a 1,000-point scorer at Union. Tracie netted 1,362 points in her girls' career with the Golden Damsels graduating in 1988. She is the fifth-leading girls' scorer in school history.
Lake Pry scored a game-high 29 points for Moniteau, which had eight players score. Josh Adamson added five points and eight rebounds and Jake Jewart two points and six assists.
CLARION 69, CLARION-LIMESTONE 56
CLARION, Pa. – Clarion used a 10-0 that lasted from the end of the third quarter into the start of the fourth to beat rival and visiting Clarion-Limestone, 69-56.
The win earned the Bobcats a share of the KSAC North title, although C-L goes to the KSAC title game because of a tiebreaker. It also means a rematch in the opening round of the District 9 Class 2A playoffs.
Clarion led 45-43 with 1:34 to play in the third quarter before going on an 8-0 run to end the quarter punctuated by a Ryan Anthony 3-pointer just before the horn. Austin Hummell then scored at the start of the fourth quarter to put the Bobcats up 12.
Hummell led Clarion with 16 points. Ty Burford added 14 points and Cam Craig 13.
Hummell talked about the win.
Dan Callen led all scorers with 30 points for C-L. Julian Laugand added nine points.
PUNXSUTAWNEY 53, BROOKVILLE 47, OVERTIME
BROOKVILLE, Pa. – Holding Brookville to four points over the final 12 minutes, Punxsutawney rallied for a 52-47 overtime win in D9 League action.
The Chucks trailed the Raiders 43-36 after three quarters, but outscored the hosts 16-4 the rest of the way, including an 8-2 advantage in overtime.
Brandon Matthews led the Chucks with 12 points and 13 rebounds while Jacob Weaver scored 11 points.
Bryan Dworek had 14 points and eight rebounds for the Raiders. Colton Singleton scored nine points. Jimmy Moore had seven points and 11 rebounds while Aaron Park finished with four points, 14 rebounds and five assists.
NORTH CLARION 76, FOREST AREA 53
FRILLS CORNERS, Pa. – Chase Schmader scored 21 points while adding seven assists and four steals on Senior Night, as North Clarion dispatched visiting Forest Area, 76-53, in KSAC North action.
Nathan Banner added 19 points for the Wolves with Keeven Weaver 14 points and nine rebounds.
Seth Berlin 22 points and 11 rebounds to lead the Fires.
KARNS CITY 62, REDBANK VALLEY 39
KARNS CITY, Pa. – Noah Pollock scored 17 points to lead Karns City to a 62-39 KSAC South win over visiting Redbank Valley.
Ian McElroy added 12 points for the Gremlins with Chandler Turner adding 10 tallies.
Ethan Hetrick led Redbank Valley with nine points.
KEYSTONE 73, A-C VALLEY 43
KNOX, Pa. – Corey Rapp netted 19 points and dished out five assists to help Keystone tune up for the KSAC Title Game with a 73-43 win over visiting A-C Valley in KSAC South play.
Austin Ion had a double-double on Senior Night for the Panthers with 14 points and 15 rebounds, while Nate Wingard chipped in 11 points and senior Tanner Wilson 10. Keystone's other senior, Kobe Cochran, scored two points.
Kody Wolfe scored 15 points and Jeff Ginn 10 for A-C Valley.
CRANBERRY 51, VENANGO CATHOLIC 37
SENECA, Pa. – Cranberry ended the season on a high note with a 51-37 win over visiting Venango Catholic in KSAC North action.
Nolan Brannon led the Berries with 16 points with Andrew Gunn adding nine.
Tim Wagner scored 14 to pace Venango Catholic with Hunter Lancaster chipping in 12 for the Vikings.
CAMERON COUNTY 53, DUBOIS CENTRAL CATHOLIC 45
DUBOIS, Pa. – Thanks to 16 Derek Rieder points Cameron County picked up a 53-45 road win over DuBois Central Catholic.
Adam Shaffer added 14 points for the Red Raiders with Marcus Brown chipping in 10.
Justin Miknis led DCC with 19 points.
RIDGWAY 42, SMETHPORT 15
RIDGWAY, Pa. – Ridgway shut visiting Smethport out in two of the four quarters on its way to a 42-15 win over the Hubbers.
Ridgway led 10-0 at the end of one and 20-7 at halftime before going up 30-7 at the end of three.
Justin Kasmierski scored a game-high 20 for the Elkers.
Bobby Pearson netted six for Smethport.