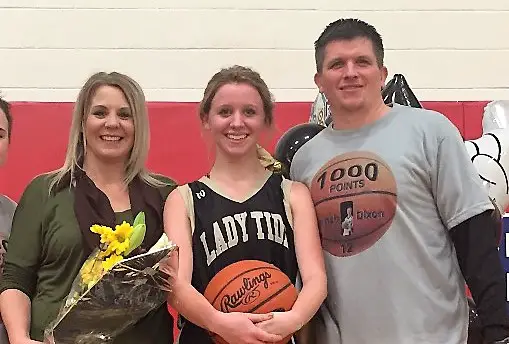 Feb. 15 girls' basketball recaps.
CURWENSVILLE 57, WEST BRANCH 53
ALLPORT, Pa. – It was a joyous night for the Curwensville girls' basketball team.
Hannah Dixon scored 34 points, including her 1,00th career point, to help the Lady Tide to a 57-53 MoValley League road win at West Branch that also secured enough wins for Curwensville to move into the District 9 Class 2A playoffs under a school rule that states a team must win 40 percent of its games in an open playoff system.
For Dixon, she entered the contest needing nine for 1,000 and reach the mark on a first-quarter 3-pointer, part of a 13-point quarter for the senior.
Watch Dixon score her 1,000th point (video courtesy of the Dixon family).
Christine Limbert added eight points for Curwensville.
DUBOIS 59, RIDGWAY 38
DUBOIS, Pa. – Ashley Hallowell scored 26 points and hauled down 17 rebounds to lift DuBois to a 59-38 win over visiting Ridgway.
The victory secures a home playoff game in the District 6-8-9 Class 5A bracket for the Lady Beavers, who will host Bellefonte at 7 p.m. Tuesday. A win over the Lady Raiders would push DuBois in the title game Feb. 25 against the winner of the Hollidaysburg vs. Obama Academy game.
Chelsea DeSalve added 11 points for DuBois with Laura Fatula chipping in 10 points.
Emily Fullem led Ridgway with 19 points, 13 rebounds, five steals and four blocked shots. Casey Woodford added 10 points and seven rebounds.
A-C VALLEY 61, KEYSTONE 50
FOXBURG, Pa. – Behind a career-high 26 points from Olivia Boocks, A-C Valley locked up the fifth seed in the District 9 Class 1A playoffs with a 61-50 win over visiting Keystone in KSAC South action.
Boocks had 12 second-quarter points and 18 in the first half while hitting four of her five 3-pointers before halftime.
Cami McNany chipped in nine points for A-C Valley.
Taylor Geer had 17 for Keystone with Kaci Weaver adding 13 and Makenzie Byerly 10.
CLARION 80, CLARION-LIMESTONE 41
STRATTANVILLE, Pa. – Clarion closed out the season on a high note thanks to a career-high 32 points from Alexis Constantino in an 80-41 win at Clarion-Limestone.
Gloria Kroh chipped in 11 points and 17 rebounds with Wendy Beveridge getting a ridiculous double-double of 10 points and 13 blocked shots. Kate Constantino chipped in 12 points.
Karleigh Aaron led C-L with 11 points with Maddy Craig adding 10.
NORTH CLARION 69, FOREST AREA 24
TIONESTA, Pa. – Behind 30 points and 16 rebounds from Tori Obenrader, North Clarion made it a sweet homecoming for its two coaches with a 69-24 win over Forest Area at West Forest.
The win came on the court where head coach Terry Dreihaup and assistant coach Terri (Johnson) Obenrader played their high school ball.
The 30-16 night helps Obenrader finish the regular season averaging 22.5 points and 15.7 rebounds per game.
Cassie Wagner also had a double-double for the She-Wolves with 11 points and 11 rebounds with Michaela Higgins chipping in 10 points.
Jasmine Ginnery paced Forest Area with nine points.
OTTO-ELDRED 51, CAMERON COUNTY 39
DUKE CENTER, Pa. – Thanks to 23 points and 13 rebounds from Camryn Thomas, Otto-Eldred earned the third seed in the District 9 Class 1A playoffs with a 51-39 win over visiting Cameron County in North Tier League action.
Tiffany Bair chipped in six points and eight rebounds for the Lady Terrors with Haylee Frederick scoring eight points.
Madi Guisto had 13 points to lead Cameron County.
PORT ALLEGANY 59, OSWAYO VALLEY 34
PORT ALLEGANY, Pa. – Autumn Buchsenschutz and Cailey Barnett combined for 24 points to help Port Allegany to a 59-34 North Tier League home win over Oswayo Valley.
Buchsenschutz led the Lady Gators with 13 points with Barnett adding 11. Ten different Otto players scored. Hannah Lathrop chipped in seven points and 12 rebounds with Erin Stauffer contributing nine points and nine rebounds.
Shayla Bickel paced Oswayo Valley with 13 points.
YOUNGSVILLE 52, SHEFFIELD 22
YOUNGSVILLE, Pa. – Alison Ishman and Kathy Sveda each scored 11 points to help Youngsville beat visiting Sheffield, 52-22.
Lexi Lyon led Sheffield with six points.