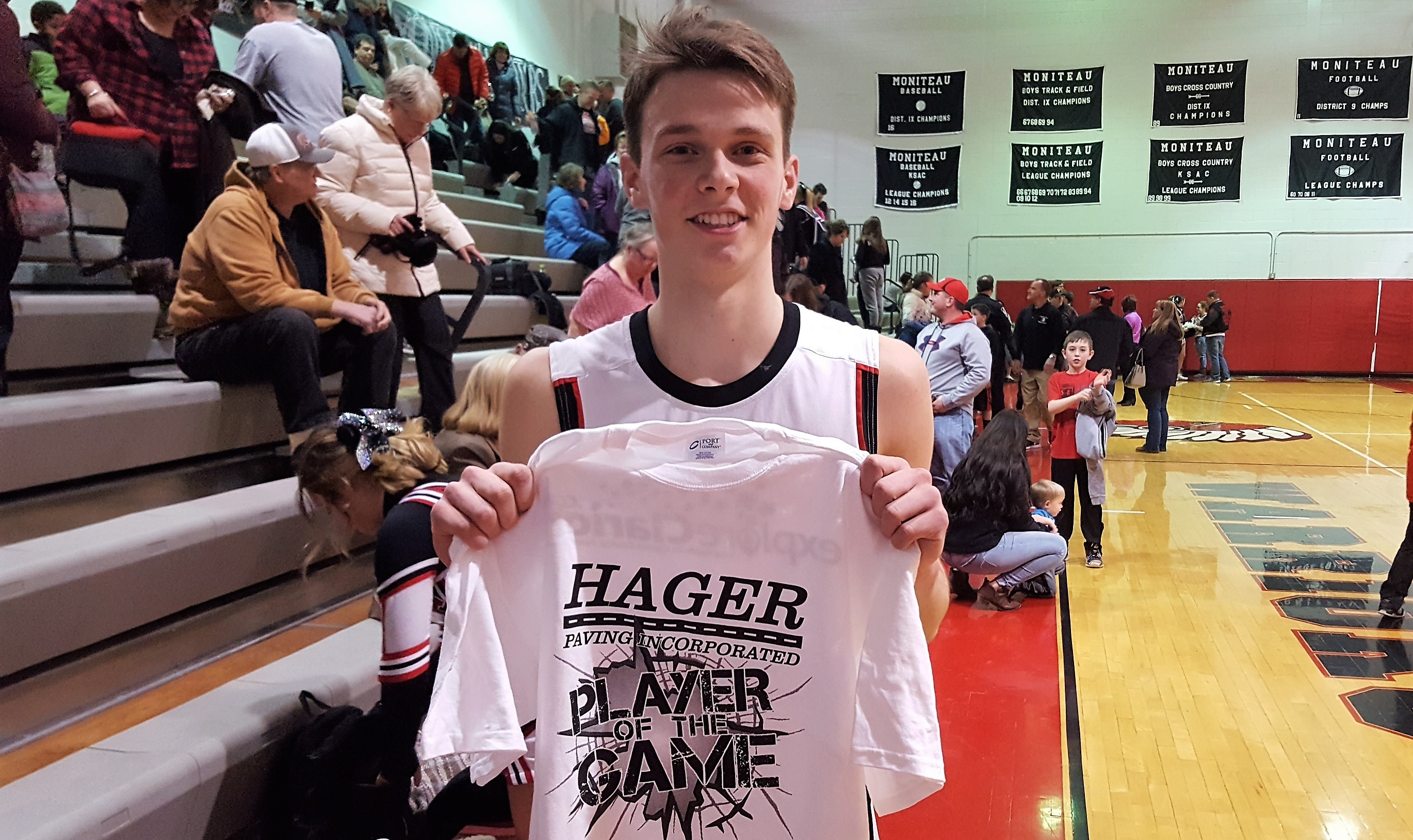 Feb. 3 boys' basketball roundup.
Girls' Recaps

(Cover photo of Moniteau's Lake Pry)
MONITEAU 59, KEYSTONE 52
WEST SUNBURY, Pa. – Thanks in part to a perfect 6 of 6 from the free-throw line in overtime, Moniteau outscored Keystone by seven in the extra session to tighten up the KSAC South race with a 59-52 win over the visiting Panthers.
With the Warriors win, the KSAC South is all of a sudden a three-team race between Keystone (5-1 South), Karns City (5-1) and Moniteau (5-2). Karns City still plays both Moniteau and Keystone.
Lake Pry forced the overtime session with a 3-pointer from about 25-feet behind the arc with 50 seconds left that tied the contest at 50, and then Pry came away with a steal with 2.5 seconds left when Keystone was holding for the last shot.
Pry scored the final eight points in regulation for the Warriors, who had used a 17-2 run in the third quarter to turn a 28-20 deficit into a 37-30 lead.
Pry, who had a game-high 18 points to go with seven rebounds, talked about the win after the game.
But Keystone answered with a 16-2 run of its own to go up 48-42 with 2:28 to play in regulation.
Pry, however, hit a 3-pointer with 2:21 left and then hit two of three free throws with 1:34 left after being fouled taking a three before his late three tied the game.
Jake Jewart, who scored 12 of his 15 points in the third quarter, then hit a 3-pointer to start overtime giving Moniteau the lead for good before Josh Adamson went 4 of 4 from the line down the stretch and Ethan McDeavitt 2 of 2.
Corey Rapp led Keystone with 14 points with Ion adding 12 and Nate Wingard 11. McDeavitt chipped in 11 for Moniteau.
DUBOIS 45, ST. MARYS 44
ST. MARYS, Pa. – Kenny Garvey connected on a game-winning 3-pointer with 22.4 seconds left to lift visiting DuBois to a 45-44 D9 League win over St. Marys.
Garvey's triple capped a fourth-quarter comeback for the Beavers, who trailed 37-33 going to the final eight minutes but outscored the Dutch 12-7 in the quarter thanks in part to five points from Bryce Bright.
Nick LaBrasca had a double-double for DuBois with 16 points and 12 rebounds. Garvey added nine points.
Matt Marconi led St. Marys, who was up 27-19 at halftime, with 14 points. Jeff Wehler and Nathan Schneider each scored 10.
BRADFORD 43, BROCKWAY 42
BROCKWAY, Pa. – In a game that came down to late free throws, Bradford Nate Higbie hit two with six seconds left to break a 41-all tie, and Brockway's Jarrett Esposito was only able to connect on one of two with 1.3 seconds to go as the visiting Owls came away with a 43-42 win.
After Higbie's charity shots put Bradford in the lead, Esposito had a line for a game-tying layup before Adam Boyer stopped him with a foul that was described as "headsy" by head coach Brian Hobbs.
Esposito hit the first free throw but the second one was missed, and Higbie secured the rebound to give Bradford the victory.
Higbie and Tyler Gigliotti led the Owls with 11 points each with Danny Manion adding eight.
Jake Wineberg paced Brockway with 19 points with Carter Adams adding 11.
Brockway's Quade Lundberg was ejected from the game with 3:44 left in the third quarter.
ELK COUNTY CATHOLIC 61, PUNXSUTAWNEY 46
PUNXSUTAWNEY, Pa. – Nate DaCanal scored nine of his game-high 28 points in the fourth quarter to help visiting Elk County Catholic pull away from Punxsutawney, 61-46, to all but end the D9 League race.
The Crusaders, who led by six (38-32) going to the fourth quarter, now hold a two-game lead on Punxsutawney with three games to play and have swept the season series from the Chucks.
Ryan Newton added 11 points for ECC with Devin Kelly leading Punxsutawney with 17. Jacob Weaver chipped in 11 for the Chucks.
JOHNSONBURG 60, CURWENSVILLE 31
JOHNSONBURG, Pa. – Ryan Kilhoffer led a trio of Johnsonburg players in double digits with 18 points, and the Rams grabbed a home AML win, 60-31, over Curwensville.
Kasey Raubenstrauch and Drew Akers each added 10 points for the Rams.
Devon Barrett led Curwensville with 10 points.
RIDGWAY 55, SHEFFIELD 24
SHEFFIELD, Pa. – Justin Kasmierski and Neil MacDonald combined for 29 points in a 55-24 AML win for visiting Ridgway at Sheffield.
Kasmierski led the Elkers with 16 points with MacDonald adding 13. Andy Breier also had 10 tallies for Ridgway.
Drew Higby led Sheffield with 10 points.
KARNS CITY 57, UNION 52
RIMERSBURG, Pa. – Noah Pollock scored 11 of his team-high 13 points in the second half to help visiting Karns City stave off an upset bid from Union, 57-52, in KSAC South action.
The teams were tied at 28 at halftime before Karns City outscored the Golden Knights 29-24 in the second half.
Eric Dodd chipped in 10 points for the Gremlins.
Lucas Bowser led all scorers with 28 points for Union with Kolby Montgomery adding 12. Bowser finished off a double-double with 11 rebounds. Gavin Hawk added six assists.
REDBANK VALLEY 63, A-C VALLEY 42
NEW BETHLEHEM, Pa. – Keaton Kahle spearheaded 22-3 first-quarter run for Redbank Valley that helped the Bulldogs to a 63-42 win over visiting A-C Valley in KSAC South play.
Redbank, which led 33-17 at halftime, also outscored the Falcons 17-5 in the third quarter.
Kahle scored seven of his team-high 15 points in the first quarter, while Nick Smith chipped in with 13 tallies.
Kody Wolfe had a game-high 22 points for A-C Valley with Eddie Stevanus chipping in 14 points.
CLARION 69, CRANBERRY 39
CLARION, Pa. – Reed Anthony nailed five 3-pointers on his way to a tying a season high with 23 points, as Clarion rolled past visiting Cranberry, 69-39, in KSAC North action.
Ceventh Lynch-Skunda added 13 points for the Bobcats while Dan McQuaide and Andrew Gunn each scored seven to pace Cranberry.
CLARION-LIMESTONE 77, NORTH CLARION 60
FRILLS CORNERS, Pa. – Behind a career-high 37 points as well as 22 rebounds from Dan Callen, visiting Clarion-Limestone beat North Clarion, 77-60, in KSAC North play.
Callen scored 14 of his points in the third quarter to help the Lions take a one-point halftime lead, 31-30, and turn it into a 13-point, 54-41, cushion. He then continued his hot second half with 10 more fourth-quarter tallies.
Christian Smith chipped in 14 points for C-L.
Nathan Banner paced North Clarion with 22 points, Chase Schmader added 14 and Keeven Weaver 12.
VENANGO CATHOLIC 65, FOREST AREA 52
TIONESTA, Pa. – Tim Wagner and Noah Puleo combined for 41 points to lead visiting Venango Catholic to a 65-52 win over Forest Area in KSAC North action at West Forest.
Wagner led the Vikings with 21 points with Puleo chipping in 20. Hunter Lancaster also scored 11 for VC.
Seth Berlin had a career-high 30 points to lead all scorers for the Fires while also adding 13 rebounds.
CLEARFIELD 66, PENNS VALLEY 55
SPRING MILLS, PA. – Will Myers had 28 points, five rebounds and two steals to help Clearfield to a 66-55 Mountain League road win over Penns Valley.
Evan Brown added 19 points and five rebounds for the Bison who also got 14 points and eight boards from Tommy Hazel.
Luke Snyder scored 25 of Penns Valley's 55 points.