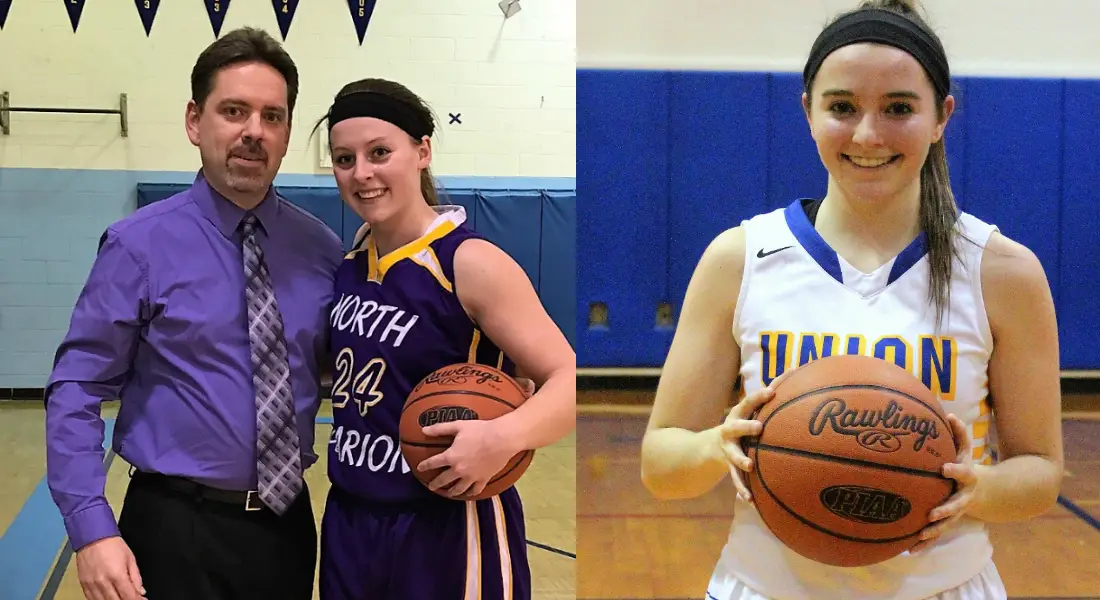 A pair of milestones were reached in District 9 Friday when Union's Lexey Shick netted her 1,000th career point in a loss to Karns City and North Clarion's Tori Obenrader collected her 1,000th rebounds in a win over Clarion-Limestone.
(Cover Photo: Tori Obenrader of North Clarion with head coach Terry Dreihaup, hauled down her 1,000th career rebounds to become a 1,000-point, 1,000-rebound player, while Union's Lexy Shick (right) netted her 1,000th career point Friday)
KARNS CITY 62, UNION 23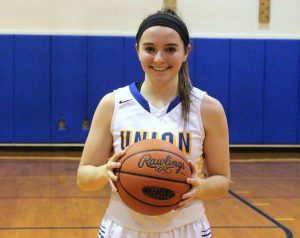 RIMERSBURG, Pa. – Needing one point to become the 13th girls' basketball player in Union history to score 1,000 career points, Lexey Shick scored four in a 62-23 loss to visiting Karns City in KSAC South action.
Mackenzie Craig led Karns City with 23 points, while Emily Hegedus, who scored her 1,000th career point Wednesday, added 17.
Frankee Remmick paced Union with nine points.
NORTH CLARION 60, CLARION-LIMESTONE 16
STRATTANVILLE, Pa. – Tori Obenrader joined the rather exclusive 1,000-point, 1,000-rebound club when she netted 11 rebounds in a 60-16 North Clarion win at Clarion-Limestone in KSAC North action.
The victory, coupled with Cranberry's win over Clarion, clinched the KSAC North title for the She-Wolves for the second straight year.
Obenrader, who hit the 1,000-point mark a couple of weeks ago at Keystone, needed 11 rebounds coming into the game to get to 1,000 board. She grabbed exactly 11 ending the night with a double-double of 12 points and 11 rebounds in the North Clarion win. She has 1,159 career points and 1,000 career rebounds. There isn't a definitive list of 1,000-point scorers and 1,000-point rebounders in District 9 history, but D9Sports.com does know that Keystone's Madison Johnson, East Forest's Kelsey Rini and West Forest's have all been 1,000-point, 1,000-rebound performers. In addition, it is believed that Union's Joyce Wensel may have accomplished the feat. If anyone has information on 1,000-point scorers/1,000-point rebounders please e-mail sports@d9sports.com.
In all, 10 different North Clarion players scored in the game with Michaela Higgins adding 11 points and Gabby Carll and Cassie Wagner seven each.
Mogan Clark's six points paced C-L.
KANE 45, DUBOIS CENTRAL CATHOLIC 44
DUBOIS, Pa. – In a non-conference contest between a pair of AML foes, Kane got double-doubles from Trinity Clark and Rachel Morgan and held off a late shot by DuBois Central Catholic to take home a 45-44 road victory.
Clark led the Lady Wolves with 13 points and 11 rebounds with Morgan adding 12 points and 10 rebounds and Ella Marconi 10 points.
Camryn Cummings, who had five points and five assists, hit two free throws late to put Kane up three, 45-42, and a late 3-pointer by the Lady Cardinals was off the mark, although Jordy Frank did catch the off-the-mark shot and put it in to set the final score.
Riley Assalone led DCC with 14 points with Frank adding eight.
Kane led 25-21 at halftime and 34-31 going to the fourth quarter.
OTTO-ELDRED 40, NORTHERN POTTER 33
DUKE CENTER, Pa. – Camryn Thomas had 14 points and 13 rebounds, as Otto-Eldred put Northern Potter's chances at the top seed in the District 9 Class 1A playoffs in serious jeopardy with a 40-33 win over the visiting Lady Panthers.
Thomas scored seven of her points during a third quarter that saw the Lady Terrors outscored NoPo 13-8 after holding an 18-17 halftime lead.
Hayley Frederick added 10 points for Otto, who was still playing without Ali Cousins, who is out with an injury. Emily Smith chipped in five points and eight rebounds.
Kalie Cowburn paced Northern Potter, which falls a game back of North Clarion for the top seed with the She-Wolves most likely holding the tiebreaker, with 15 points. Gracie Hamilton chipped in eight points.
CURWENSVILLE 48, JOHNSONBURG 47
CURWENSVILLE, Pa. – Curwensville used a 15-0 fourth-quarter run to rally past visiting Johnsonburg, 48-47, in AML action.
The Lady Tide were down 10, 39-29, with under seven minutes to play before going on the 15-0 run that was fueled by seven points from Madison Weber and five from Hannah Dixon as well as a rare 3-pointer from Christine Limbert.
Limbert's triple put Curwensville ahead for good, 40-38, with 3:49 to go.
Johnsonburg finally ended the run on an old-school 3-point play with 1:07 left. Myers then hit a pair of 3-pointers in the final 18 seconds, including one that made it 46-41 with 18 seconds left.
But Dixon hit two free throws with eight seconds left to make it 48-44 before a late three by Myers set the final score.
Dixon led Curwensville, which won its first AML game of the season, with 19 points, Limbert (11 points, 20 rebounds) and Weber (15 points, 10 rebounds) both had double-doubles.
Thanks to her late hot streak, Myers led Johnsonburg with 15 points with Skylar Sherry adding 11.
DUBOIS 46, ST. MARYS 42
DUBOIS, Pa. – Ashley Hallowell had 14 points and 19 rebounds to help DuBois to a 46-42 D9 League win over visiting St. Marys.
Chelsea DeSalve led the Lady Beavers, who trailed 17-16 at halftime before outscoring St. Marys 14-8 in the third quarter to take the lead, with 16 points.
Rachelle Armanini paced the Lady Dutch with a game-high 21 points.
PUNXSUTAWNEY 54, ELK COUNTY CATHOLIC 43
ST. MARYS, Pa. – After missing three games with an injury, Morgan Vanleer made a triumphant return for Punxsutawney netting a team-high 21 points in a 54-43 win at Elk County Catholic that all but clinched the D9 League title for the Lady Chucks.
Vanleer hit three first-half 3-pointers on her way to 13 points in the half helping Punxsy take a 24-22 halftime lead.
It was all ECC early, as the Lady Crusaders jumped ahead 20-11 at the end of the first quarter thanks to 10 points from Reilly Herzing, who finished with a game-high 23.
But the Lady Chucks stabilized things in the second quarter outdistancing ECC 13-2 in the frame to take the lead. Vanleer hit a pair of threes in the second quarter while scoring eight of the Lady Chucks 13 points.
Kate Horner added 12 points for Punxsy with Leah Miller adding nine points and eight rebounds despite being in foul trouble and fouling out with 4:30 to play. Alli Lunger, who returned to the hardwood for a short amount of time Wednesday after missing a pair of games chipped in seven tallies.
Josie Smith added 11 for ECC.
With the win, Punxsy has a three-game lead in the loss column in the D9 League over both ECC and DuBois with four league games to play.
RIDGWAY 50, SHEFFIELD 11
RIDGWAY, Pa. – Emily Fullem's monster game of 21 points, 17 rebounds, 13 steals, five blocked shots and two assists helped Ridgway roll past visiting Sheffield, 50-11 in AML action.
Fullem scored eight of her points in the first half to help Ridgway take a 22-6 halftime lead.
Hannah Park added 10 points, five rebounds, two steals and two assists for the Lady Elkers.
Lexy Lyon paced Sheffield with five points.
CRANBERRY 57, CLARION 39
SENECA, Pa. – Erin Merryman, Malliah Shreck and Hannah Duncan all reached double digits, as Cranberry claimed a 57-39 win over visiting Clarion in KSAC North action.
Merryman led the Berries with 17 points, Duncan added 12 and Shrech 10.
Alexis Constantino and Wendy Beveridge each scored 12 points for Clarion with Gloria Kroh adding seven points and 13 rebounds.
MONITEAU 64, KEYSTONE 37
KNOX, Pa. – Behind 26 points, 10 rebounds, four assists and four steals from Kristina DeMatteis, visiting Moniteau rolled past Keystone, 64-37, in KSAC South action.
Sara Hull added 14 points and nine boards for the Lady Warriors, who also got seven points and 10 rebounds from Alazia Greaves, who is now eight points from 1,000 in her career.
Taylor Geer led Keystone with 20 points.
A-C VALLEY 47, REDBANK VALLEY 42
NEW BETHLEHEM, Pa. – Cami McNay scored seven of her 14 points during a key third quarter that helped shorthanded A-C Valley hold off upset-minded Redbank Valley, 47-42, in KSAC South play at Redbank Valley.
The Lady Falcons, playing without leading scorer Ellie Thompson, trailed 23-22 at halftime before outscoring the Lady Bulldogs 18-9 in the third quarter to take control the game.
Annie Viertel hit five 3-pointers on her way to a career-high 16 points for A-C Valley with Olivia Boocks chipping in nine points.
Lexi Holt paced Redbank Valley with 19 points with Macy King adding eight.
PENNS VALLEY 42, CLEARFIELD 31
HYDE, Pa. – Bella Culver had 12 points to lead visiting Penns Valley to a 42-31 Mountain League victory over Clearfield.
Ally Lindstrom and Alayna Ryan led the Lady Bison with eight points each.
COUDERSPORT 50, CAMERON COUNTY 39
EMPORIUM, Pa. – Coudersport is now within a game of clinching the North Tier League title after knocking off homestanding Cameron County, 50-39.
Haley Keck led the Lady Falcons, who led 27-21 at halftime, with 20 points and three steals. Macy Gleason chipped in 11 points and three steals, and Ally Easton had six points and six blocked shots.
Madi Guisto led Cameron County with 16 points and four steals. Amily Schatz had a game-high 16 rebounds to go with eight points and three blocked shots.
PORT ALLEGANY 74, OSWAYO VALLEY 21
SHINGLEHOUSE, Pa. – Cailey Barnett scored 25 points and Autumn Buchsenschutz added 16 points, eight steals and seven assists, as visiting Port Allegany cruised to a 74-21 win over Oswayo Valley in North Tier League action.
Hannah Lathrop chipped in seven rebounds and a point and Leah Garzel nine points and six boards for the Lady Gators.
Shayla Bickel paced Oswayo Valley with seven points.
SMETHPORT 53, AUSTIN 12
SMETHPORT, Pa. – Abbey Woodard and Marissa Jack combined for 33 points, as Smethport easily handled visiting Austin, 53-12, in North Tier League play.
Woodard led the Lady Hubbers with 20 points with Jack adding 13.
Jordan Brewer had four points for Austin.