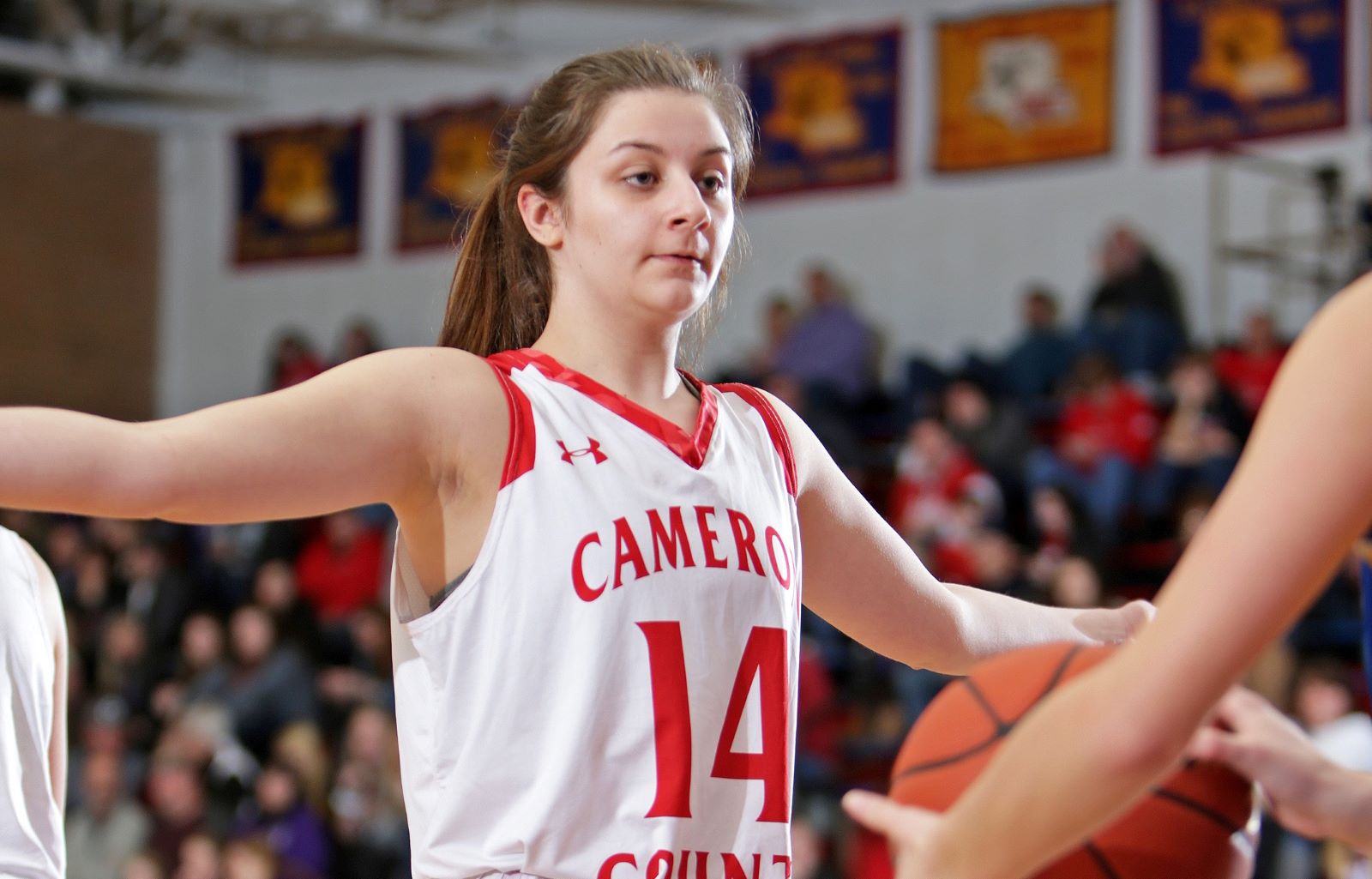 Feb. 5 girls' basketball recaps.
(Photo of Cameron County's Mallory McKimm, who tied the school record for 3-pointers in a game with seven Wednesday night. Photo by Paul Burdick. Check out more of Burdick's work here)
Also see: Coudersport Locks Up Fifth Straight NTL Girls' Title; Brockway Upsets Redbank; Brookville Beats ECC
CAMERON COUNTY 59, OSWAYO VALLEY 27
EMPORIUM, Pa. – Mallory McKimm tied the Cameron County girls' basketball record with seven 3-pointers on her way to a career-high 25 points, as the Lady Raiders rolled past visiting Oswayo Valley, 59-27, in NTL action.
McKimm also had five steals, as did Kaelee Bresslin, who added 20 points.
On Senior Night in Emporium, Cameron County's lone senior Eliza Farabaugh led the team with seven rebounds.
Jadyn Brabham paced Oswayo Valley with 15 points.
PORT ALLEGANY 72, GALETON 35
PORT ALLEGANY, Pa. – Cailey Barnett scored 23 points, grabbed seven rebounds, handed out five assists and came away with five steals, as Port Allegany beat visiting Galeton, 72-35, in NTL action.
The win coupled with Redbank Valley's 44-43 loss to Brockway keeps the Lady Gators hopes of the top seed in the District 9 Class 2A playoffs alive. In order to gain the No. 1 spot, Port Allegany will need to win its final two games and hope Redbank Valley loses to Moniteau Friday. With both teams currently at five losses and having not played each other, the first tiebreaker to come into play would be record vs. common opponents. Both teams played Mercer with Redbank Valley beating Mercer and Port Allegany losing to Mercer.
Bree Garzell added 16 points, seven rebounds and three assists for the Lady Gators, while Evin Stauffer scored eight points and Gracie Archer chipped in five points and four steals.
For Galeton, Cara Parsell had 11 points and nine rebounds, Lauren Sauley added nine points, nine rebounds and two steals and Alli Macensky had nine points, 10 rebounds and three blocked shots.
OTTO-ELDRED 58, SMETHPORT 36
DUKE CENTER, Pa. – An all-around game from Katie Sheeler helped Otto-Eldred down visiting Smethport, 58-36, in NTL action.
Sheeler scored nine points, handed out seven assists, swiped seven balls and also brought in three rebounds for the Lady Terrors.
Reilly Raught led the Otto-Eldred offense with 14 points while adding five rebounds and five steals, Haley Cousins added 12 points, Morgan Dalton five points and six rebounds and Emmalee Sheeler and Jadelyn Spinney seven points each.
Mykayla Deyarmin led Smethport with 17 points, six rebounds and three steals. Erin Herzog added eight points and eight rebounds for the Lady Hubbers with Sabrina Tanner chipping in seven points and six boards.
RIDGWAY 33, JOHNSONBURG 14
RIDGWAY, Pa. – On Senior Night in Ridgway, Lady Elkers seniors Chistina Fullem and Gabbi Rohr combined to score 20 points to lift Ridgway to a 33-14 win over rival Johnsonburg.
Fullem led the Lady Elkers with 11 points with Rohr adding nine.
Ella Lindberg led Johnsonburg with five points.
ROCKY GROVE 28, FOREST AREA 22
SUGARCREEK BOROUGH, Pa. – Behind the fourth-quarter play of Amy Ruditis and Rylee Reed, Rocky Grove rallied to beat visiting Forest Area, 28-22.
The Orioles trailed 18-15 going to the fourth quarter before outscoring the Fires 13-4 in the final eight minutes thanks to Ruditis scoring six of her eight points in the fourth quarter and Reed scoring all four of her points in the quarter.
Kennedi Winslow led Rocky Grove with 11 points.
Jessica Wagner had a double-double of 11 points and 11 rebounds while adding four blocked shots for Forest Area with Megan Clow adding eight points and four steals.
TIDIOUTE CHARTER 41, SHEFFIELD 36
SHEFFIELD, Pa. – Angelina Sabella scored 17 points to lead Tidioute Charter to a 41-36 win at Sheffield.
Nakiesha Krouse added 12 points for the Lady Bulldogs.
Alyssa Dunham 15 points with Ashley Frederick adding 12 points.
A-C VALLEY 47, VENANGO CATHOLIC 21
OIL CITY, Pa. – Andrea Meals and Mia Sherman combined to score 28 points, as visiting A-C Valley beat Venango Catholic, 47-21, for the Lady Falcons second win in three days over the Lady Vikings.
Meals led A-C Valley with 15 points with Sherman scoring 13 while hitting three 3-pointers.
Emmy Ekis paced Venango Catholic with nine points and six rebounds.