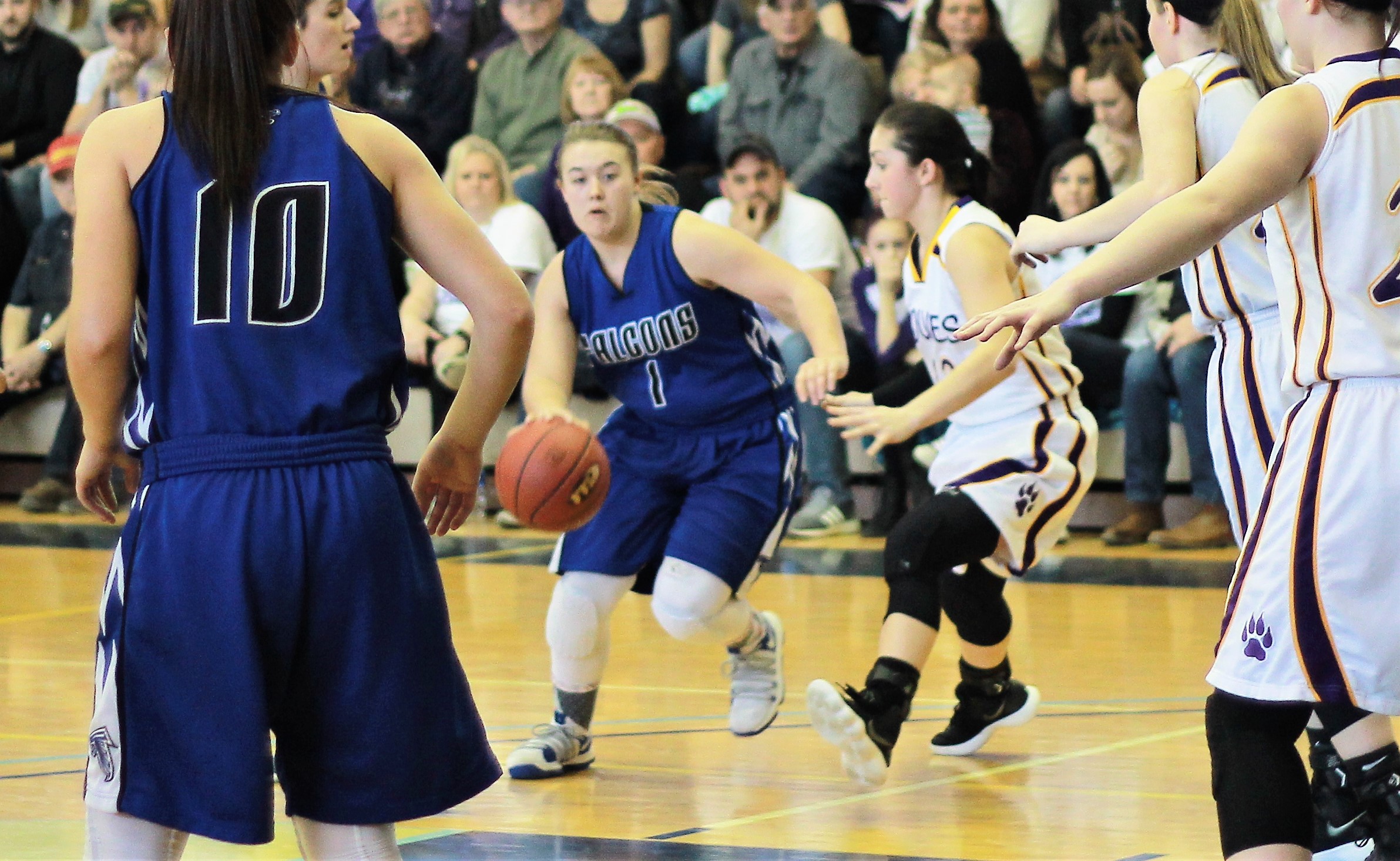 Feb. 6 girls' basketball recaps.
(Photo: Cami McNany and A-C Valley won their second straight KSAC South title with a win over Union Wednesday. Photo by Jared Bakaysa of JB Graphics. See more of Bakaysa's work here)
A-C VALLEY 64, UNION 33
RIMERSBURG, Pa. – Putting four players in double digits, A-C Valley wrapped up its second consecutive KSAC South title with a 64-33 road win over Union.
Cami McNany and Olivia Boocks led the Lady Falcons with 14 points each with Rachel Cullen scoring 13 and Andrea Meals 10. Continuing the balanced-offensive theme, Kylee Eaton scored eight points.
Dominika Logue paced UNion with 14 points with Hailey Kriebel scoring seven.
MERCER 44, CRANBERRY 38
MERCER, Pa. – Behind 14 points from Julia Balaski Mercer knocked off visiting Cranberry, 44-38.
Malliah Schreck and Tamaria Flinspach combined to score 24 of Cranberry's points. Schreck had 14 tallies with Flinspach adding 10.
COUDERSPORT 37, CAMERON COUNTY 23
EMPORIUM, Pa. – Sarah Chambers scored a game-best 15 points to guide Coudersport to a 37-23 road victory and season sweep over Cameron County in NTL action.
Mikayla Gunn chipped in eight tallies while Roselyn Page added six for the Lady Falcons.
Reggie Goodrow paced Cameron County with six points while Hailey Hilfiger stuffed the stats with four points, nine rebounds, three steals and three blocked shots. Kammie Gusto also added three assists and four points.
PORT ALLEGANY 60, OTTO-ELDRED 32
PORT ALLEGANY, Pa. – Cierra Lannager's double-double lifted Port Allegany over visiting Otto-Eldred, 60-32.
Lannager posted 19 points and 11 rebounds for the Lady Gators. Erin Stauffer had 13 tallies to go along with four steals and Bree Garzel netted 10 points, four assists and four rebounds. Cailey Barnett chipped in for 10 points, seven rebounds and five steals.
Kayley Heller paced Otto-Eldred with 10 tallies.
OSWAYO VALLEY 39, SMETHPORT 24
SHINGLEHOUSE, Pa. – Balanced offense helped Oswayo Valley defeat Smethport, 39-24.
For Oswayo Valley, Karina West had a game-high 14 points and Faith Coole chipped in for 11.
Kassidy Didomizio paced Smethport with eight tallies.
CLEARFIELD 59, TYRONE 51
HYDE, Pa. – Free-throws and Alayna Ryan helped Clearfield defeat visiting Tyrone, 59-51, for the first time since the Lady Bison joined the Mountain League.
Clearfield went 21-for-22 at the line in the second half after not shooting a first-half free throw. Ryan was 9 of 10 herself in the fourth quarter from the line while scoring a game-high 31 points. Tesa Miller chipped in for 13 points.
Sydney Shaw had a team-high 20 points to pace Tyrone.
KEYSTONE 50, KARNS CITY 44
KARNS CITY, Pa. – McKenzie Hovis and Emily Lauer led visiting Keystone to a 50-44 win over Karns City in KSAC South play.
Both players scored 13 points for the Lady Panthers who also got eight tallies from Maddie Dunlap.
Alyssa Stitt scored a game-high 21 points for Karns City.
WEST BRANCH 55, CURWENSVILLE 39
MORRISDALE, Pa. – Curwensville fell to West Branch, 55-39, in Mo Valley League action.
Trinity Prestash had a game-high 23 points and Jazlynn Robb had 11 for West Branch.
Madi Weber and Alyssa Bakaysa paced Curwensville with 15 and 12 points.
NORTHERN POTTER 54, AUSTIN 11
ULYSSES, Pa. – Thanks to 15 Abbi Anderson points, Northern Potter defeated visiting Austin, 54-11.
Courtney Martin netted 14 points and Mirissa Bliss added eight for Northern Potter.
Kylie Welsh paced Austin with a team-high four points.
JOHNSONBURG 38, BROCKWAY 15
BROCKWAY, Pa .- Cassidy King and Maria Jones combined for 32 points to lead Johnsonburg to a 38-15 road win over Brockway.
King scored a game-best 18 points while Jones chipped in 14 tallies for the Ramettes.
For Brockway, Danielle Wood led her team with six points and Morgan Lindemuth added five tallies. Maggie Schmader grabbed 12 rebounds while Selena Buttery had 10 boards.
BROOKVILLE 63, ELK COUNTY CATHOLIC 49
ST MARYS, Pa. – Guided by a balanced attack, Brookville continued its winning ways with a 63-49 win at Elk County Catholic in D9 League action.
Macey Schindler led the Lady Raiders with 14 points while Lauren Hergert and Morgan Johnson each chipped in 11 tallies apiece. Keia Powell also netted 10 points.
Sady VanAlstine and Julia Aikens paced ECC with 11 points apiece while Taylor Newton posted a 10-point, 10-rebound double-double.