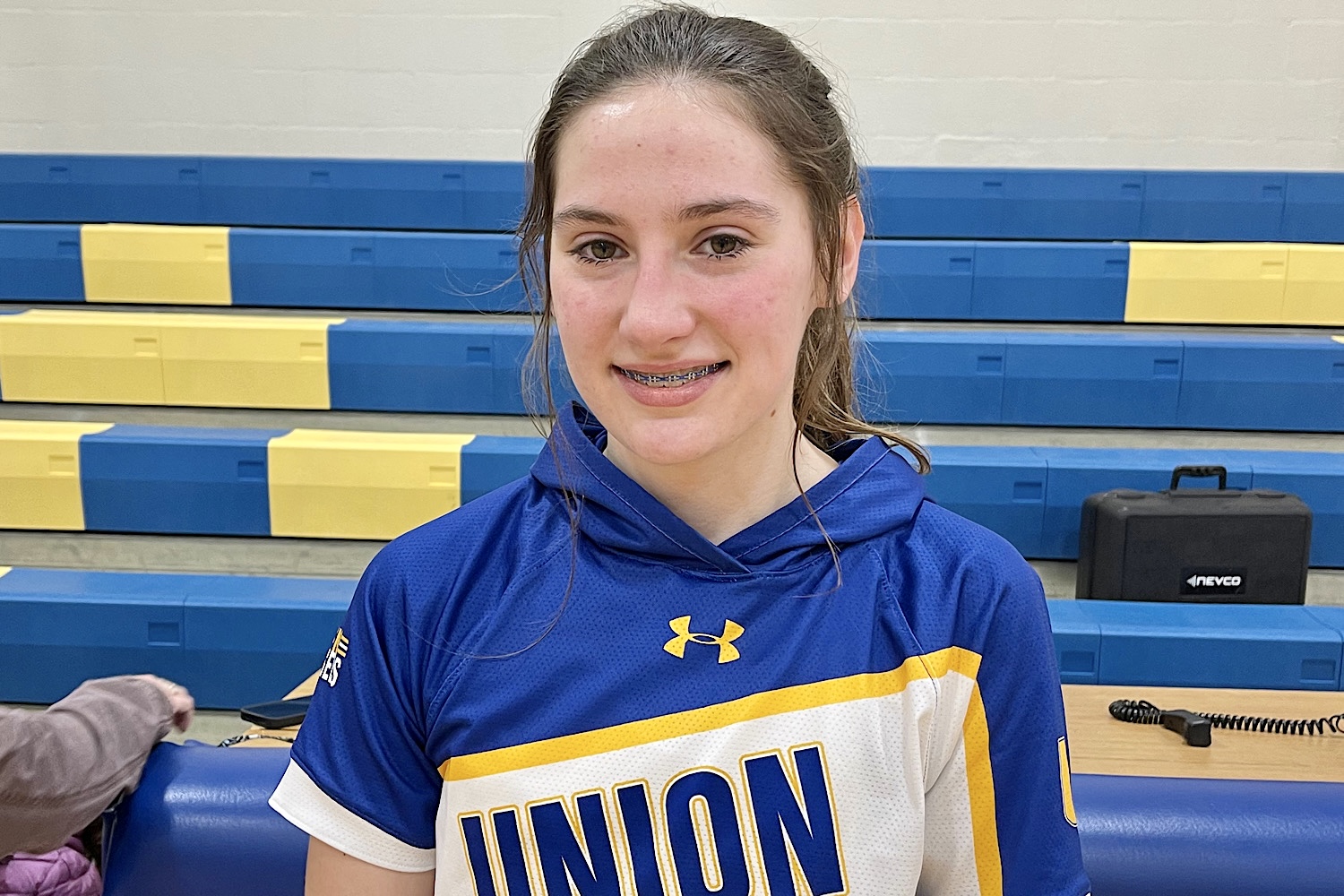 RIMERSBURG, Pa. (EYT/D9) — There are times when Cheyenne Dowling can't hide her emotions.
They pour out of the junior on the Union girls basketball team.
"I've always been like that," said Dowling, smiling. "I've always been kind of intense, no matter what, even in practices. It just helps to be super intense in practice, too, so it translates to the game."
That attitude has served her well over the years, especially this season as she has assumed a starring role for a young Damsel team trying to find their way with a new coach and philosophy in Josh Meeker.
There's no doubting Dowling's commitment to Union — even her braces are school colors.

Redbank Valley, Keystone, and Union/A-C Valley sports coverage on Explore and D9Sports.com is brought to you by Heeter Lumber.
But before the season started, Dowling was unsure about playing.
Meeker jumped into action to change that.
"We wasn't sure when I first got the job in the spring that she wanted to play," Meeker said. "I gotta tell you, I was recruiting pretty hard because I knew her passion for the game. I knew that she loved it. I knew how much she spurs on people to do better and I'm so glad she came out. She's showing everything that i knew she was going to show."
Dowling, a 5-foot-7 guard/forward, is averaging eight points and 5.4 rebounds per game this season for a 5-12 Union team that has struggled at times offensively.
Dowling has been one of the bright spots, thanks to her hustle, strong midrange jumper and unbridled and fierce competitiveness.
Sometimes, Dowling admits her passion gets the best of her.
Meeker sees that, too, although he doesn't necessarily want to discourage Dowling's drive.
"Sometimes you have to keep that under control, not get too high or too low," Meeker said. "Sometimes I think it's hard for her because she wants everyone else to have the same passion that she has and have it permeate the whole team."
Dowling is a leader in that regard. If there's a wall to run through, she's the first in line.
She is also constantly working on her game. She's never satisfied.
Already, Dowling has identified things that she wants to improve, namely being more aggressive to the basket instead of settling for those jump shots.
"I worked a lot this summer," Dowling said. "Whenever I got the chance, I'd go to the courts for hours and leave my phone by itself so I can focus on everything. My defense can always improve. That's something you can always get better at. I'm also hoping to go to the hoop a lot more and just putting the ball in the hoop more."
Meeker doesn't doubt Dowling can do those things. He's learned that when she puts her mind to something, she usually can accomplish it.
"The two things I'd like to see her work on is attacking the basket and working on her range a little more," Meeker said. "I think that makes her tougher to guard. It makes it harder when you can hit from the outside and also take them to the hoop."
Dowling has been playing basketball since the third grade and she quickly became enthralled with the sport.
She played volleyball up until this fall, but decided to leave the team to focus more on basketball.
What Dowling wants most of all is to help Union win.
No matter what it takes.
"I think we're getting a lot better," Dowling said. "We're moving the ball around and sharing the ball and not being selfish. I'm just really proud of my teammates."

Redbank Valley, Keystone, and Union/A-C Valley sports coverage on Explore and D9Sports.com is brought to you by Heeter Lumber.