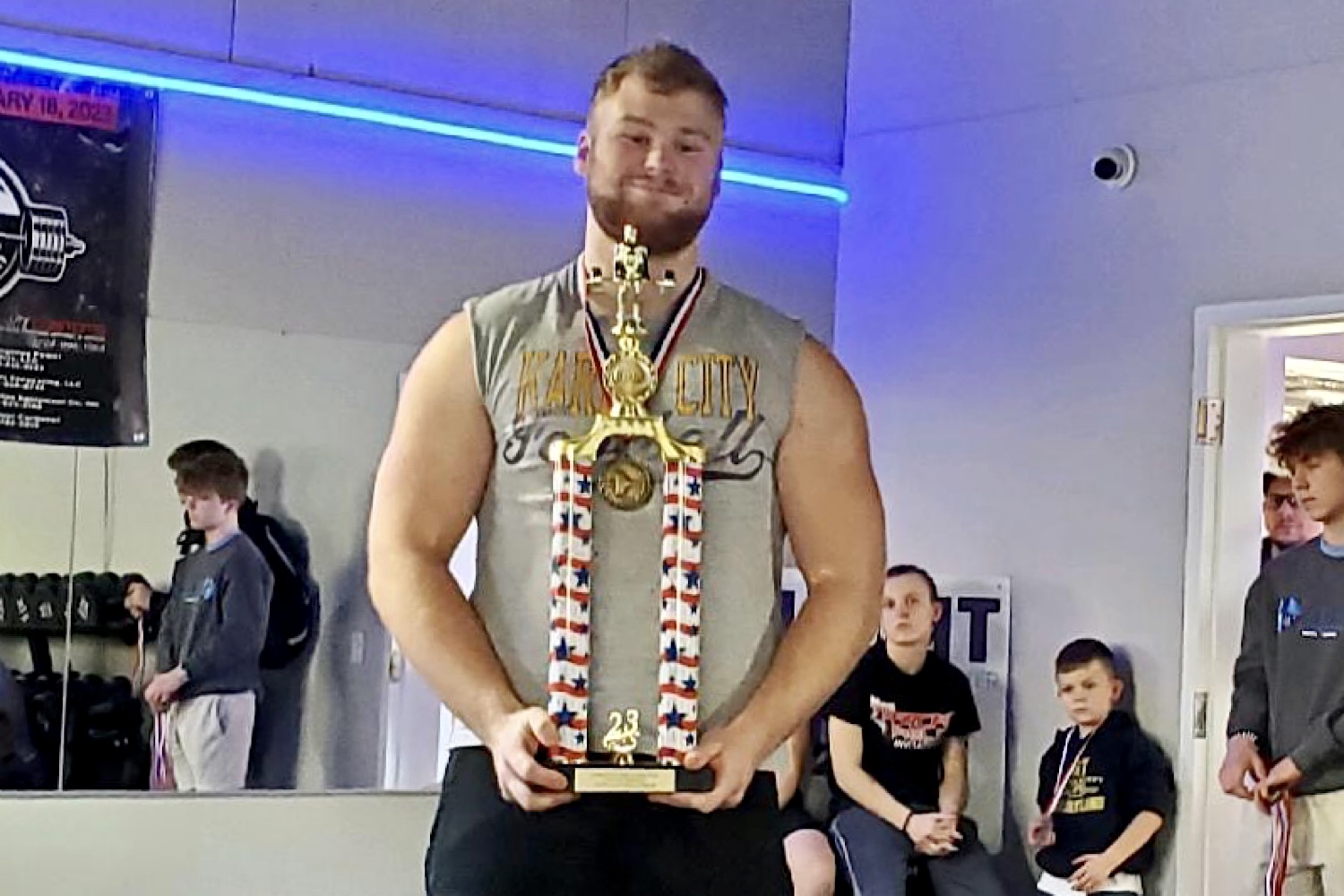 EAST BRADY, Pa. (EYT/D9) — His shoulders are as broad as a canyon.
He has thick arms. Powerful calves. A barrel chest.
He's nearly 245 pounds of solid muscle.
Karns City junior Luke Cramer is something out of a folklore tale — a modern day Paul Bunyan. Immensely strong. Also lightning quick. A halfback in a fullback's body on the football field. A guard built like a power forward on the basketball court. And the ability to chuck a javelin 170 feet or more.
(Pictured above, Karns City junior Luke Cramer holds the trophy given to the Outstanding Bench Presser after a 390-pound bench at the Ironman Teen Bench Press and Deadlift Challenge on Saturday in East Brady)
But Luke Cramer has a weakness.
For Achilles it was his heel. For Samson, his chopped hair.
For Cramer, it's been his knees.
He took a screen pass late in a game against Redbank Valley on Sept. 2, made a tackler miss, sidestepped another, spun and then was hit on the inside of his right knee.
Cramer popped up and jogged off the field, thinking nothing of it.
"It stung," he said, "but with all the adrenaline, I didn't feel anything."
It wasn't until later, inside the locker room, that he noticed something was amiss. He stepped over a bag and his leg buckled.
"That got my attention," Cramer said.
But figuring out what was wrong with his knee was no easy proposition because of another injury he suffered two years prior.
During the summer of his freshman year, Cramer was attempting to dunk a basketball when he came down awkwardly and broke the top of his tibia. The fracture required screws mend.
Two years later, those screws made imaging the knee next to impossible.
"It was a pretty convoluted process because I have a tibial fracture in my right knee," Cramer said. "They couldn't see on the MRI if I had a torn ACL or not. I had to go to a couple of different doctors."
Finally, the damage was known. A complete ACL tear, as well as a Grade 2 sprain of the MCL and a torn meniscus.
Surgery, though, didn't come until much later.
"Our playoffs were already in motion before I was getting surgery," Cramer said.
To repair the injury, Cramer required a contralateral graft. A piece of the patellar tendon from is left knee was used to reconstruct the ACL in his right knee.
It cost him his football season. The basketball campaign, too. It will also delay the start of the track and field year for Cramer.
The folktales would have to wait.
"I look ahead, not back," Cramer said. "I can't lament on what could have been. It was like a punch in the gut, sitting the bench and watching basketball, but it is what it is. You can't change it."
In the downtime, Cramer was a fixture in the weight room. He worked hard, especially on his upper body strength since his knees were still healing.
It turned out helping him add another chapter to his lore.
On Saturday, Cramer was competing again. This time, in the Ironman Teen Bench Press and Deadlift Challenge at All-Fit Gym, which is located in the former East Brady Elementary School building.
Cramer, 17, benched 390 pounds, which is thought to be a state record in his age group and class.
"I probably never would have been able to do that if I hadn't gotten hurt," Cramer said. "I probably would have been around the 350 range. You can't really lift a lot because you can't be sore before basketball games. You have to be able to shoot."
Lifting, though, was all Cramer could really do during his recovery. He got noticeably bigger and felt stronger.
He went into the event with that 390 bench press as his goal.
Cramer told it to Central Clarion football coach Dave Eggleton, who had 13 members of his program there to compete.
Eggleton thought he had heard him wrong — 390 pounds? No way.
Then he saw it with his own eyes.
"It was just an amazing lift," Eggelton said. "I mean, he's obviously a phenomenal athlete and it was sad to see his football season cut short last year, but he's going to do big things this year for Karns City, no doubt."
Cramer said he could have pushed more weight had his knee been healthier.
"I couldn't use leg drive to help me," Cramer said. "I had my feet on the ground there, but I couldn't push through that knee at all. I probably could have done 20 pounds more."
Cramer was just happy to be competing again.
It had been a long wait. A hard one, sitting and watching those around him battle though a football season and now a basketball one while he forced to a perch on the sideline.
"It's been a while since I've done anything competitive — not since that game at Redbank," Cramer said. "It felt amazing. You don't realize how much you miss doing competitive stuff until you don't have it."
Cramer's recovery is ahead of schedule. Usually it takes seven months to recover from the reconstruction he underwent. He's at four months now and expects to be back in as little as five.
In April, he figures he'll be cleared.
"The second April hits," Cramer said, "it's go time."
Cramer's powerlifting experience on Saturday has piqued his interest in the sport.
He's toying with the idea of entering more competitions in the future, as long as it doesn't conflict with the sports he plays at Karns City.
"It's something I've thought about because I've been mainly in football, basketball, track mode," he said. "But now, seeing what I can really do there, I might think about getting into it more. I'm definitely going to try to work it out."
Cramer's top goal is getting healthy again.
And staying that way.
He missed a valuable year and is hoping when he returns, he can make up for lost time.
And add to his folk legend.
"Missing junior year was tough," Cramer said. "Recruiting-wise it was a big year, but I'm looking to bounce back."