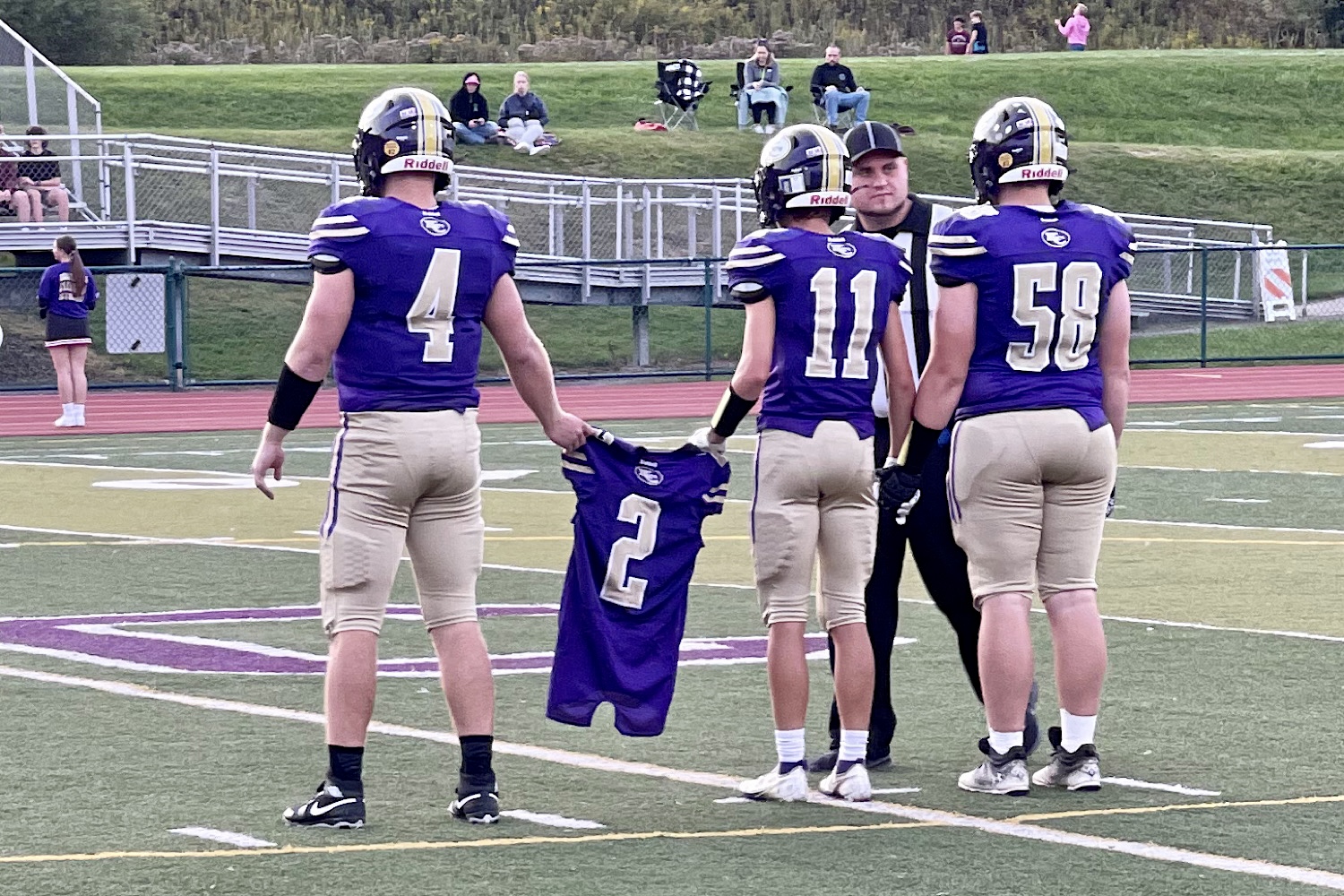 KARNS CITY, Pa. (EYT/D9) — It was difficult at times for the members of the Karns City football team to contain their emotions.
The Gremlins were back on the Diehl Stadium turf in uniform for the first time since Mason Martin was seriously injured against Redbank Valley on Sept. 1.
Two road games were welcome for the Gremlins. Both wins. And both providing valuable distance from the trauma that happened on their home field.
But they were playing there again and the echoes of that disquieting night were still in their minds.
A fast start was just what Karns City needed.
(Karns City's Luke Cramer, Zach Kelly and Cam Ealy carry Mason Martin's No. 2 jersey to the middle of the field for the ceremonial coin toss before the win over Moniteau on Friday night)
Just 13 minutes into the game, the Gremlins were ahead 21-0 — highlighted by a momentum-changing interception return for a touchdown by Hunter Scherer — on the way to a rousing 48-15 win over rival Moniteau on Friday night.
"I do think it was a good thing … we were able to travel to some other places," said Karns City coach Joe Sherwin of the two road games following Martin's head and chest injury. Martin is still fighting for his life in a Pittsburgh hospital. "It's still kind of emotional just being back on this field. But, you know, eventually you got to get past that. And I think we did tonight."
Karns City came out with passion and intensity against Moniteau, driving 53 yards in10 plays to move ahead 7-0 on a 7-yard run by Zach Kelly.
The Gremlins converted two fourth downs on that drive, including Kelly's TD carry.
Scherer then stepped in a front of a pass by Trent Beachem and scored from 17 yards out to make it 14-0 late in the first quarter.
The Gremlins (3-2) went ahead 21-0 just 32 seconds into the second quarter on a 1-yard run by Luke Cramer.
It was a quick barrage that put Moniteau (1-4) very much on its heels.
"I'll never use the word disappointed. I'll never us that word with our kids," said Moniteau coach Bob Rottman. "I can't really explain to you why we started the game the way we started it. That I didn't expect. I don't think we matched their level of enthusiasm for the game to begin with. They brought the fight to us and we didn't answer that call."
Scherer scored again, this time on a 20-yard run, to put Karns City ahead 28-0 with 4:38 remaining in the second quarter.
Moniteau showed a glimmer, though, on the next drive. Blaine Jamison made a nifty catch and run for a 40-yard touchdown reception from Beachem to cut the lead to 28-7 with 2:21 on the clock.
Karns City answered. A 30-yard pass play from Cole Johnston to Taite Beighley ignited a rapid drive that was culminated by Scherer's third TD of the half, this one a 2-yard run, to put the lead back to four touchdowns at 35-7 at the break.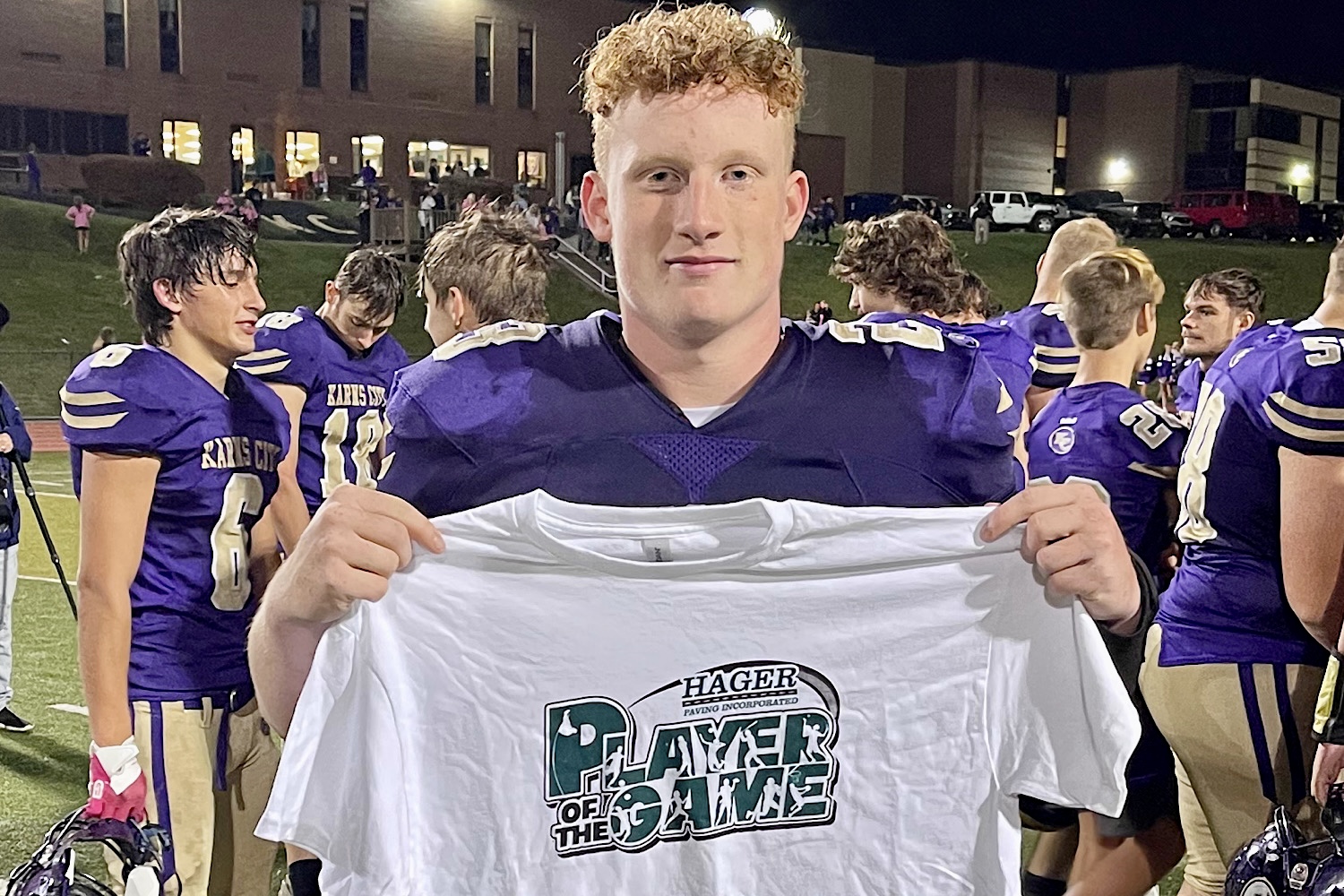 (Karns City's Hunter Scherer was named the Hager Paving Incorporated Player of the Game)
"We were playing for Mason," Scherer said. "Everything we are doing, we are doing for him and his family. I'm just glad we got started off early, you know.
"It was nice to play at other people's fields to give us a break, but coming back here — it was emotional," he added. "We came back here and it was pretty nice. I know Mason was watching and could hear us on TV. I know he's proud right now."
Cramer's 2-yard TD run triggered the mercy rule at 42-7 with 5:37 remaining in the third quarter.
Cramer finished with 104 yards on 13 carries. Braden Slater added 66 yards on four attempts, Owen Heginbotham 54 yards on four carries — including a 16-yard touchdown run that made it 48-7 — and Scherer 45 yards on five attempts.
Karns City ran for 343 yards in the game.
"It's no secret what Karns City does," Rottman said. "They've been doing it for years. They want to run the ball. Their belief is they're going to do it better than what you can do to stop it. And they did tonight.
"We'll get back to work," Rottman added. "We'll try to improve week in and week out. We're only halfway through the season. We're looking at the second half of the season as a time to play our best football. We have to get some of our young guys to step up and play like varsity kids and we have to have our older kids step and be leaders."
Jamison scored again on a 29-yard pass from Brendin Sankey to close the scoring.
Jamison had another good game, catching two passes for 69 yards and the two touchdowns.
"We have some young talent, but it's young talent that doesn't know yet what it takes to win a varsity football game," Rottman said. "I think that'll come."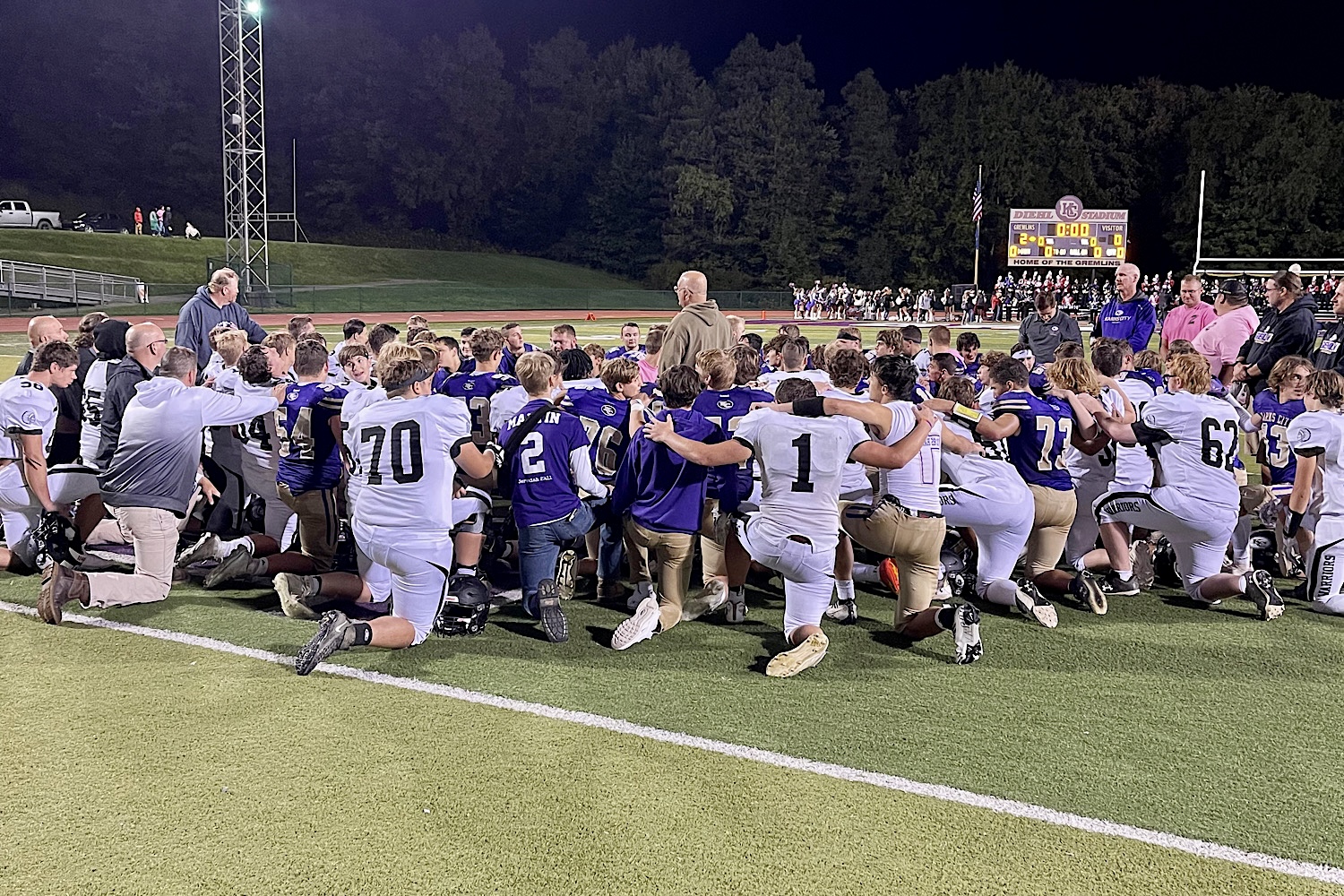 (Members of the Karns City and Moniteau football teams gather at midfield in prayer for Mason Martin and his family following the game)
For Karns City, the three-game winning streak has lifted the Gremlins' spirits in the wake of Martin's battle.
"We've fought through a lot of adversity," Sherwin said. "I think it's made us really come together as a team. We just want to honor Mason. We want to honor his family in our play and what we do out on the field."