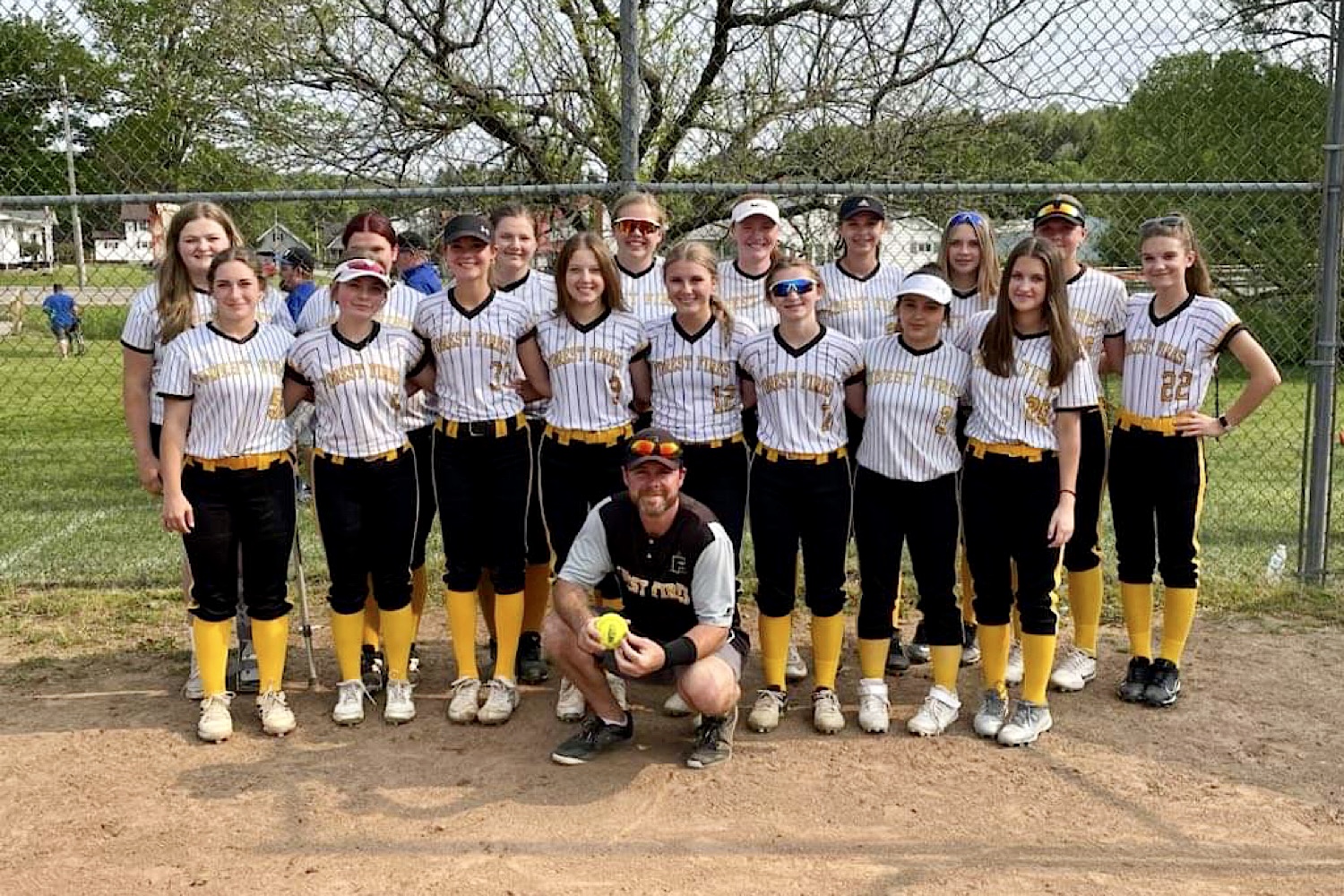 WEST FREEDOM, Pa. (EYT/D9) — Izzy Flick's hips were aching heading into the first round of the District 9 Class A playoffs against A-C Valley/Union on Monday.
Those hips have been a source of consternation for the sophomore pitcher on the Forest Area softball team over the years and this flare up couldn't have come at a worse time.
"I was pretty worried," Flick said. "I was a bit nervous going into today."
Turns out she had nothing to fret about.
(Pictured above, members of the Forest Fires after beating A-C Valley/Union to move on in the District 9 Class A playoffs)
Flick was masterful in the circle, throwing a one-hit shutout while striking out seven as the Fires blazed their way to a date with top-seeded DuBois Central Catholic with a 7-0 road win over A-C Valley/Union.

Redbank Valley, Keystone, and Union/A-C Valley sports coverage on Explore and D9Sports.com is brought to you by Heeter Lumber.
Flick gave up a single to Maddy DeHart in the bottom of the second inning.
Then nothing else.
"I hit my spots really well today," Flick said. "My curveball has been working really well recently. And then my changeup, I still need to work on it, but today I threw a couple of good ones."
It was enough to keep a potent A-C Valley/Union lineup off balance.
It helped, too, that Flick was staked to a 3-0 lead before she even stepped foot on the rubber.
Brooke Felleti lead off the game with a double off of Mackenzie Parks and then scored on a sacrifice fly by Akeela Greenawalt to give Forest a 1-0 lead.
The Fires (10-6) tacked on two more runs before the inning was over to give Flick some breathing room.
Forest made it 4-0 in the fifth on a solo home run by Faith Dietrich, who again was a force at the plate, going 4 for 4.
It was Dietrich's eighth home run this season and fifth in her last seven games.
The Fires broke things open with three in the top of the seventh, keyed by a RBI single by Alexa Carll.
Flick was also 3 for 3 at the plate.
"This past week I have not been able to hit the ball to save my life," Flick said, chuckling. "But today my dad (Forest head coach Eric Flick) helped me with my swing to figure out what I was doing wrong. And it clicked again. As a team, we've definitely hit really well."
Especially Dietrich, who is now batting .586 with eight homers and 35 RBIs this season for the Fires.
She's 11 of 13 in her last three games.
"Every single time she's up we know she's probably gonna get a hit," Flick said.
Forest will now get another crack at DCC, which beat the Fires in the District 9 Class A title game last season.
Flick said she and her teammates realize they will be heavy underdogs on Wednesday in the semifinals.
"We're taking into consideration from last year how they pitched to us certain ways," Flick said. "That's what we're set to practice tomorrow. I think we'll be more prepared than last year.
"I mean, they're gonna expect to do certain things," she added. "But I think we can pull it off."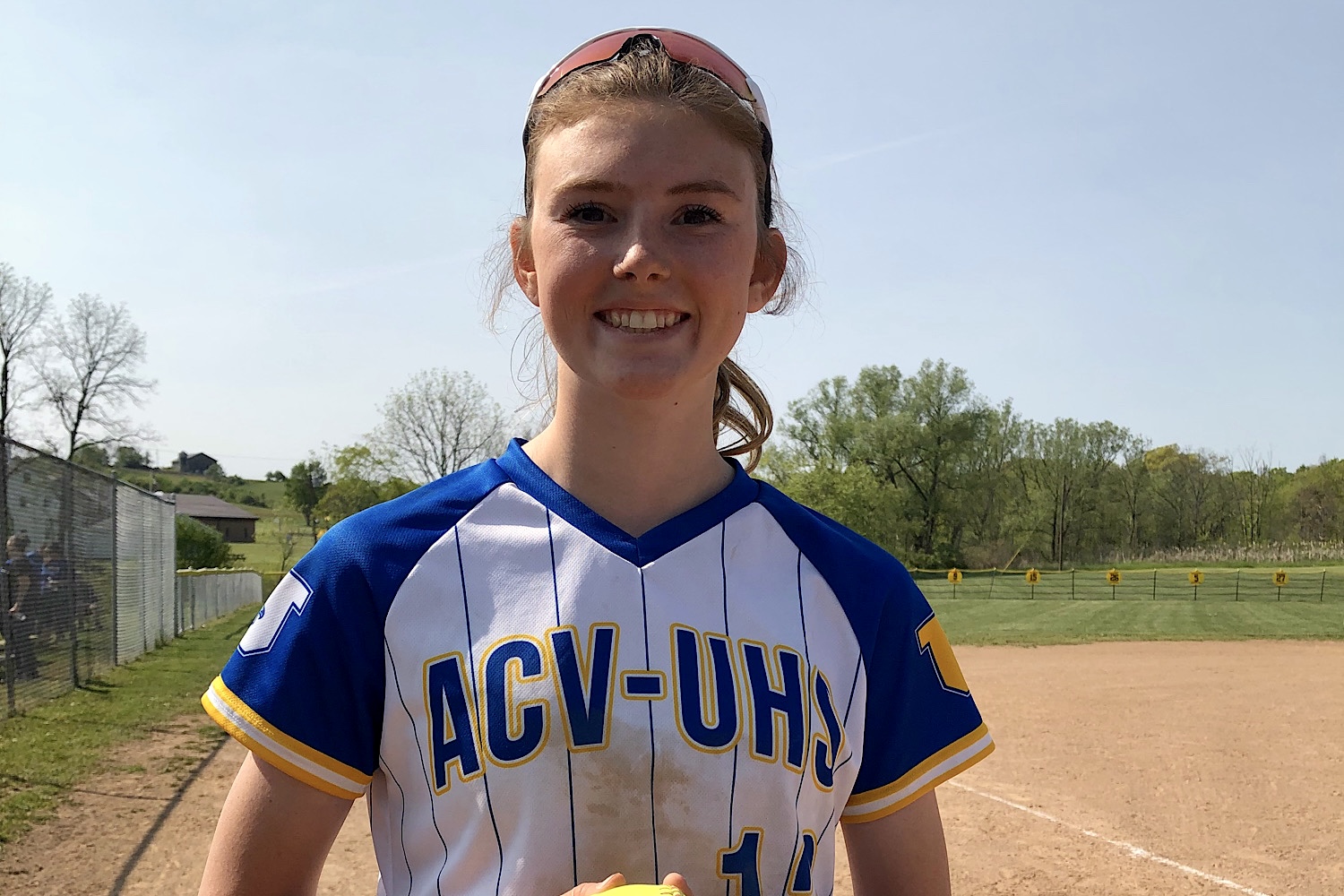 (Mackenzie Parks finished her career with A-C Valley/Union with more than 100 career strikeouts)
For A-C Valley/Union (11-8), a breakthrough season comes to an end.
The first year of the softball co-op was a rousing success, despite the playoff exit.
"I'm proud of everybody," said A-C Valley/Union coach Mike Parks. "The last couple of years at A-C Valley, I think we won six games. Those kids from Union never won a game at all. It's something to be proud of for sure. We had a winning season even with this loss."
Mackenzie Parks closed out a standout career for A-C Valley and the co-op.
In three years, she collected 94 hits and batted well over .500.
As a pitcher — not her strong suit — she ended up with more than 100 career strikeouts.
"I think maybe if I would have pitched her more in games, we might have done a little better," Mike Parks said. "We just didn't hit the ball well enough today. I asked her if she was sad it was over, but she didn't say anything. We're pretty private people."

Redbank Valley, Keystone, and Union/A-C Valley sports coverage on Explore and D9Sports.com is brought to you by Heeter Lumber.